Hi Bethany – welcome to Fresh Fiction! Please tell us about yourself and your new book: Hadley Beckett's Next Dish. 
Hi! I'm excited to be here! A little bit about me. . . I'm the wife of a radio broadcaster who I met in an online chat room in the late 90s, the mom of two boys who really are the best teenagers on the planet–even if they can't keep their rooms clean to save their lives–and I'm the most three of all threes on the Enneagram.
As for Hadley Beckett's Next Dish. . . it's the story of two polar-opposite celebrity chefs, Hadley Beckett and Max Cavanagh, who are forced to work together months after an on-air altercation between the two of them that brought Max's career crashing down and helped shoot Hadley to stardom.
Hadley Beckett is a successful TV chef who goes out on a limb to participate in a cooking competition show. The culinary world is notoriously male-dominated, but Hadley can hold her own against the best of the best! What inspired the character of Hadley? What does her chosen profession as a chef add to her story arch?
When I first began thinking about this story, it only went about as deep as how fun I thought it would be to combine two of my greatest loves–romantic comedy and the Food Network. And as I thought about what a relationship between two Food Network-type stars might look like, I knew right away I wanted them to be as different from each other as could be. I mean, really different. Think Pioneer Woman and Gordon Ramsay! So, I would say the initial inspiration for Hadley was just that simple. I loved the idea of a sweet, Southern chef who had a reputation of being a "good girl" going up against this abrasive genius with a temper. But you're absolutely right–the culinary world is notoriously male-dominated, and once I started figuring out who Hadley was, I knew she was the perfect character to confront this issue. She's not a woman on a mission. She's not setting out to change the climate of the culinary world. But she's doing it anyway. . . just by being good at what she does.
Max Cavanaugh is having a rough go – he had the top-rated show on the Cooking network until he has a very public, on-camera meltdown. He's then forced to work with the one person he can't stand. . . our heroine Hadley, of course! Max has to go through a lot of changes throughout this book. What is one of the ways he changes the most? How does his changing relationship with Hadley a part of it?
Well, speaking of that male-dominated culinary world. . . Max is someone who has no doubt benefited from his profession's gender bias. One of the things I really loved about writing this story was the way Max's eyes were opened to a lot of that bias almost more than Hadley's were. The more he began to care for Hadley and, even more importantly, respect her, the more that bias became unacceptable to him. So that was definitely a big change in him. When we first meet Max, he has been getting away with his bad behavior for a very long time. Not only getting away with it but getting ahead because of it. He's a loose cannon, and loose cannons get ratings. But when he has that public meltdown, he finally goes too far. For the first time, he is forced to confront the reality that he could lose it all. Every single thing he has worked for his entire life is slipping away. And the truth is, Hadley is benefitting from his loss, so she is absolutely the enemy in his mind. At least to begin with. But Hadley throws Max so completely off his game by being real. Genuine. Caring. Forgiving. In his quest to figure her out and ultimately best her, Max is forced to take some hard looks in the mirror.
This book is set in the world of TV cooking shows! Were there any shows in particular that helped inspire your story? What are some of your favorites to watch for fun?
The biggest cooking show inspiration really was Gordon Ramsay. I'm so fascinated by him! First of all, he's so brilliant in the kitchen. His instincts, his technique, his patterns, his effortlessness. But what really fascinates me is the way he can come across as such a jerk in some situations, but then be such a caring, supportive mentor to kids on MasterChef Junior. I think it's pretty easy to sort of fall in love with that Chef Ramsay persona, and then once you do, you're a little more willing to forgive the jerk persona, because you know there's more to him than meets the eye. That was the inspiration for Max. As for watching for fun, my family and I love to watch Restaurant Impossible together. And I'm obsessed with Chopped. There is no bigger killer of time and motivation for me than when the Food Network runs a Chopped marathon. I just have to know what the next basket items are going to be!    
Hadley and Max have an enemies-to-lovers type of love story – one of my favorite tropes to read! Do you have a favorite romance trope?
Enemies-to-lovers is definitely my favorite, when done well. I suppose my love for it goes back to Pride and Prejudice. Actually, it may go back further than that, since I think I read (and loved!) The Taming of the Shrew and Much Ado About Nothing even before Pride and Prejudice. But with my enemies-to-lovers stories, I want it to be so much more than just, "Aww. . .  they were never as bad as I thought they were." My favorite thing is when a character wants to be and strives to be a better person to be worthy of the person they're falling in love with. (Hello, Mr. Darcy!)
Obviously, Hadley and Max are both accomplished chefs. What kinds of research did you do to get inside the mind of a chef? Do you consider yourself a good cook? Share a recipe you love, too!
Oh…this is the question I dread! I mean, it's a good question. And I'm definitely asking for it by writing a book about chefs. But I really can't cook! I'm pretty good at making eggs. One year my goal was to learn how to make eggs every way you can make them, so that I could ask people, "How would you like your eggs?" and be able to deliver whatever they requested. (For the record, my husband and younger son are the only two people to ever benefit from my quest to be an at-home Denny's. My older son doesn't even like eggs.) So, no. Unfortunately, I don't have any recipes to share. Other than, "Crack an egg into boiling water. . . " or "Crack an egg into a hot pan…" I didn't actually do all that much research either, truth be told. At least not specifically for the writing of the book. All the research had been done in the years prior by watching countless hours of the Food Network and repeat viewings of Julie & Julia.
 What can readers expect from you next?
More romantic comedy! I have a story all about a woman who nearly misses the real-life romance playing out in front of her because she's so busy being the writer that it never occurs to her she may be the star. I hope to have details about when that one will be released pretty soon!
Rapid Fire Random Questions
Favorite candy: Ooh…Reese's, but only the holiday editions. The peanut butter eggs, trees, pumpkins…you name it. I don't know why those are so much better than the cups, but they definitely are.
Favorite way to be kind to yourself: Taking time to savor that first cup of coffee in the morning.
Best compliment you recently gave to someone: My fourteen-year-old made me an omelet this week, and I told him it was one of the best omelets I've ever had in my life. And it was! (I've already told you about my egg prowess, so that really was the best compliment I could give.)
Favorite flower: Irises. I think Van Gogh's paintings of them won me over for life.
Random interesting fact you like to tell people:  Beverly Cleary, the author of all my favorite childhood books, is still alive and is 104 years old! (Obviously I update my fact each year.)
Best vacation you've ever taken: The first time my husband and I took our kids to Las Vegas. I'll never forget the looks on their faces as we drove down the Strip and they tried to take it all in. Some families make magical memories at Disneyworld, but we made some pretty magical memories in Vegas.
Earliest celebrity crush: Okay, this entire interview could be just a list of my earliest celebrity crushes. Plural. I had so many! But the first was probably John Stamos. Or Sylvester Stallone. No! Patrick Swayze! We're going with Patrick Swayze. (If only because I just now thought about the New Kids on the Block.)
Cake or pie: Cake, all the way. Unless it's key lime pie. Key lime pie trumps all other desserts.
Last book you read that you really LOVED: Before I Called You Mine by Nicole Deese.
You have a totally free afternoon – no deadlines, no obligations, no Twitter notifications!  What do you do?: Well, I'm not even sure I understand the question! But I'll try to play along. 😉 You know…I think I would want to spend the time writing, actually. It's been a long time since I've had a chance to write just for the joy of writing. The fact is, there's nothing better!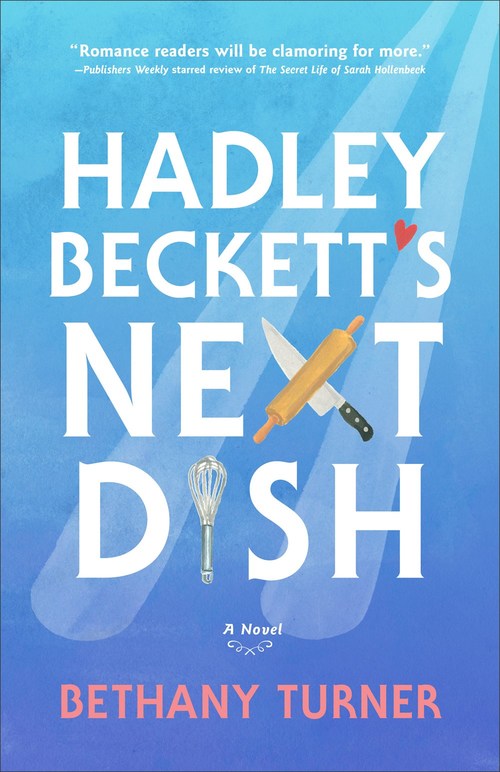 Celebrity chef Maxwell Cavanaugh is known for many things: his multiple Michelin stars, his top-rated Culinary Channel show To the Max, and most of all his horrible temper. Hadley Beckett, host of the Culinary Channel's other top-rated show, At Home with Hadley, is beloved for her Southern charm and for making her viewers feel like family.
When Max experiences a very public temper tantrum, he's sent packing to get his life in order. When he returns, career in shambles, his only chance to get back on TV and in the public's good graces is to work alongside Hadley.
As these polar-opposite celeb chefs begin to peel away the layers of public persona and reputation, they will not only discover the key ingredients for getting along, but also learn the secret recipe for unexpected forgiveness . . . and maybe even love. In the meantime, hide the knives.
Fan-favorite Bethany Turner serves up a heaping helping of humor and romance with this thoroughly modern story centered on cooking, enemies, and second chances.
Romance Comedy | Inspirational Romance [Revell, On Sale: May 5, 2020, Paperback / e-Book, ISBN: 9780800735234 / eISBN: 9781493423156]
Bethany Turner is the award-winning author of The Secret Life of Sarah Hollenbeck, which was a Christy Award finalist. When she's not writing (and even when she is), she serves as the director of administration for Rock Springs Church in Southwest Colorado. She lives with her husband and their two sons in Colorado, where she writes for a new generation of readers who crave fiction that tackles the thorny issues of life with humor and insight.
WEBSITE | FACEBOOK | TWITTER | YOUTUBE | GOODREADS | BOOKBUB | AMAZON | PINTEREST | INSTAGRAM