Mercury wondered if anyone had ever told Sloan how cute she looked when she became angry. How her brows slashed together over her forehead and how the pupils of her eyes became a turbulent dark gray. Then there was the way her chin lifted and her lips formed into a decadent pout. Observing her lips made him remember their taste and how the memory had kept him up most of the night.
"I don't need you to take care of me."
Her words were snapped out in a vicious tone. He drew in a deep breath. He didn't need this. Especially from her and definitely not this morning. He'd forgot-ten to cancel his date last night with Raquel and she had called first thing this morning letting him know she hadn't appreciated it. It had put him in a bad mood, but, unfortunately, Raquel was the least of his worries.
"You don't?" he asked, trying to maintain a calm voice when more than anything he wanted to snap back. "Was it not my stolen car you were driving?"
"Yes, but—"
"Were you not with me when you discovered you were being evicted?" he quickly asked, determined not to let her get a word in, other than the one he wanted to hear.
"Yes, but—"
"Did I not take you to my parents' home? Did you not spend the night there?"
Her frown deepened. "Has anyone ever told you how rude you are? You're cutting me off deliberately, Mercury."
"Just answer, please."
She didn't say anything and then she lifted her chin a little higher, letting him know just how upset she was when she said, "Yes, but that doesn't give you the right to think you can control me."
Control her? Was that what she thought? Was that what her rotten attitude was about? Well, she could certainly wipe that notion from her mind. He bedded women, not controlled them.
"Let me assure you, Sloan Donahue, controlling you is the last thing I want to do to you." There was no need to tell her that what he wouldn't mind doing was kissing some sense into her again. "I'm merely here to help you."
"If you feel obligated to help, then don't."
He didn't feel obligated; he felt responsible for her. Otherwise, he wouldn't be here. Hell, when was the last time he'd been made to feel responsible for anyone?
Thanks to his dad, he did now. "Look, Sloan. You need help and I'm willing to help you. What does it matter if it's my money or your friend Lisa's?"
She glared at him. "It matters because I know Lisa, but I don't know you."
He rolled his eyes. "Hell, I don't know you either, but I'm willing to help you out. I have been helping you out. Again, I will ask you—where would you have stayed last night had I not made sure you had a decent roof over your head?"
"Why do you keep throwing your help in my face?" He stared at her, getting more frustrated by the second. "That's not what I'm doing. I'm trying to get you to see, to recognize, that I have been there for you, regardless of how well I know you or you know me."
She began nibbling on her bottom lip, and seeing her do so sent a flare of response throughout his body. It made the muscles beneath his business suit tighten with desire. And if that wasn't bad enough, remembering the taste of those lips and her tongue kicked in his body's most primal reaction with a vengeance.
Glad she was too deep in thought to notice, he moved from where he'd been standing, directly in front of her by the car door, to where his attraction to her wasn't so obvious. "We don't have all day, Sloan."
What he wished he could say was that he could only take so much of his body's intense throbbing.
She glanced over at him. "How much?"
He lifted a brow. "How much what?"
"How much are you willing to loan me?"
He shrugged. "How much do you need?"
"Just enough to tide me over until I get a job." Then he quickly added, "And earn my first paycheck. Then I will pay you back every penny."
Because he knew she wouldn't accept things any other way, he said, "And I intend for you to do so, but I'm willing to break down the payments into installments so it won't be so hard for you."
She nodded. "Thanks. That will work better."
"Now can we go into the bank?"
He watched her unbuckle her seat belt before easing from the car, not knowing she'd flashed a portion of her thigh in the process. Heat curled inside him, threatening the control he'd thought he'd reclaimed.
Then she stood beside him, dark eyes staring up into his. "Yes, I'm ready."
(C) Brenda Jackson, Harlequin Desire, 2020. Reprinted with permission from the publisher.
***
Forged of Steele #12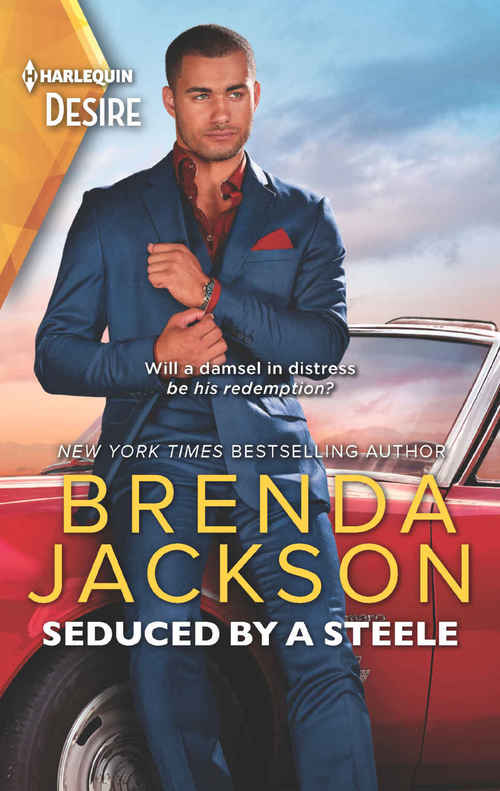 New York Times bestselling author Brenda Jackson brings you a brand-new story in the Forged of Steele series. Perfect for fans of the popular Westmoreland series and readers of passionate contemporary romances!
A notorious heartbreaker is about to meet his match…
Will a damsel in distress be his redemption?
When the "thief" caught driving his stolen vintage car turns out to be a stunning runaway heiress, Mercury Steele is conflicted. On the one hand, Sloan Donahue, penniless and on the run from her tyrannical family, triggers the billionaire playboy's protective instincts. But she also triggers red-hot desire. Mercury refuses to think his simple seduction is becoming something deeper, especially when Sloan is keeping secrets…
A FORGED OF STEELE NOVEL
Don't miss Gannon Steele's story in:
Claimed by a Steele
From Harlequin Desire: Luxury, scandal, desire—welcome to the lives of the American elite.
Romance Contemporary [Harlequin Desire, On Sale: April 7, 2020, Mass Market Paperback / e-Book, ISBN: 9781335209016 / eISBN: 9781488062803]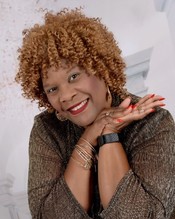 Brenda Jackson is a New York Times bestselling author of more than one hundred romance titles. Brenda lives in Jacksonville, Florida, and divides her time between family, writing and traveling. Email Brenda at [email protected] or visit her on her website at brendajackson.net.