Hi! I'm so excited to share Love by Design with you! This story has so many of my favorite things: a hunky carpenter, a heroine getting back on her feet, a heavy dose of sexual tension, and a second chance at love. Plus, magic pancakes. It's steamy and sweet and I hope you fall for Grayson and Annika as hard as I did!
My favorite neighbor in the 425 Madison building:
It's too hard to choose just one. I would have to say, Lyla Dupree from Sweet on You because I have a serious sweet tooth and she makes the best goodies. And, Bernadette Williams from Accidentally in Love, because who doesn't want to hang out with a sassy, straight-talkin' lady who serves whiskey in teacups?
My favorite mode of transportation around NYC:
My two feet. There's so much to see and do in New York, walking around the city is the best way to absorb as much as you can. Plus, it helps work off all the fabulous food. 🙂 Otherwise, the subway, though sometimes nuts, is the most efficient way to get around and avoid the constant traffic!
My favorite or must-see NYC landmark:
I'm on a museum kick right now, so I'd have to say The Frick Collection. It's an art museum housed in an old mansion on the edge of Central Park. Everything about it is stunning, from the architecture to the pieces on display, to the views outside. A must-see, definitely.
My favorite thing about "city" life:
When you're feeling adventurous, there's never a shortage of things to do. And when you're feeling like a night in, there are so many amazing dinner (and drink) delivery options, it's almost impossible to pick.
My favorite thing about being a part of the 425 Madison world:
Being part of such an amazing author—and reader—community. It's been so great connecting with all these ladies and, together, writing stories set in a place that now feels like a second home.
—
COMMENT TO WIN: Are you a "city" or a "country" person? Tell us in the comments and you'll be entered to win a $5 Amazon gift card + ebook copy of Accidently In Love by Katy Ames (A 425 Madison book). GOOD LUCK!
—
425 Madison #16
ANNIKA
Cheating husband. On-air meltdown. Public humiliation.
Lucky me, I've experienced them all.
Oh, and the implosion of my career as an up-and-coming designer and renovation television darling.
That was then.
Now, I'm in the TV studio, more determined than ever to prove to myself (and the few fans I have left), that I'm back for good. Nothing from my past—no man, no mistake—is going to knock me down again.
If only fate—and Grayson Hesse—had gotten the memo.
GRAYSON
Woodworker. Stone house restoration guru. And the new host of Hesse and a Hard Place.
This is what I know:
If this show's a success, I'll finally be able to give my family the financial stability they need. My chances of success go way up if I have the best designer in the business working by my side. And the best in the business (despite the lingering rumors) is Annika Hale.
She's the triple threat: brilliant designer, restoration maven, and the woman who stole my heart six years ago…and hasn't looked back since.
But that was then.
Now… Well, what is it they say? After all, 425 Madison is the perfect place to fall in love.
Romance Contemporary [Self-Published, On Sale: April 6, 2020, e-Book, / ]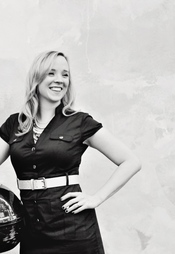 Katy Ames has spent most of her life on the East Coast and hopes to spend more of it in the UK, primarily so she can indulge in her serious plaid obsession. There isn't a teenage drama or a period British TV show she hasn't binge-watched at least twice. And she can be persuaded to do almost anything with the promise of bourbon, chocolate, or a nap (not necessarily in that order).
Katy is mom to a small human who has an obscene amount of energy and a blissful ability to ignore swear words, and wife to a man whose reading habits are far too serious. Katy and her family reside in Washington, D.C., a city she where never intended to live and loves so much she'd be happy to talk about it for hours. Just ask.