Hi, Bridget! Welcome to Fresh Fiction. Please introduce yourself and tell us about your book, LOVE SCENES.  
Hello! I am the author of the aforementioned romance, LOVE SCENES, as well as two YA novels, WHAT YOU LEFT ME and WHEN THE LIGHT WENT OUT. LOVE SCENES follows out-of-work actress Sloane Ford as she gets roped into being a producer on her famous family's WWII romantic drama, which just so happens to feature her least favorite former costar of all time. He is, of course, a roguishly handsome Irishman hellbent on being a better person this time around, much to Sloane's great dismay.
The glitz! The glamour! The celebrities! Hollywood is a great backdrop for a romance novel! What did set out to explore with your novel set on a movie set? What was your research like?  
We meet Sloane at her lowest. She's recently lost her steady acting gig on a long-running crime show. Her ex-boyfriend just released an album about all the failings of their relationship. She comes from a large family full of creative types who make a habit out of pushing her buttons. And to top it all off, she's working again with the man who almost made her quit the business. So I wanted to explore all those intricate dynamics. How do you control the narrative of your life when so many people try to take that power from you? Who is in charge when you're working with your family? How do you move past personal pain? Should you? It's ultimately a novel about grace and forgiveness.
For research, I read celebrity memoirs and watched a lot of behind-the-scenes featurettes, as well as listening to various movie commentaries. I was looking for details about the personal relationships behind the working ones. I focused a lot of my energy toward examining Hollywood families, and what their everyday lives are like.
While Hollywood is tons of fun, there is a more serious side to a lot of what Sloane deals with in her career and what she observes her BIPOC and LGBTQIA colleagues and friends going through as well. I really appreciated that you touched on some of the more controversial aspects of working in show business. Why was it important to you to include these aspects in LOVE SCENES? 
I am a queer person living in Los Angeles, constantly surrounded by creative types who fall into some or all of the above categories. That is the world I know and inhabit in my real life, and I wanted to capture that in my story, too. Anything less would've felt disingenuous to me!
Sloane comes from a family that is heavily ingrained in the entertainment business, and while outsiders may think of it as shiny and exciting, Sloane deals with the same expectations many people feel when working with family. Her family's hijinks are definitely full of hilarious drama. How do you think Sloane handles her family's dynamics and what do they reveal about her as a character? 
Sloane is an oldest child. She sees herself as the one who has to be in control and keep things running smoothly in her family, but it's really difficult for her to maintain that role as her personal and professional life falls apart. Throughout the book, she tries her hardest to keep it together anyways, because she thinks if she shows any of her true feelings, no one will be able to fill her position as the family glue. Without meaning to, she's constantly revealing her vulnerabilities by trying to mask them with her strength, and as time passes, she learns that she's not the capable one in her family.
I loved that Sloane is given an opportunity to act again, and by taking on the lead role in the movie she was initially brought on to be a producer for, she starts to remember why she wanted to act in the first place. What do you hope readers take away from reading about Sloane as she rediscovers her passion?  
It's really easy to let crushed hopes take up bigger space in our hearts than our big dreams. May this story be a reminder that your failures do not define you. You can always start again!
Sloane knows Joe—he was an actor who was not reliable at all in the past and even though he says that he's changed, Sloane isn't so sure… That being said, their chemistry is off the charts!! What were some of your favorite parts about writing their love story? What were the challenges? 
I enjoyed figuring out how Sloane could forgive Joseph. When she meets him again, he is so eager to be a better version of himself. But he made some real mistakes when they last knew each other. A lot of the fun of writing their dynamic was not shying away from that, and instead pushing them to work through it. That's what makes them such a strong pair. The challenge was making sure Joseph still had his flaws. I tend to be very generous when creating my love interests, mostly because I don't know if I, the writer, can forgive what they've done otherwise!
I love asking authors for pop culture recommendations! What have you been reading/watching/listening to lately?  
I just emerged from my writing cave, finishing the first draft of my 2022 book! (Details below!) Because of the nature of the story, I have been deep in my personal nostalgia catalogue, binging a mix of early aughts music and then more recent releases from those same artists. In that spirit, I highly recommend Hayley William's latest album, Flowers for Vases/Descansos. Simple, beautiful, and heartbreaking.
(Flowers for Vases/Descansos Album Cover)
As for reading, I just finished YOU HAD ME AT HOLA by Alexis Daria. If readers like the behind the scenes aspects of LOVE SCENES, they will love this book. It takes place on the set of a streaming service show, with a former soap star and telenovela star coming together to play onscreen exes. It is so nuanced, and also SO steamy!
What can readers expect from you next? 
There's an excerpt of my next book in the back of LOVE SCENES, and I am really excited to share some details about it. It's called A THOUSAND MILES, and it's a second chance romance about former childhood best friends who haven't spoken in a decade. They reunite for a road trip right before their ten year high school reunion, and along the way, they have to come to terms with what went wrong in the past and whether or not they have any chance at a future together.
Rapid Fire Random Questions
Favorite candy: Anything! I love candy. (Except like, a Jujube. But even then, I'd eat at least one.)
Favorite way to be kind to yourself: Get a really nice cup of coffee and drink it in the sunshine.
Best compliment you recently gave to someone: Okay, this is far from the best I've got. It's probably the worst, in fact, but it is my most memorable compliment-adjacent occurrence. One of my best friends, Alex, started a garden. He texted me a picture of a bush he bought for it, and I was having a really bad week, so I didn't totally process what he'd sent me. I responded, "Good job Al," and then totally forgot about what he'd told me, which is very unlike me. When he mentioned the garden again, I had no recollection of it, so we went back into our text history to see our previous conversation about it. Reading that sentence made us both laugh so hard that I had tears in my eyes. Now the joke has become sincere. Good job Al.
Favorite flower: Violet
Random interesting fact you like to tell people: I am a three-time school spelling bee champion.  
Best vacation you've ever taken: When the Cubs made it to the World Series in 2016, I flew to Illinois for the week and watched the games with my family and friends. It wasn't exactly a vacation, because I was staying at my parents' house, but it was absolutely the best, most memorable week of my life. Nothing will ever top November 2, 2016, when the Cubs won it all.
Earliest celebrity crush: In a journal of mine from when I was in first grade, I wrote down Regis Philbin as my celebrity crush. Thanks for the memories, Reg. I loved you before I even knew what love meant.
Cake or pie: This is tricky. I think I'd say pie. Not to discount cake, but sometimes the texture doesn't work for me. Pie is almost always a hit.
Last book you read that you really LOVED: This is easy. THE ROUGHEST DRAFT by Emily Wibberley and Austin Siegemund-Broka. It comes out early 2022, and it is just so good. It is my favorite kind of love story, intense and emotional and full of tenderness. I cannot wait for readers to get their hands on this one so we can all come together to cry and cheer.
You have a totally free afternoon – no deadlines, no obligations, no Twitter notifications!  What do you do?: If it's a nice, sunny day, I'm slathering myself in sunscreen then jumping in the pool with my best friend Hollis. We're getting out our pool floats. We're blasting a playlist of all our favorite bops. And we are having the time of our lives in there. Then we're eating Subway sandwiches after because that is our post-pool tradition.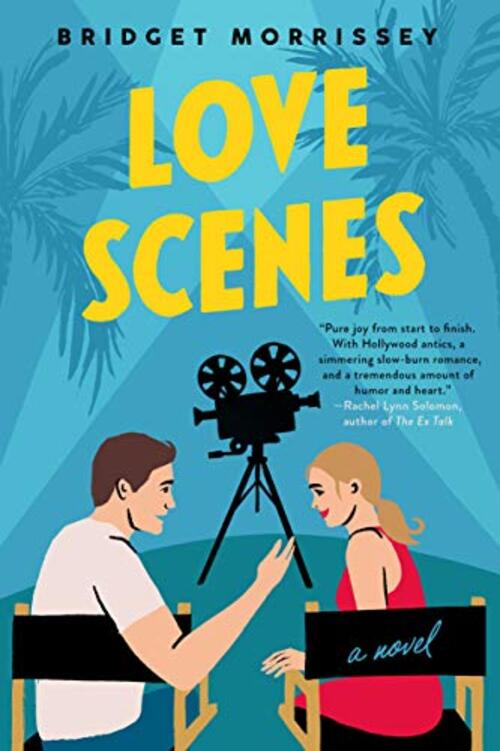 Acting like she's in love with her handsome nightmare of a co-star–in a movie directed and produced by her complicated Hollywood royalty family–is Sloane's job. But what happens when the lines between script and reality get blurred?
Out-of-work actress Sloane Ford is in desperate need of something to do after losing her steady TV gig. When her famous family ropes her into working as a producer on their World War II-era romance, they neglect to mention that the film will be headlined by Joseph Donovan, her least favorite former co-star of all time. The roguish actor made her life a living hell the last time they worked together, using his movie star good looks and Irish charm to cover for his erratic professional behavior. On their new film set, he promises he's different now, but Sloane is far from convinced.
As filming gets underway, it becomes clear that anything that can go wrong will go wrong. When the lead actress is abruptly fired, Sloane agrees to step in and take over the role, and she starts to remember why she fell in love with acting in the first place. On camera, she and Joseph share an electric chemistry. Off camera, they've been honing their characters and, much to Sloane's surprise, growing closer. But playing the role of a woman in love with Joseph Donovan is a dangerous business, and the more time they spend together, the less Sloane can tell what's real between them, and what's just for show.
Fiction Family Life | Romance Sports [Berkley, On Sale: June 22, 2021, Trade Size / e-Book, ISBN: 9780593201152 / eISBN: 9780593201169]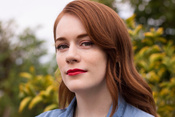 Bridget Morrissey lives in Los Angeles, California, but hails from Oak Forest, Illinois. When she's not writing, she can be found coaching gymnastics or headlining concerts in her living room.
Her adult debut, LOVE SCENES, releases in the summer of 2021. Her first two YA novels, WHAT YOU LEFT ME and WHEN THE LIGHT WENT OUT are both out now.
***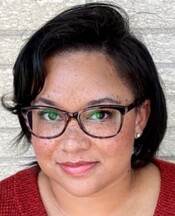 Danielle Jackson Dresser is a contemporary romance author (her debut novel with Berkley will be out in 2022!), avid reader, lackluster-yet-mighty crafter, and accomplished TV binge-watcher.
Once upon a time, she was a publisher publicist and continues to cultivate her love of books and reading by chatting with the best authors in the business as the Editorial Manager of Fresh Fiction and co-host of the Fresh Fiction podcast. Danielle is one of the Boozy Book Broads, a monthly author chat show streamed live on YouTube. She also moderates panels, interviews authors, and hosts a book club at Love's Sweet Arrow, the romance-focused independent bookstore.
Danielle lives in Chicagoland with her very own romance hero husband, darling daughter, and two tempestuous cats. Follow her on Twitter and Instagram, @dj_dresser.