1–What is the title of your latest release?
My upcoming release on June 1st, ANNE OF MANHATTAN, is a modern adaptation of Anne of Green Gables set on Long Island and in New York City. It's actually my debut novel!
2–What is it about?
Loosely based on some of the original book's events, and inspired by L.M. Montgomery's cast of beloved characters, Anne of Manhattan reimagines what it would be like if college-aged Anne Shirley, Gilbert Blythe, and their friends were going to school and living in modern NYC. It's a romantic comedy that also deals with themes like #MeToo (sexual harassment) and learning how to trust in love. And hopefully, I've done a good job of paying tribute to a book I love so much!
3–What do you love about the setting of your book? 
There are two main settings in the book. One is NYC, where Anne, Gil, and their friends go to school and live. That bounces between Brooklyn, the Village area, and Hell's Kitchen. The second main setting is Avonlea, which I set on Long Island for the purposes of it making sense so many characters would wind up living in the city. Since I wanted to do my best to replicate the feel of Prince Edward Island's Avonlea, I placed Green Gables on Long Island's North Shore, which is full of vineyards and orchards and quiet beaches. There is one other location Anne winds up at for a short time, but that's a surprise for readers!
4–How did your heroine surprise you? 
I think she surprised me by coming out a bit less dreamy and soft than in the original books, although she wasn't always soft then either. Anne Shirley has always had a temper, in any iteration. But I did try to stay as true to Anne's basic character as I could because she was such a fun, clever, and interesting person already.
5–Why will readers love your hero? 
Anyone who's read the original works already knows this answer! But if you haven't (and that's okay, you don't have to have read Anne of Green Gables to follow any part of Anne of Manhattan), then I'll say that readers love Gilbert Blythe because he's sweet and sarcastic, earnest and vulnerable, and he falls for Anne in the first moment he meets her. Unfortunately for him, that's around thirteen years old, and he has terrible judgment when it comes to flirting, which leads to a years-long rivalry.
6–What was one of your biggest challenges while writing this book (spoiler-free, of course!)? 
My biggest challenge was writing a conflict that would be a large obstacle for Anne and Gilbert to get past in their romantic relationship while staying true to their characters. I really enjoy writing emotional conflict more than a material problem for a couple, so it was a real balancing act for me to get that just right.
7–Do you look forward to or do you dread the revision process? 
I look forward to revisions when they come from my editors. Revising my own work before it gets out the door is like polishing the same spot on the floor over and over. Maybe it's a little shinier? But it still has a scratch I can't quite figure out how to get rid of by myself. I'm not great at stepping back and viewing my work objectively, so I appreciate an impartial eye on it, pointing out all my plot holes or timeline sideways hops. 
8–What's your favorite snack to have on hand while writing? 
Coke Zero with lots of ice and a bowl of Smartfood popcorn, hands down. Ceylon hot tea with milk and agave nectar in it with graham crackers on the side, or cold, leftover pizza and iced tea, will also do the trick.
9–Where would you go for an ideal writer's retreat? 
Somewhere in the mountains, in a cabin. I live a few hours from the North Carolina Blue Ridge Mountains, and they are gorgeous any time of year. Ideally, the cabin would have a porch and a fireplace.
10–What's the best piece of writing advice you've received? 
Actual writing advice? Get words on the page. Even if it sucks, just write something, because you can't fill in, revise, or edit a blank page. The best advice I've gotten as an author, however, is: eyes on your own page. Meaning, do not compare yourself and your success to your peers' careers. That way lies madness, friends…
11–Who is the fictional character you want to hang out with the most? (anyone in literature!)
 I honestly would love to hang out with Anne Shirley, but in the interest of not being predictable, I'll say Jesper from Six of Crows. While I really like the show and how his character is portrayed there, Jesper from the book is my favorite out of everyone. He's such a mess, and absolutely would get you thrown in jail before the night was out, but you'd have a lot of fun first.
12–What's one of your earliest book memories? 
My dad reading me The Neverending Story. He likes to say that it certainly felt like it was never-ending, haha, because he read me one chapter a night when I was five years old until it was finished. (Sometimes two, if I begged hard enough.) It was the first book that really stuck with me, and the first book I can remember that ran like a movie in my head. From the luminous, sickly Moon Child to the desert of many colors that turned into a wild forest at night, then back again in the morning, the book was filled with vivid imagery that let my childish imagination run free.
13–If you had to write in a different genre, what would it be and why? 
Oh, this is hard! I love what I'm writing now, which is romantic comedy. I'd like to write romcoms in both the adult and YA categories, but one day I'd also love to try my hand at fantasy. I have some projects started and tucked away deep in my files for a later date. There are also a few stories I'd like to tell that are set in various decades in the twentieth century. I don't think I'd like to only write one genre for the rest of my life. I might get bored, truthfully.
14–What song will automatically put you in a good mood? 
"I Got Sunshine" by The Temptations. Every time.
15–What is your favorite way to practice self-care?
A bath and a book or a fanfic on my phone. I have a chronic pain illness, so I take a lot of hot baths to relax and soothe pain caused by stress or overworking. There's the added benefit of not being bothered during that time by anyone because there's literally nothing I can do to help with something when I'm naked in a tub of water, haha! I wouldn't say I'm hiding, exactly, buuuuut…
16–What can you eat and never get sick of? 
Cold Kraft mac & cheese, the bright orange stuff from the box. Terrible, but true. 
17–Will you share a favorite, recent-ish book you recommend? 
I read BOYFRIEND MATERIAL by Alexis Hall earlier this year and absolutely loved it. I'm a sucker for that "everyone is a mess, but no one realizes they're not the only mess" thing. Also, THE ATLAS SIX by Olivie Blake. Her writing is so complicated and sharp and clever, she never misses a step. 
18–Do you have any hobbies? 
Not as many as I should, probably. I like to bake, but don't get to do it much. Reading, obviously. It's only a few times a year, but I usually make my kids' costumes for Halloween and cosplay for conventions. I've done Groot, Finn from Adventure Land, a Hunter from Destiny, 1940s pre-Winter Soldier Bucky Barnes, and created a Ghostbusters backpack with working lights and switches. Costumes like that are a lot of work, but it's fun work. 
19–Are you an early bird or a night owl?
I used to be a night owl, but I definitely work best from 8am to 1pm now. After breakfast, so I have food and coffee in me, but before the midafternoon energy slump hits.
20–What can readers expect from you next? 
I don't have anything on the publishing docket yet for next year, but I'm working on several projects that I hope I'll be able to announce soon! The best way to keep up-to-date on upcoming books is to follow me on Instagram and Twitter, or drop by my website.
L. M. Montgomery's classic tale, Anne of Green Gables, gets a romantic, charming, and hilarious modern adaptation, set in New York City.
After an idyllic girlhood in Avonlea, Long Island, Anne has packed up her trunk, said goodbye to her foster parents, Marilla and Matthew, and moved to the isle of Manhattan for grad school. Together with her best friend, Diana Barry, she's ready to take on the world and find her voice as a writer.
When her long-time archrival Gilbert Blythe shows up at Redmond College for their final year, Anne gets the shock of her life. Gil has been in California for the last five years—since he kissed her during a beach bonfire, and she ghosted him. Now the handsome brunette is flashing his dimples at her like he hasn't a care in the world and she isn't buying it.
Paired with the same professor for their thesis, the two former competitors come to a grudging peace that turns into something so much deeper…and sexier than either intended. But when Gil seemingly betrays her to get ahead, Anne realizes she was right all along—she should never have trusted Gilbert Blythe.
While Gil must prove to Anne that they're meant to be together, she must come to terms with her old fears if she wants a happily-ever-after with the boy she's always (secretly) loved.
Romance Comedy [William Morrow Paperbacks, On Sale: June 1, 2021, Paperback / e-Book, ISBN: 9780063020740 / eISBN: 9780063020757]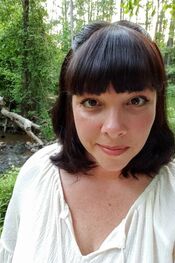 Brina Starler writes, and reads, romance novels and romantic fiction— anything with kissing will do. She lives in North Carolina with her husband, two boys, and a pup who bears a strong resemblance to Falkor the Luck Dragon, and has finally resigned herself to a future of asking tall people to get stuff off the top shelf.