Danielle: Welcome to Fresh Fiction, Preslaysa! Congrats on the release of your debut, A LOWCOUNTRY BRIDE! Can you tell us about your journey into publishing?
Preslaysa: I started seriously writing fiction in 2008. At the time, I knew nothing about novel writing, but I was passionate about it. I first dabbled in young adult and middle grade fiction. Then I decided to focus on writing romance. Little did I know that I chose a challenging genre to write! It took me about 9 years to become skilled at writing a romantic arc, character arcs for two love interests, and a plot arc. All three have to be woven together seamlessly. (And there are more requirements for subgenres like paranormal romance, inspirational romance, erotica, or historical romance!).
I entered my manuscripts in writing contests, and they would final or win those contests. Seeing my stories make the final rounds (or even win!) was a very encouraging part of my writing career.  
In 2012 (very early in my journey), I received an offer of publication for A LOWCOUNTRY BRIDE, but after much thought, I didn't feel comfortable with signing on the dotted line. So, I didn't. I not only learned how to write fiction during this time. I had to learn to trust my business instincts too.
Over the course of the next few years, I queried A LOWCOUNTRY BRIDE over 200 times to agents and editors. I was met with rejections all over the place. I was frustrated with querying the story, and so I stopped querying it and focused on my other works-in-progress. I finished another novel entitled HEALING HANNAH'S HEART, and it was published. I also earned an MFA in Writing Popular Fiction from Seton Hill University and wrote two new novels while I put A LOWCOUNTRY BRIDE on hold.
Around 2018, I heard that there was an open call for own voices romances from Avon Books, and so I pitched my story to May Chen, an Avon editor. I received wonderful revision feedback but no invitation to submit my story. I spent the next year revising A LOWCOUNTRY BRIDE with her feedback in mind.
In 2019, I heard that Avon Books was holding another open call for own voices stories at a writer's conference. I set up an appointment to meet with May again. I mentioned that I made the suggested changes from last year, and she said that I could submit the entire manuscript to her.  I was thrilled but cautious. There are no guarantees in publishing!
I sent in the manuscript and waited. I also sent the book to other agents and publishers too. In January 2020, May called me and offered a publishing contract! I was thrilled. All of those years of effort paid off!
Maya is a fabulous romance heroine—she has things she wants to accomplish in her career as a wedding dress designer, she's grappling with returning home to help her injured father, and she has a chronic illness. How do you think readers will relate to Maya?  
Readers will identify with Maya's desire to want to accomplish something great in life. We all have dreams that we hold in our hearts, but the road to achieving those dreams is often met with great obstacles, setbacks, and disappointments. Yet Maya forges on, and in the process, she realizes that in order to accomplish her desires, she must grow and change as a person.
Readers will also identify with her self-doubt and desire to be accepted by the mainstream (even if that acceptance means she has to suppress her own identity). They will admire Maya for her perseverance, courage, and decision to remain authentic and true to herself in the ultimate end.
I love that there's a Black-owned bridal boutique at the center of this novel! What research did you do into the wedding industry? 
I drew from my experiences with planning my own wedding. During that time, I learned how the wedding industry was run because I interacted with many wedding vendors, attended bridal shows, and I read a lot of wedding magazines and books.
When I was planning my own wedding, I didn't see many wedding vendors which were Black-owned, and so I decided to include a Black-owned bridal boutique in A LOWCOUNTRY BRIDE.
Derek is a man determined to save his family's struggling business, which leads to him hiring Maya. He is also a widower and wants to rebuild his relationship with his daughter. How does falling in love with Maya affect the way Derek works through the other things going on in his life? 
Falling in love with Maya enables Derek to realize that it's okay to love again. Derek believes that falling in love with someone else means that he is dishonoring the memory of his late wife, but that's not true.
Maya's creativity and design instincts inspire Derek to breathe new life into the bridal boutique. Maya's emotional intelligence with Derek's daughter serves as a bridge. Derek and his daughter mend their relationship as a result.
I really wanted to show how love is powerful, not only for the love interests, but it positively impacts every other aspect of their lives. That's the power of the romance genre (and the power of love).
The setting of Charleston, South Carolina, was almost like another character in the book! I felt like I was there. What are some of your favorite things about Charleston?  
One of my favorite things are the cobblestone streets which haven't been repaved. They've been in existence since the antebellum era. Those cobblestones can speak! They hold a lot of history. Many stories exist within them.
I also love the narrow winding alleyways in between downtown Charleston's historical homes and buildings. Charleston exists in a liminal space. It toes the line between the past and the present, the historical and the modern. As a writer, I love that about Charleston. The place feeds my imagination in so many ways.
What can readers expect from you next? 
I am drafting a contemporary romance that is also set in the Lowcountry. It's a second chance romance between two main characters with very unique occupations. The story also captures the zeitgeist of our current times . . . and that's all I'll say about that.
Rapid Fire Random Questions
What's the best live performance you've ever seen?: Rick Pino in 2016. He's an independent, Christian musician.
Biggest Pet Peeve:  People who keep their filled drinking glasses near the edge of a table or other flat surface.
Writing advice you live by: "You can't fix a blank page, but you can fix a bad one." –Nora Roberts
If you could have a magical power, what would it be?: The ability to read people's minds.
Gold or silver?: Gold
Favorite outdoor activity: Going on long walks
Do you have or have you had a nickname?:  Pres
Favorite holiday: Christmas
A book you wish you could read again for the first time: KINDRED by Octavia Butler
You have a totally free afternoon – no deadlines, no obligations, no Twitter notifications!  What do you do?: Take a nap!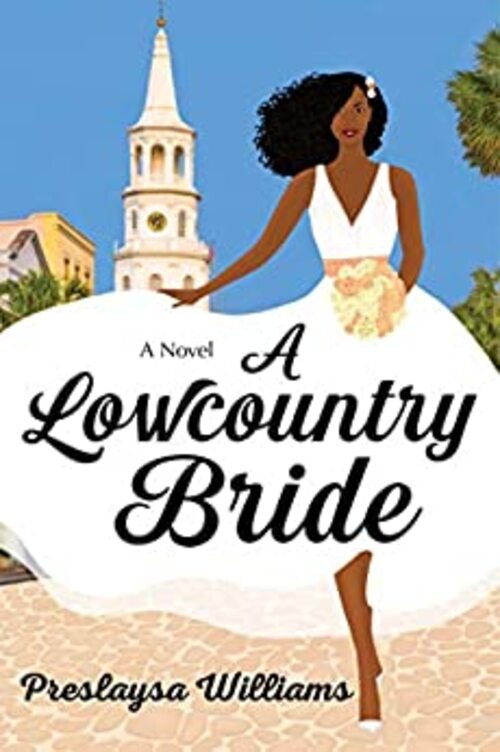 "I absolutely adore this book…love story begins slow—like a delicious lowcountry boil—but heats up to the perfect ending." –Kathleen Y'Barbo, bestselling author of The Black Midnight
A heartwarming Avon debut of love, forgiveness, and new beginnings set in the beautiful South Carolina Lowcountry.
Maya Jackson has worked for Laura Whitcomb, Inc, a renowned New York City bridal gown brand for years and dreams of becoming Head Designer. She has the talent, she just needs a chance to showcase her unique style. Due to an illness, she's always prioritized her career over her personal life until Maya's father fractures his hip and she returns to Charleston, SC. While home for only a few months, she's thrilled to find an opportunity at the local bridal gown boutique, never expecting sparks to fly with its owner…
A military veteran and widowed father, Derek Sullivan hopes to save Always a Bride from bankruptcy in order to preserve the legacy of his family. He also wants to reconnect with his estranged, twelve-year-old daughter, who is still recovering from the loss of her mother. The last thing he needs is a relationship with a beautiful, smart, complicated woman who will be leaving soon.
When Derek begins to fall for the lovely Maya, he knows there's no future. But destiny has its own plans, and these two lonely people with big hearts discover that coming home to love is the best gift life can give.
Multicultural Romance [Avon, On Sale: June 1, 2021, Paperback / e-Book, ISBN: 9780063040298 / eISBN: 9780063040304]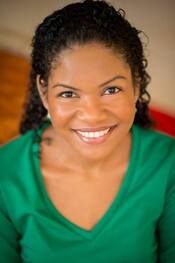 Preslaysa Williams is an award-winning author who writes contemporary romance and women's fiction with an Afro-Filipina twist. Proud of her heritage, she loves sharing her culture with her readers. She has an MFA in Writing Popular Fiction from Seton Hill University and an undergraduate degree from Columbia University.
Preslaysa is also a professional actress, a planner nerd, an avid bookworm, and a homeschool mom who wears mismatched socks.
***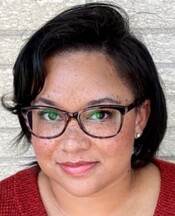 Danielle Jackson Dresser is a contemporary romance author (her debut novel with Berkley will be out in 2022!), avid reader, lackluster-yet-mighty crafter, and accomplished TV binge-watcher.
Once upon a time, she was a publisher publicist and continues to cultivate her love of books and reading by chatting with the best authors in the business as the Editorial Manager of Fresh Fiction and co-host of the Fresh Fiction podcast. Danielle is one of the Boozy Book Broads, a monthly author chat show streamed live on YouTube. She also moderates panels, interviews authors, and hosts a book club at Love's Sweet Arrow, the romance-focused independent bookstore.
Danielle lives in Chicagoland with her very own romance hero husband, darling daughter, and two tempestuous cats. Follow her on Twitter and Instagram, @dj_dresser.