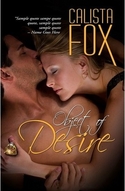 I love writing suspense and sexy romance, so it's only natural that I combined my two passions in my July novel, Object of Desire (Red Sage Publishing, trade paperback). What's most difficult about writing steamy, adventure-packed stories? Finding a break in the suspense action for some sex action!
In Object, Laurel Blackwood and Devon Mallory are both trying to get their hands on a legendary gem and they're constantly being shot at—making it very difficult for these two to hook up! Luckily, they're highly passionate characters, with massive sparkage between them.
Don't stop now…read the rest!