My new book, THE PURSUIT OF MRS. PENNYWORTH takes place in the fall of 1888 in London, England. If that date seems notable, it is because that was when Jack the Ripper was wreaking havoc in White Chapel, one of the worst sections of London at the time.
With a degree in Education and History, doing research, while absolutely necessary, can be a time suck for me. Once I find a subject I need to learn a few facts about, hours later I am oftentimes still reading and googling for more information. (The research black hole)
Thus became the overload of data I uncovered about Jack the Ripper.
While the actions of Jack the Ripper don't have a direct effect in my story about a widow who is being stalked, it does impact the plot. Mrs. Charlotte Pennyworth is receiving disturbing packages on her front steps. When she goes to the Metropolitan Police (Scotland Yard) they deny her help because Jack the Ripper is keeping them busy. The police officer she speaks with indicates she probably has an admirer, she is in no danger, and should enjoy the attention.
Charlotte then turns to Mr. Elliot Baker, a private investigator to assist her.
While doing research for my book, I read quite a bit about Jack the Ripper, and, as many had over time, I became fascinated. The man killed five women. Certainly horrible, yet when compared to other crimes and serial killers throughout history, not extraordinary. Yet his case has confounded and fascinated crime aficionados for over a century.
Is it due to the killer never being found? Or because the suspect was believed to be a man of the upper echelon of society? A surgeon? The killings all took place in a matter of two months. Does that mean the perpetrator died? Left London?
An interesting theory about Jack the Ripper's disappearance was addressed in the 1979 movie, Time After Time—a time travel film. The theory put forth in that story was Jack the Ripper escaped to the future in a time machine made by H. G. Wells. A cute story, and probably no more outrageous than other speculations.
Most likely the case has intrigued enthusiasts because the women who were murdered were also mutilated, which showed a total contempt for women by a man who committed sadistic butchery on the most unfortunate and lowest members of London society.
No reason for the gruesome killings was ever discovered, although over the years there were many, many theories on who the killer was, and what his motives were.
It is truly a fascinating case, and to this day there are still a number of amateur crime solvers working in the research black hole every day.
From USA Today Bestselling Author Callie Hutton is a new captivating and suspenseful historical romance…

Recently widowed, Charlotte Pennyworth is relishing her independence and it rankles to have to rely on a man to help her with an increasingly sinister stalker. Former Yardman, Elliot Baker, is reluctant to take on Charlotte's case but despite himself and his history with another woman, he is drawn to the bright, attractive widow.
Sparks smolder between the PI and his client but neither is looking to form an attachment. Elliot thinks Charlotte is hiding something. Charlotte has no desire to marry again, especially to a private investigator, no matter how handsome, brave and kind he is. The risk to his life and her heart is too great. But more dangerous than a menacing stalker is secrets and if Charlotte's come to light, even the passion between them might not douse the flames of Elliot's distrust.
Romance Historical [Entangled Amara, On Sale: March 26, 2018, e-Book, ISBN: 9781640634572 / eISBN: 9781640634572]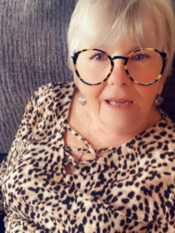 USA Today best selling author of THE ELUSIVE WIFE, Callie Hutton writes both Western Historical and Regency romance, with "historic elements and sensory details" (The Romance Reviews). She also pens an occasional contemporary or two. Callie lives in Oklahoma with several rescue dogs, two adult children, and daughter-in-law (thankfully all not in the same house), and her top cheerleader husband. She also recently welcomed twin grandsons to her ever expanding family.