Hi.
My name is Candice Gilmer, and I write contemporary and paranormal romance.
And I used to write fan fiction.
I wrote a lot of fan fiction. I had a fangirl love for Obi-Wan Kenobi and Star Wars, and wrote about my adoration of the character quite often. If he had as many girlfriends as I wrote about him having, well that Jedi would have never gotten anything done.
I even wrote ongoing stories with him and an OC I made, (Original Character), a serial before serials were popular.
And I loved it. I loved the world, I loved the rules of the world, and I loved Star Wars. (Still do.)
Sure, I branched out and wrote some Buffy the Vampire Slayer fan fiction (my latest release, FANTASY GIRL, the main character, Lynn, writes Buffy fan fiction) and a few other genres.
It was fun to delve deeper into these worlds that I loved, and create more stories and explore the nuance of every scene or episode, weaving my own stories in among the cannon ones.
Besides being fun, I learned how to do a lot of specific things writing fan fiction, too.
Like dialog.
Pacing. (Two simple things, but yet so important to figure out how to do them)
How to write a sex scene. (Oh boy, did I write a lot of those, lol)
But there's one thing that I learned that was probably the most important thing.
How to finish a story.
Like most writers, I struggled with bringing a story to conclusion.
Sure, I'd read all the books, found all the advice available online about the subject, but I always found myself floundering about page 50, and then I was off to something new.
I couldn't stay focused, because I lost my vision as I slipped out of that high from a new story, and never got past the work of it.
Because writing is work…
That's the hardest thing for a lot of people to understand about writing. I am no different than anyone else. I thought, oh it'll be fun to write a story! I should do that!
And when I figured out it was work that no one ever saw or wanted to see, I would get bored and move on to the next big idea.
Fan fiction allowed me to produce work, get feedback from the community I'd found of other fan fic writers, and have motivation to bring those stories to conclusion.
Whether they were epic tomes of 80,000 words or super short, 7,000 word stories, I was motivated to do it.
And when I did finish one, I felt this crazy sort of high over it. A celebration of sorts for myself.
More than just happy I finished that story, but it was proof that I could finish a story.
With every fan fiction story I wrote, I had more and more validation that I could make a story compelling and still find my way to my happily ever after in the end.
I needed that early on. Proof that I could do it.
I think a lot of writers do when they first start. Evidence that they're not wasting their time.
I am no different than anyone else. At the time, I needed that support and affirmation that I really could write.
Still do sometimes.
Have I learned a lot since my fan fiction days? Sure. Tons. I've since worked with amazing companies and editors who have taught me a ton about writing—the craft, the details, and even the business side. I've taken classes, gone to conferences, all the things for writers to do to grow and make their work better.
But one of the most important lessons I learned in writing, I learned from fan fiction.
Finishing the story.
Because if it's not finished, then what's the point?
*All graphics made by me, from my stock art.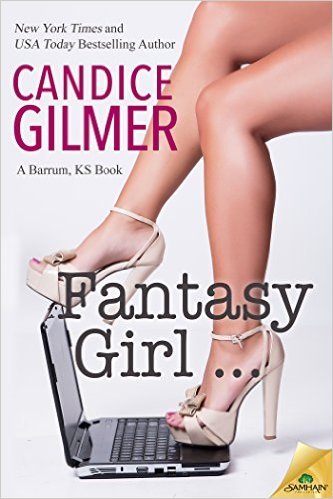 His fantasies will kill her.
By day, Lynn Broadmore leads a boring life as a mild-mannered bookkeeper, enduring one blind date after another. But by night, she's "Hush," webmistress extraordinaire, writing naughty stories for her adoring legion of Buffy the Vampire Slayer fan fiction minions.
Now that there's a new guy working in the next cubicle, though, real life is getting interesting. All Jack has to do is smile, and her insides turn to goo. To her complete surprise, she might even stand a chance against the office bimbo.
Undercover FBI agent Jack Edwards is on the hunt for a serial killer who trolls the Internet for victims. The trail has led to Lynn's virtual doorstep, and he's ready to do whatever is necessary to bring the killer down—including using two secret identities to gain her trust. Things get complicated, however, as the goofy fan fiction writer gets under his skin and starts staining his brain—and his heart.
Distractions are something he can't afford right now…not if he's going to keep her from getting hurt in what she thinks is a safe, on-line hideaway. Because between the pixels lurks a murderer.
And he's chosen Hush, his fantasy girl, as his next target.
This title has been reprinted and revised from its' original version.
Warning, this title contains the following: Cringe-worthy graphic violence and spit-out-your-coffee humor that any woman can relate to.
Romance Erotica Sensual | Romance Suspense [Samhain Publishing, On Sale: July 12, 2016, e-Book, ISBN: 9781619235854 / eISBN: 9781619235854]