It's September. I can't believe we are already into fall. Not only is school starting, it's also time for the new television season. In October Discovery ID is doing a whole series, Hardcover Mysteries with authors Harlan Coben, Sandra Brown, David Baldacci, Kathy Reichs, Lisa Scottoline, Joseph Wambaugh and Sara Paretsky and others. They'll be sharing stories about mysteries that have confounded investigators..
The new CW drama Hellcats is based on the book CHEER by Kate Torgovnick, and the show stars Ashley Tisdale and Alyson Michalka. This is one of those series that surprised me by how good it is. The cheer and dance sequences are fun to watch, and there's a great deal drama and college-aged angst. It's definitely worth checking out.
Overall, this is a pretty good season. Maybe not as strong as last year, but there is definitely a wide variety of shows from which to choose, and some great ones in the mix.
That's enough about television. I have a ton of books to tell you about this month, so let's get to it.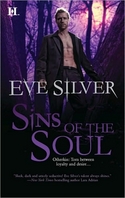 I love me some Eve Silver and she doesn't disappoint with SINS OF THE SOULS, the second book in the Otherkin trilogy. "I loved writing this gritty, dark story because it gave me the opportunity to delve into the mythology of ancient civilizations including Egyptian, Japanese, Norse and Greek. I spent many happy hours at the museum checking out the Egyptian Book of the Dead. Writing this story also gave me the chance to skirt the definitions of good and evil. Alastor Krayl is a soul reaper. Naphre Kurata is an unwilling assassin. It was great fun watching two beings who believe themselves to be purely evil find out that maybe there's just a little bit of good inside after all."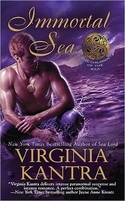 "Did you ever look at your teenager and wonder what the heck happened to your formerly cooperative, loving child?" Asks Virginia Kantra. "Their bodies are changing in ways they don't understand. Their attitudes are changing in ways we have a tough time accepting. My experience with my own boys was the inspiration for IMMORTAL SEA, where doctor/mom Liz Rodriguez must cope with a teenage son who is coming of age in ways neither of them could imagine."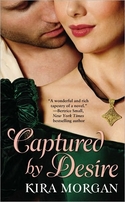 Kira Morgan's CAPTURED BY DESIRE is one I can't wait to check out. "I like romantic challenges," Morgan says, "and star crossed lovers. What could be more challenging than getting a woman to fall in love with a man who just shot her? In CAPTURED BY DESIRE, when the queen's jeweler, Florie Gilder, accidentally ends up on the receiving end of huntsman Rane MacAllister's arrow, it's an uphill battle for him to earn her trust and for her to win his heart."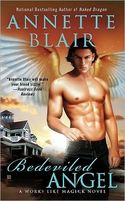 Have you had a chance to check out Annette Blair's new A Works Like Magick series? BEDEVILED ANGEL is definitely worth a look-see. "I set out to describe Everlasting (my word for heaven) in such a way as to console readers who have lost someone, giving our departed a purpose, and love, even in death," Blair says. "I also included a cherub nursery for babies who passed and made sure that the rainbow bridge was nearby so our lost pets had plenty of playtime. Also, in BEDEVILED ANGEL, God is a woman."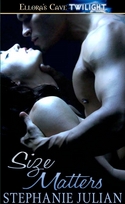 If you're looking for a sexy read check out Stephanie Julian's novella in SIZE MATTERS. "Remember that tabloid you used to see while waiting in the checkout line at the grocery store with Big Foot Swimming at the Jersey Shore or Dinosaurs Rampaging through Central Park?" asks Julian. "As a journalist, I got the biggest kick out of that so-called newspaper. I knew it was for entertainment purposes only. But someone, somewhere, got to write stories about trolls invading suburban malls and housewives having Elvis to dinner. That's how my novella was born. Carrie Benton is a writer who thinks she has the best job in the world making up stories about El Chupacabra and Bigfoot. She just never expected them to be real."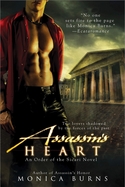 "I have a love of ancient eras, particularly Egypt and Rome," says author Monica Burns. "When my agent suggested I write a paranormal I had no idea of what to write. So I decided to just sit down and write. I came up with five pages of an erotic scene between an ancient Roman general and his wife. Talk about a head banging moment. I was supposed to write a paranormal not an ancient historical. I put those five pages aside until I began writing ASSASSIN'S HEART. I really wanted to write the back-story of how my Sicari assassins had evolved over the centuries, but wasn't sure how. I'd already written about ten chapters of the book, which my wonderful beta reader sent back and said, love you, but the book sucks. I adore her! Suddenly, I remembered my ancient Roman couple, and how I could have my cake and eat it too. With those five pages I'd been clinging to since 2005, I was able to "fix" the book AND show the origins of the Sicari all in one fell swoop. To meld a small piece of writing one loves into a book as an integral piece of the story doesn't happen often, but when it does, it's truly a satisfying experience. In fact, it's one of the reasons I'm a writer. It makes me happy."
You should also check out books by Melanie Dickerson (THE HEALER'S APPRENTICE), Sandrine O'Shea (THE COURTESAN'S BED), J. L. Wilson (LIVING PROOF) and Marie-Nicole Ryan (LOVE ME IF YOU CAN)
So, try these and I'll be back with more in October…Candy
---
Candace Havens is a columnist for FYI Television, an online news and media service, where she writes five weekly columns for an overall audience of 44 million readers. She is also an entertainment reporter for 96.3 KSCS in Fort Worth. She lives in Fort Worth, Texas. She is the author of the Charmed & Dangerous series including CHARMED & READY, CHARMED & DANGEROUS, CHARMED & DEADLY, and LIKE A CHARM as well as the Caruthers sisters: DRAGONS PREFER BLONDES and THE DEMON KING AND I. Her latest book, TAKE ME IF YOU DARE is in stores in February 2010.
Her non-fiction prose includes JOSS WHEDON: THE GENIUS BEHIND BUFFY, and essays in ALIAS ASSUMED: SEX, LIES AND SD-6, and FIVE SEASONS OF ANGEL.
You can visit Candy daily at her blog or her website