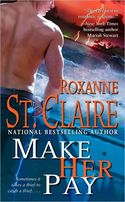 Bullet Catchers #8
October 2009
On Sale: September 29, 2009
Featuring: Constantine Xenakis; Lizzie Dare
352 pages
ISBN: 1439102228
EAN: 9781439102220
Paperback
$7.00
Romance Suspense
Buy at Amazon.com

Reader Alert! It's time to get caught up on the Bullet Catcher series. Roxanne St. Claire has a new Romantic Suspense trilogy coming November 2010.
Make Her Pay
by Roxanne St. Claire
Sometimes it takes a thief to catch a thief
Bullet Catcher and former Navy SEAL Constantine Xenakis has infiltrated a dive ship to discover who's plundering priceless gems from a legendary sunken Spanish galleon.
When he catches Lizzie Dare red-handed in the locked treasure room, her story of a stolen ancestral legacy convinces him to work with the sexy thief instead of turning her in — and not just because he wants to find the real culprit. Lizzie is willing to risk everything to save the Bombay Blue Diamonds from her sworn enemy, even if that means giving in to an irresistible desire to get closer to her accomplice.
But when passion hits them like a rogue wave and danger surrounds them like a school of hungry sharks, their adventure on the high seas turns treacherous…and deadly

Bullet Catchers continue to shoot straight and thrill readers.