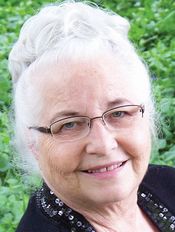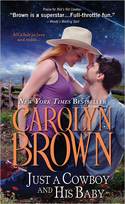 Hello, all y'all at Fresh Fiction. I'm honored that you've asked me to come back to your site and visit a spell about the newest book in the Spikes & Spurs series, JUST A COWBOY AND HIS BABY!
It's not exactly a Christmas book but since it ends on a Christmas note, it's perfect for the holidays. Gemma O'Donnell always wanted to be the first woman to win the ProRodeo buckle for saddle bronc riding but Kaila Mussell beat her to the punch on that one. However, she's darn sure got her mind set on being the second woman to win it so the sexy cowboys on the rodeo circuit can just move over because a cowgirl has come to town.
Trace Coleman doesn't care a lot about the title. He wants the prize money to buy his dream ranch. But one sexy, determined cowgirl gets in his way every time he turns around.
Since the only way most of you folks know Trace and Gemma might be by their pictures on the cover of the book (Isn't it just gorgeous with the stars twinkling in the background? And you did notice that she's wearing red boots, didn't you?), I thought we'd interview them today. Anyone got questions?
Okay, the lady in the Stetson hat on the back row, what's your question darlin'?
"Why on earth would someone as petite and cute as Gemma want to ride bronc's? She could settle down right around Ringgold with her choice of cowboys."
Gemma: First of all thank you for the compliment. I come from a long line of ranchers and horse trainers. I have three older brothers who can ride anything with four legs, play anything that has strings on it and I've always been determined not to let them do something better than I can. And I was not looking for a cowboy and I dang sure did not have thoughts of settling down when I hitched my trailer to my truck and left Ringgold.
Next question from the fellow over there with the spurs on his boots. Yes, you, honey. I can see a question in your eyes.
"How did you feel, Trace, those times when Gemma got a higher score than you did and took home the purse? It couldn't be easy losing to a woman."
Trace (with a smile on his face): No, it wasn't. And the ribbing I took from the other cowboys on the circuit wasn't easy either, but she won fair and square. There wasn't no doubt about it after the first couple of rides that she had determination and fire. And believe me she could hang on for eight seconds better than a lot of men.
And the pretty little teenage girl with her hair in dog ears right there in the middle of the room? What's your question and who is it for?
"I just want to ask Trace if he's got any brothers or cousins who are under the age of twenty?"
Trace: No, darlin', I do not. My three cousins, Lester, Hill and Harper are all about thirty. But I bet if you look hard enough right here in Texas, you'll find a cowboy just waitin' to dance with you or take you to the rodeo.
Anyone else? Yes, ma'am, the lady who just arrived and poured a cup of coffee has a question.
"Gemma, what did you think the first time that you and Trace were introduced? Did you think he was sexy or did he kind of grow on you?"
Gemma (with a slight giggle): Oh, honey, I knew he was sexy from the first time he put his hands on my waist and helped me climb the chute to settle my butt down on Smokin' Joe's back. But I sure wasn't going to let him in on the secret. Lord, it was difficult enough keeping him on his toes without him knowing how he affected me. It took all my determination and will power just to stay on that bronc's back for eight seconds after Trace winked at me.
Now it's time for us to ask you a question! Do you like a good rousting bit of arguing in your books or do you like a sweet love story where there is little conflict between the hero and heroine? Trace, Gemma and I intend to be in and out of Fresh Fiction all day so if you've got more questions, please leave us a comment and we'll be glad to answer them.
One determined, hell-on-wheels cowgirl.
One equally determined, sexier-than-hell cowboy.
One innocent baby, who suddenly takes center stage and everybody's priorities are suddenly up for grabs.
With a young baby dropped in his lap, bronc rider Trace Coleman's world is turned upside down. Suddenly, Gemma O'Donnell, his stiffest competition on the rodeo scene, is now the one person who can help him. She's already resisting his sexy smile and even sexier swagger, but she can't resist a baby. When it comes down to it, only one can win, but is winning more important than love and family?
ABOUT THE AUTHOR
Carolyn Brown is a New York Times and USA Today bestselling author with more than forty books published, and credits her eclectic family for her humor and writing ideas. She writes bestselling single title cowboy and country music mass market romances. Born in Texas and raised in southern Oklahoma, Carolyn and her husband now make their home in the town of Davis, Oklahoma, where she is working on her next cowboy romances! This Fall, look for MISTLETOE COWBOY and JUST A COWBOY AND HIS BABY, the latest in the Spikes & Spurs Series. Carolyn's first women's fiction novel, THE BLUE RIBBON JALAPEÑO SOCIETY JUBILEE, hits stores in March 2013. For more information, please visit http://carolynlbrown.com/.
To comment on Carolyn Brown's blog please click here.