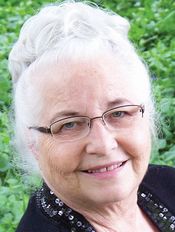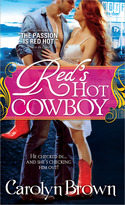 Good morning to all you wonderful folks at Fresh Fiction! Now that I've met you, visited with you and broke bread (fajitas do count as bread, don't they?) with you, it's even more special to be here today. Thank you so much for inviting me to visit with everyone about my newest release, RED'S HOT COWBOY, the second book in the Spikes & Spurs series. It's on the bookshelves now in all the major book stores, online stores, ebook stores and Wal-Mart. Don't you just love the cover with all those beautiful bright colors and that sexier than hell cowboy?
Wil and Pearl take center stage in RED'S HOT COWBOY. Neither of them was ready for that Christmas Eve, let me tell you. It hit them both right between heart beats like cupid's sharp little arrow.
Wil Marshall wasn't looking for trouble, honest he wasn't. He was only looking for a place to stay after a winter storm knocked out the electricity at his ranch. The hunky cowboy had no idea that he'd get tangled up with a sassy red head or get himself messed up in a murder investigation that night. He might have endured the cold and the dark if he'd realized that staying in the Longhorn Inn that night would throw him into a tailspin worse than staying on a bucking bull for eight seconds.
Pearl Richland wanted a change but she didn't reckon on cultural shock when she decided to leave her high powered job and go to work for herself running the vintage motel her great aunt bequeathed her. She misses her party life and her friends and she damn sure doesn't have time for chaos, but it arrives on Christmas Eve in the form of one sexy cowboy who puts her on an emotional roller coaster going so fast that she can't even breathe.
Writing this book was so much fun that by the time I reached the last scenes I hated to see it come to any end. Wil and Pearl were absolute hoots to get to know. Both of them wanted to dominate the story and they sat on the loveseat behind me and fought about who would tell what happened next. They were such an inspiration that every morning I sat down at my computer and wondered just what fusses, fights, hissy fits and love scenes would happen that day.
I've been asked where I get my inspiration to keep writing cowboy romance. There are several things that inspire me but my characters are the first on the list. If they are spicy, sexy hot, and bull headed that makes for some really hopping scenes. If they live, fight and love with red hot passion, they are the right characters for me. If they overcome all the obstacles I throw in their way between the first day they meet and the HEA, then they keep me inspired day after day until together we get their story told. And if when the book is finished my readers sigh and wish for one more chapter, then my inspiration has worked.
But what happens when my characters are lazy and want to sleep or pout all day? That's when country music comes into play, quite literally. I wake them up with Sara Evens, Blake Shelton, Miranda Lambert, Sugarland, Alan Jackson, and Josh Turner. And if they don't open their eyes and start to work with me with those artists then we go further back and listen to some George Strait, George Jones and Floyd Cramer's tinkly country piano music. That nearly always does the trick. My characters get their boots on and their feet to tapping and before long we're right back to fusses, fights, hissy fits and hot love scenes.
However, if they are really in a pout, then sometimes we have to go for a long ride. It's amazing how bored they'll get sitting in the back seat of the car. I guarantee within a hundred miles they are whispering in my ear and telling me exactly how to write the next scene. In one five day road trip out to the panhandle of Texas I plotted out three books. That was an experience! Three sets of characters piled up in the back seat all wanting to tell me what happened next in their upcoming books.
In RED'S HOT COWBOY, we didn't have to resort to the road trip. Wil and Pearl both liked country music so we got along just fine. I'd put on some Blake Shelton singing "Hillbilly Bone" or "Delilah" and Pearl would dig out her red cowboy boots and we'd be off to new adventures.
So tell me what inspires you to read cowboy romance? Hot cowboys? Sassy heroines? What would you do if Wil Marshall (look at the cover one more time) was holding your leg and looking at you like he could have you for breakfast, dinner and supper?
RED'S HOT COWBOY BY CAROLYN BROWN – IN STORES AUGUST 2011
He wasn't looking for trouble…
But when the cops are knocking on your door, trouble's definitely found you. And this is where Wil Marshal finds himself after checking into the Longhorn Inn. It could be all a big mistake, but Wil's not getting much sleep. Then the motel owner—who is drop dead gorgeous and feisty to boot—saves him from an even worse night behind bars. Now he owes her one, bit time…
But trouble comes in all shapes and sizes…
Pearl never wanted that run-down motel, but her aunt didn't leave her much choice. And then this steaming hot cowboy shows up looking for a place to rest. Next thing she knows, she wants to offer him more than just room service. But if he calls her Red one more time, he won't be the only one accused of murder…
Sparks are definitely flying and before long, the Do Not Disturb sign might be swinging from the door…
ABOUT THE AUTHOR
Carolyn Brown is an award-winning author who has published 36 bestselling romances for the library market. She now writes bestselling single title cowboy and country music mass market romances. Born in Texas and raised in southern Oklahoma, Carolyn and her husband now make their home in the town of Davis, Oklahoma. Carolyn's next book, DARN GOOD COWBOY CHRISTMAS will be in stores in October 2011, followed by ONE HOT COWBOY WEDDING in April 2012. For more information, please visit www.carolynlbrown.com.
To comment on Carolyn Brown's blog please click here.