Thank you for stopping by Fresh Fiction for all your reading needs and recommendations. I'm bestselling historical romance author, Christina McKnight. My writing style focuses on strong heroines who are out to right a wrong done to them…and men who don't always fit the classic 'hero mold'. I also enjoy throwing together unlikely couples and letting their story take over. My earliest Regency Romance inspiration was Amanda Quick. I love her use of mystery as a subplot to further deepen her stories. You'll notice a majority of my books also have a hint of mystery to accompany the romance—and to make my characters work harder to secure their Happily Ever Afters.
I write heroes for every woman; from brooding alphas, to compassionate betas, and even the occasional scoundrel needing redemption or introverted scholar. With each book I write, I see it as the opportunity to write a completely different story with a new setting, fresh characters, and unsurmountable obstacles to their love match.
Another element I love weaving through my plot lines are historical facts; including obscure French history (SCORNED EVER MORE, A Lady Forsaken Book Three) or rare wind instruments said to have been created by Greek gods (THE THIEF STEALS HER EARL, Craven House Series Book One). My latest hero, Simon Montgomery, the Earl of Cartwright, lives his life according to math, statistics, and science. Due to his uncle's betrayal, it is safer for Cart to surround himself with facts and historical objects as opposed to anyone who can hurt him again.
In THE THIEF STEALS HER EARL, Cart is a subscriber to Silliman's Journal, currently known as the American Journal of Science. Professor Benjamin Silliman started the publication in 1818 and focused primarily on the natural sciences and geology. My hero uses the knowledge from an article to explain the natural forces that make it impossible for my heroine and him to stay apart. He believes that there are unseen forces at work, things that modern science cannot yet explain, but were there, nonetheless. This research added an entirely new level to the story, deepening my character's motivations and beliefs. (More information)
One of my favorite parts about writing is including minor characters who will eventually have their own story. It is always exciting when readers discover my hero or heroine was first introduced in a completely different series. The heroines from my Craven House Series are first seen in FORGOTTEN NO MORE, A Lady Forsaken Series (Book Two). Simon Cartwright, my hero from my latest release, THE THIEF STEALS HER EARL, is lending his little sister, Theodora, for me to use as my heroine in a new series, Lady Archer's Creed Series, releasing in January 2017.
As a writer—and lover of books—I believe that story ideas are endless and I find inspiration everywhere; from relationships I observe, to interesting locations, to folklore and legends. My goal is to take readers on an entirely new adventure with each of my books—and if you fall in love along the way, that's GREAT too.
You can keep up-to-date on my coming releases on my website (www.christinamcknight.com) or connect with me on Facebook (www.facebook.com/christinamcknightwriter) and Twitter (@CMcKnightwriter).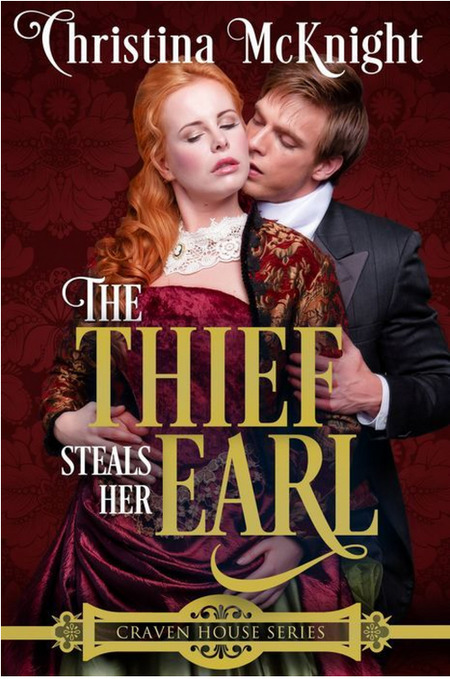 Following the passing of his father and an unforgivable act by a family member ending in near ruin for his family, Simon Montgomery, the new Earl of Cartwright, is forced to return home without finishing his education. However, that doesn't stop Cart from absorbing every morsel of knowledge he can.
Unfortunately, doing so and applying his every moment to restoring his family's lost heirlooms while seeing to his sister's upbringing and attempting to wrangle his mother's frivolous spending habits has made him somewhat of a recluse, a man unsure of how to live life unless it's focused around academia, order, and routine. But what happens when Cart is faced with a woman as intelligent as he but far more cunning?
Miss Judith Pengarden has lived her entire life under her eldest sister's firm yet loving guidance. When she discovers her family is in jeopardy of losing their home, Jude decides to use her skills to help them pay off their unsettled debts. However, when Jude attempts to steal from the wrong house, she finds herself alone, locked in a dank room at the night watchman's residence, and she vows to stop thinking so spontaneously and risking her family's name to scandal. Unfortunately, there are some loose ends that need to be tied up before she can. Luckily for her, however, she may have just met the man who can help her family and also steal a piece of her heart.
When Jude meets Lord Cartwright at a London garden party, he seems the perfect man to solve all her problems—a recluse unfamiliar with London Society and studied in antiquities. A lord like none she has met, Jude soon realizes that Cart is more valuable to her than any painting, sculpture, or vase. But when she's caught in possession of Cart's long-lost family heirloom, completely unaware of what it really means, can she convince him that things are far from what they seem? That despite the deceit and subterfuge, her heart is in the right place. With her family…and with him.
Romance Historical [Author Self-Published, On Sale: July 26, 2016, e-Book, ISBN: 2940153116259 / eISBN: 9781945089039]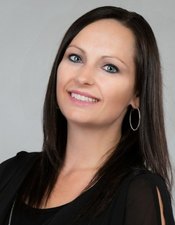 Christina McKnight is a book lover turned writer. From a young age, her mother encouraged her to tell her own stories. She's been writing ever since. Currently, she focuses on Historical Romance.
Christina enjoys a quiet life in Northern California with her family, her wine, and lots of coffee. Oh, and her books…don't forget her books! Most days she can be found writing, reading, or traveling the great state of California.