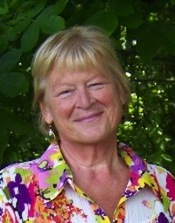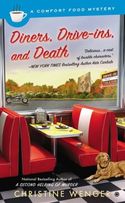 First, let me explain that wild title above.  My series for Penguin/Obsidian Books are all cozy mysteries, and each one has a comfort food theme.
You might ask, "Hey, Chris, what is comfort food? "  Well, dear reader, I think of it as food or sweets that grandma used to make, or mom used to make, or dad always made, or Joe at the diner makes.  It's your favorite go-to food when you are feeling low and need some comfort.  It's the way mom makes that sweet potato casserole.  It's that meatloaf you grew up on.  It's grandma's apple pie and that you now make every Thanksgiving for your kids.  And, hopefully, one of your kids will make it for their kids.
You might also ask, "Hey, Chris, what's the setting for your comfort food series?"  Well, dear reader, I picked the perfect setting for my series: a diner!  My character Trixie Matkowski's Silver Bullet Diner, located in small town Sandy Harbor, New York, is on the shore of Lake Ontario.
Trixie Matkowski has the same first name as my favorite childhood sleuth, Trixie Belden.  When I was a kid, you could always find me lying on my bed, reading and re-reading Trixie's adventures. I'd be done with one book and have the next open so I wouldn't miss a word.  I'd like to think that Trixie Matkowski is a lot like me.  We have a lot of things in common: love of food and desserts; love of Lake Ontario, small towns, little rental cottages, quirky friends; and Polish heritage.
Like Trixie Matkowski, I've always been a foodie, and I love to cook and bake. As for diners, I have my local favorites that have stood the test of time and various owners.  A lot of the old diners, like the Silver Bullet, were fashioned after railroad dining cars.  My grandfather used to work at Onondaga Pottery (which turned into Syracuse China and is now defunct) which made china for various diners, restaurants, and even railroad dining cars.  I have several collectible railroad china pieces, and whenever I use it, I think of where it might have traveled and the dining cars in which it sat.
Friends who have read my books relish in sharing their favorite diners with me.  Oh, the hardship!  Great food and great company.  So, while I should be writing, instead I am eating at various new and old diners.
But my favorite will always be diners like the Silver Bullet, a shiny aluminum establishment from the 1950's or so, with a grand history and food that comforts.  The smell of coffee permeates the air, and desserts take a ride on a lighted carousel.  The waitresses are friendly, and no one rushes you out.
Think of me sitting across from you in a booth with a worn Formica table and red vinyl seats that ergonomically form to my butt.   I'll be the one eating fried chicken with mashed potatoes and gravy and buttered corn on the side.
"Of course, Nancy, I'd love dessert.  I'll have a cup of thick black coffee with my apple pie.  Definitely, a la mode.  Vanilla ice cream, please!"
About DINERS, DRIVE-INS, AND DEATH
For Sandy Harbor's tastiest comfort food, venture to the Silver Bullet Diner. But head next door to the new drive-in theater if you have an appetite for murder.
Trixie Matkowski has a tall order to fill this fall. Aside from dishing out delicious fare at the Silver Bullet during peak fishing season, she's helping her friend—Antoinette Chloe Brown, or ACB for short—open a drive-in movie theater in the vacant lot beside her diner. It's just the thing to take ACB's mind off Nick, her missing biker beau.
But their plans are fried after Nick's body is discovered during the groundbreaking for the drive-in. And when the police connect the murder weapon to ACB, she becomes the prime suspect in eighty-sixing Nick. With the fate of her innocent friend and her business on the line, Trixie must make the guilty party pay up before someone else gets stiffed.
Includes Delicious Home-Style Recipes!
About Christine Wenger
Christine has worked in the criminal justice field for more years than she cares to remember. She has a dual master's degree in Probation and Parole Studies and Sociology from Fordham University.
Unfortunately, the knowledge gained from way too many years in night school, didn't prepare her for what she loves to do the most – writing romances and cozy mysteries.