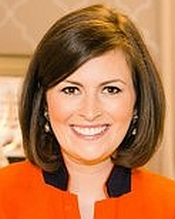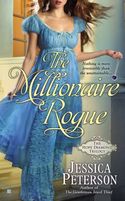 Hello everyone!  My name is Jessica Peterson, and book two of my debut Regency-set trilogy, THE MILLIONAIRE ROGUE, hits shelves TODAY!  I describe it as The Thomas Crown Affair meets a sassy Jane Austen: a famous fifty carat diamond is stolen in the midst of a crowded ballroom, and all sorts of deliciousness ensues!
MILLIONAIRE was so fun to write.  I wouldn't say it was easy – writing is never, ever, ever easy, at least not for me – but I fell in love with my characters pretty quickly, which always makes the daydreaming necessary for plotting a bit easier.
I absolutely ADORE Thomas and Sophia, my witty hero and heroine, and hope you will, too.  I think one of the main reasons I had fun writing their story was how much kissing these two do.  They kiss and they kiss and I was all too happy to explore their wonderfully excessive kissing mojo.
One of my favorite scenes in MILLIONAIRE is when Sophia asks Thomas to kiss her – for the second time that night:
Sophia let out a breath.  If Hope wasn't holding her up with his weight, her knees would have definitely buckled.  Good God, never did a man look so delicious in his looming as Mr. Thomas Hope.
"Sophia," he repeated.
She ran her tongue along her bottom lip, suddenly alive with sensation.
The words came before she could stop them, a defense against his questions; a plea of desire.
"Do it again."
Thomas paused.  "I beg your pardon?"
"Kiss me.  Like you did for the Princess.  Do it again."
His eyes searched hers, moving from one to the other.  With every sense she implored him to action, tilting her chin so that her lips waited just beneath the soft curve of his own.  The air between them tightened, pulling them slowly towards one another.
Sophia vaguely heard Thomas's hat dropping to the ground beside her; and then his hand was cupping her face and his hair was falling into her eyes and his skin brushed against hers.  He took her lips with his own, an urgent but luxuriously careful caress that drew a moan from the back of her throat.
If that's not delicious, I don't know what is!
Don't get me wrong.  I love a good sex scene as much as anyone else.  But there's something about a really, really great kiss – the stomach-flipping, changes-everything, world-ending kind – that gets me every time.  For me, a great kiss is one of life's most romantic moments.  I'm sure I'm not alone when I say I could make out for hours, happily.
So, without further ado, here are my top five reasons why smooching in books is awesome:
It's a (hopefully mind-blowing) admission of romantic interest.  There are few things more joyful than knowing someone likes you, right?  Throw in a lovely smooch, and wow! – life gets really, really good.
It's often an uncontrollable urge.  One the hero and/or heroine has no power over.  Despite the myriad – and compelling – reasons they cannot, and should not, be together, the hero just can't resist the heroine; the heroine just can't keep herself from laying one on the hero.  Cue amazeballs kiss.
It complicates things.  See #2 above.  There are a million reasons why the hero and heroine shouldn't be together; they definitely shouldn't kiss.  But then they do.  And even though they think that kissing the other person will cure them of that desire, it actually stokes it.  Makes them want the other person more badly than before.  Which is a pretty big problem, considering the million reasons they shouldn't be together.
It's an incredibly romantic moment.  Yes, a kiss is a physical expression of interest/affection/love.  But there's something soft about a kiss – even a hot, Christian Grey one – that makes my stomach flip.  The way the hero holds the heroine's face; the softness of the hero's lips.  Yikes!
A bad kiss is a sign something's off.  Maybe the heroine shares a bad kiss with a dude, decides he's not the one, and moves on to our strapping hero.  Maybe the hero doesn't click with the girl he makes out with at the bar and decides he needs to be with the lovely heroine, stat.  Either way, a kiss is a good litmus test for whether or not a character is into someone.
Moral of the story – kissing in books is awesome.  There's not enough good kissing in real life; I think we should all take a hint from our fictional brethren and get our smooch on in 2015!
To win a copy of my latest smooch-licious release, THE MILLIONAIRE ROGUE, comment with your favorite kissing scene – movies, mythology, and books are all fair game!
About THE MILLIONAIRE ROGUE
In an age of stately decorum, the Hope Diamond was a source of delicious intrigue—and a font of unimaginable adventure…
Though not of noble birth, Thomas Hope has a skill in banking that's made him one of the richest, most trusted men in London. Still, he keeps his dubious past hidden. So when an old acquaintance calls on Hope to help acquire the infamous French Blue Diamond, he's desperate to be discreet. He never expects that his biggest concern shouldn't be losing his reputation, but his heart.
Sophia Blaise is determined to make a brilliant match with this season's most eligible, most titled bachelor, but her true passion has been ignited by the incredible stories she hears while secretly transcribing the memoirs of a notorious Madam. After a night of clandestine writing ends with Sophia caught up in a scandalous adventure of her own—with an alluring banker—she begins to question whether she's suited to the proper life she's always known…
Caught up in a thrilling exploit and unexpected romance, Sophia must make a choice between what her head knows is safe and what her heart desperately desires, before both slip from her grasp forever.