Lady Olivia, the matriarch of the Waters Highland clan, has sent her two youngest sons south to London with the task of marrying off their hoydenish sister, Mary Elizabeth Waters. While in England, Alexander (HOW TO SEDUCE A SCOT) and Robert (HOW TO WED A WARRIOR) were under strict instructions not to marry an English girl, a stricture which they both ignored. Mary Elizabeth can out-hunt, out-shoot, and out-ride every man she has ever met, and she has declared openly and directly that she will never wed.
Now, let's sit down to tea with the Waters clan, shall we?
Tea with the Waters Family
Alexander Waters: I've gathered you all here today to consider why Mary Elizabeth isn't married yet.
Mary Elizabeth Waters: Because marriage is for fools! What woman would give up her life to a man? No offense, Catherine.
Mrs. Catherine Waters (laughing): You don't offend me, Mary.
Robert Waters: Now, Mary darlin', don't be too hasty. Ye might enjoy wedded bliss.
Mary Elizabeth: Just because you caught Mrs. Prudence—
Robbie: She caught me!
Mary Elizabeth (with a glower): Just because you caught my Mrs. Prudence and got her to marry you, does not mean that you are an authority on being wed. And I'll be hasty if I like. Haste is fun, especially on horseback.
Robbie: I've no objection to you riding like the devil, Mary. I only object to you persuading my wife to wear breeches.
Mrs. Prudence Waters: Robbie, you love my breeches!
Robbie: I love you in them, Pru. I'm not fond of anyone else seeing you in them.
Alex: I think we need to return to the matter at hand before Mother comes into the room.
Mary Elizabeth: Mother's here?! I'd best fly…
Alex: No, Mary, you'll stay right here with us. Now, before Mother comes in to take her tea, I have to ask, what exactly is your objection to marrying? With these two sterling examples before you, why do you hide from falling in love?
Mary Elizabeth: Ah, now, wee Alex, falling in love is an altogether different thing. It looks pleasant enough, from all I can tell, watching you all canoodle about.
Catherine blushes and Prudence laughs.
Mary Elizabeth: Now, to important matters. Robbie, pass the scones.
Robbie: Don't eat all the cream, Mary. I want a bit more.
Mary Elizabeth: The fancy ducal butler will bring us more if we need it.
Alex: Mary Elizabeth, you're avoiding the question, and Mother will be here any moment.
Mary Elizabeth: If Mother has something to ask me, she can ask me herself.
Alex: It's I who am asking you, Mary. Why do you want to run from marriage?
Mary Elizabeth (with a sigh): I don't hold against marriage, Alex. It's a fine institution. Mother and Da have loved it all their lives, and you and Robbie seem to flourish in it. I just don't feel a great interest in giving my life to it. I'd rather be free.
Catherine (gently): You might marry and also be free. Sometimes being married can free you in ways you never thought possible. (blushing)
Alex takes her hand.
Mary Elizabeth (looking askance): Well, I'll have to take your word for it now, won't I?
Robbie: What of the Recluse Duke, Mary? You might like him.
Mary Elizabeth: God help the man if I ever meet him. I'm not a fan of dukes, not even recluse ones.
Robbie and Prudence exchange a glance.
Robbie: You seem to like the stable boy well enough.
Mary Elizabeth: Don't bring my new friend into this, Robbie. Leave him alone.
Alex: Your friend, is he?
Mary Elizabeth: Yes, he is. He can't help that he's a stable boy.
Alex: You seem a bit attached to the man, Mary. I'm not sure I approve.
Mary Elizabeth: There's nothing to approve or disapprove of, Alex. I've told you ten times in the last ten minutes, I've no interest in worrying over men and their nonsense. And that's that. No canoodling for me, be it with dukes or stable boys.
Prudence (smiling): So you say, Mary. And we'll take you at your word.
Catherine: All I mean to say, Mary Elizabeth, is that may change one day.
Mary Elizabeth: Well, if it ever does, you'll be the first to know.
Robbie: The third, I imagine.
Mary Elizabeth glowers at Robbie.
Robbie (ignoring her): God help the man.
Mary Elizabeth throws a scone at him. He catches it deftly, and leans over to kiss her cheek.
Robbie: Peace, Mary. We all love you.
Alex: So we do. Now you'd better dash. Mother's coming in…
Mary Elizabeth: Tell her hello from me…but I'm off! I'm going horseback riding.
Robbie: With your stable boy?
Mary Elizabeth: He's not mine, ye daft man. He's just my friend.
Robbie: So you say, Mary, so you say.
Tune in for the story of Mary Elizabeth and her Recluse Duke/Stable Boy in HOW TO TRAIN YOUR HIGHLANDER, coming in December 2016. In the meantime, don't miss HOW TO SEDUCE A SCOT and HOW TO WED A WARRIOR, out now!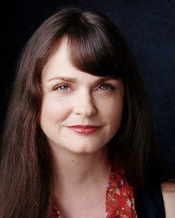 Ever since Christy English picked up a fake sword in stage combat class at the age of fourteen, she has lived vicariously through the sword-wielding women of her imagination. A banker by day and a writer by night, she loves to eat chocolate, drink too many soft drinks, and walk the mountain trails of her home in North Carolina.
He's the scourge of the Season…
Reasons to quit London:
1. It's not the Highlands.
2. It will never be the Highlands.
3. It's full of the bloody English.
When his wild spitfire of a sister makes a scene by drawing a claymore in Hyde Park, Highlander Robert Waters knows something must be done. To forestall the inevitable scandal, he hires widowed Prudence Whittaker to teach his sister how to be a lady-never expecting to find unbridled passion beneath the clever Englishwoman's prim exterior.
Mrs. Whittaker is a fraud. Born Lady Prudence Farthington, daughter of the ruined earl of Lynwood, she's never even been married. In order to make her way in the world, she has to rely on her wits and a web of lies…lies a sexy Highlander is all too close to unraveling.
He swears he will possess her; she vows he will do nothing of the sort. Yet as passions heat, Prudence comes to realize the illicit pleasure that can be had in going toe-to-toe with a Scot.