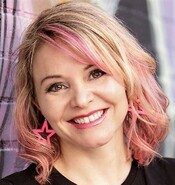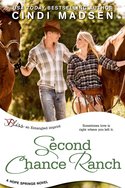 Reunited lovers stories happen to be some of my favorite romances. For several years, I've had the idea in my head for an aspiring country singer and the cowboy she left behind to try to pursue her music career. I always knew I'd write it, but I had other books contracted, so I mentally added threads to the story until I finally got a chance to get it down. Since I grew up on a ranch, diving into that setting was like my own version of returning to something I love.
In SECOND CHANCE RANCH, Sadie's returning to Hope Springs after six years. The road to her country music career has been filled with lots of ups and downs and plenty of bumps. When her career hits a major snag, she knows she needs a break and a some time to recuperate and regain her confidence—not to mention her struggling bank account. So she heads home to Hope Springs, Wyoming. The only person hiring, though, is the high school sweetheart she left behind. Royce Dixon runs Second Chance Ranch, where he rehabilitates troubled teens through ranch work and trains roping horses. Sadie's good with animals and good with the teens, but she and Royce struggle to find the right balance between their past and their present as they work together. When they discover the chemistry between them is still as strong as ever, everything gets that much more complicated, and they both start thinking about second chances.
One thing I love about reunited lovers stories is that shared history. Things might not have worked out the first time, but you can't help cheer for things to work out differently this time. I figured while I was talking about reunited lovers, I'd go ahead and list my favorite stories about them, and what makes them so awesome.
1. Sweet Home Alabama. The thing I love about this movie is that both guys are good guys, but once Reese—er, Melanie—is back in her hometown, the chemistry between her and the guy who refuses to divorce her is amazing. You quickly start to see that one of the guys is better for her and how much he's worked to change since she left. Then you spend the movie biting your nails and hoping they realize it before it's too late.
2. The Notebook. That moment when Noah yells, "It's still not over!" and there's rain and kissing and then everything's right with the world. Gives me goosebumps just thinking about it. *goes to find the YouTube clip* This story is another great example of a girl who's got two great guys to pick from, but when it comes down to it, one of them is just better for her. After all, even with no promise of Allie returning, Noah build the house he promised he would. Talk about romantic. I did read the book before I watched the movie, and it's one of the rare adaptations that I liked even better than the book. Ryan Gosling might've had something to do with that.
3. Princess Bride. As you wish. Siiiigh. Even pirates—or becoming a pirate—scary swamps, and death, can't keep Wesley away from the woman he's meant to be with. Throw in a whole bunch of quotable lines, great fight scenes, and kissing, and you've got a movie you can reunite with again and again.
4. Persuasion by Jane Austen. Anne Elliot loved Frederick Wentworth but allowed herself to be talked out of the engagement since he was poor and didn't have the right family connections (There were so many dang rules for dating in the 18th century!) But when Anne and Frederick meet again several years later, she's still not married, and he's now a captain and wealthy. He also hasn't quite forgiven Anne for rejecting him. I'll admit to yelling at both the book and the movie as the story unfolded. (Now I understand why guys yell at football games when they're not going the way they want them to. You hope that somehow you'll change the outcome.) While we're trying to fix romances with yelling, can we all yell loud enough for the Great Gatsby to get an ending where those lovers are happily reunited? That'd be great. Luckily, Anne and Frederick get their second chance at love. So yelling apparently works better than I thought. Go Team Romance!
5. The Count of Monte Cristo. (let's go with the movie version, so we get the reunited lovers the way I like them) Edmond spends all those years in prison, and after escaping and finding a fortune, he comes back for revenge. Mercedes recognizes him and she admits she still loves him. The bad guy is defeated, it's revealed Edmond's actually Albert's father, and then they all get to live as a family, happily ever after.
So, any stories I missed? What's your favorite reunited lovers story?