What is it about opposites that attract?
You could say that the heroine and hero in THE BAD BOY'S BABY are an opposites attract kind of couple. Admittedly, there are sometimes that I wonder how my husband can think so opposite of how I do. Last summer we remodeled, and our taste were so opposing that I often wondered how we ever managed to buy a house together in the first place. So there was some compromising on both ends, and we both loved the finished product. So I thought I'd explore what it is about opposites that attract.
A new way of looking at things – I always like learning the way certain things affect another person and comparing it to how they affect me. Like music. I love asking what songs speak to someone and why, because I think it provides a great insight to other people.
The challenge of stepping out of your comfort zone and trying new things that the other person likes. In THE BAD BOY'S BABY, Emma loves carnival rides and Cam would never set foot in what he thinks of imperfect machines made by imperfect people. Not to mention he doesn't like confined spaces. Yet he's willing to ride them because Emma likes them. And when Emma's with Cam, she finds her adventurous side comes out and that she likes who she is around him.
Different strengths and weaknesses. Opposite personalities have different strengths and weaknesses, but working as a team helps both people balance that out. My husband is a math teacher, so whenever my kids come to me with their math homework, I just point them toward their daddy. When it comes to English homework, he points them to me. As for the other subjects…Well, we're not above a game of rock, paper, scissors to sort that out. LOL
What is it about bad boys and good girls? I think that sometimes good girls would like to be bad, and who hasn't been a little attracted to a bad boy before? But I think the real allure is finding out that there's more than meets the eye. While Emma doesn't get a chance to see what that is until Cam comes back from his time in the army and discovers they have a little girl, once Emma gets to know him on a deeper level, it makes him even more irresistible.
I think in a lot of ways, having someone who might have some opposite qualities helps balance us out. When we're stressed, it's nice to have someone to calm you down or make you laugh. And when we might need a little more structure in our lives, it's good to have someone who knows more about that too.
What do you all think? Did I leave any out? I'd love to hear your take on why opposites attract, and even who some of your favorite TV, movie, and book couples are who are a good example of it.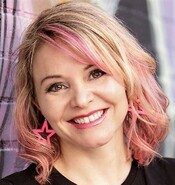 Cindi Madsen is a USA Today bestselling author of contemporary romance and young adult novels. She sits at her computer every chance she gets, plotting, revising, and falling in love with her characters. Sometimes it makes her a crazy person. Without it, she'd be even crazier. She has way too many shoes, but can always find a reason to buy a pretty new pair, especially if they're sparkly, colorful, or super tall. She loves music and dancing and wishes summer lasted all year long. She lives in Colorado (where summer is most definitely NOT all year long) with her husband and three children.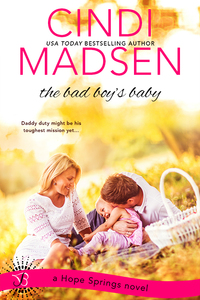 There are certain words that have always described Cam Brantley: Town bad boy. Soldier. Protector. But never, ever dad. Until he returns home from his latest military tour to discover the girl he had one smoking-hot night with is now mom to the adorable two-year-old Zoey. Who has his eyes.
Plenty of words could describe Emma Walker these days. Mom, dutiful granddaughter, budding designer, the town's golden child. But when her longtime crush Cam Brantley comes back to town, she knows the perfect word to describe herself: screwed.
Cam and Emma are both shocked to discover he truly wants Zoey in his life. But Cam's not sure he's ready to be a dad, and Emma can't gamble her daughter on maybes. As the long-simmering heat between Cam and Emma reaches a boiling point, he'll have to work past his demons in order to be the man both girls need.