I love romances. Not only writing them, but reading them as well.
When I was invited into the Heartbreaker and Heroes anthology, I was not only excited to write with some of my favorite authors, but I also had the chance to read the stories before anyone else!!!
A few things I learned about our heroes:
They all had rough childhoods, whether from abuse, neglect, or caught in a bad situation.
Most of them don't want to fall in love, but their hearts override their fears.
Falling in love with men who have had a difficult past isn't easy, but the heroines are tough enough to handle what ever comes along.
Whether billionaire, biker, cop, or cowboy, heroes are all around us.
Sometimes heartbreakers should be left in the dust. Other times, they are completely redeemable.
I must admit I threw in some thriller elements to my story. I can't help it. The story of a cop who tries and fails to rescue a woman from an abusive father had to go somewhat dark. But between writers like Jennie Marts and Jodi Linton, there are lots of humorous stories in the mix as well.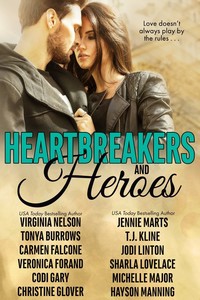 A brotherhood of twelve men bound together by their troubled youth and one mentor who taught them the rules for becoming men of honor. But some of them haven't been following those rules…
Get your hands on TWELVE sexy HEARTBREAKERS AND HEROES- all new romances from USA Today bestsellers and your favorite contemporary authors that are sure to get your heart pounding.
Love doesn't always play by the rules…
HIDING WITH THE HEARTBREAKER by USA Today bestseller Virginia Nelson
Rule: Protect the innocent.
Making people laugh for a living is easy, but when a beautiful stranger needs Aloysius Sutton's help, he has to find a way to become Jude's hero.
HOW TO UNBREAK A HEART by USA Today bestseller Jennie Marts
Rule: If you love her, don't let her go.
Solitary cowboy, Trip Turner finally has a chance to correct the mistakes he made when he let the woman he loved walk out of his life twelve years ago. But now that Bre Wilson is back, will he be able to unbreak her heart?
SECOND CHANCE HERO by Michelle Major
Rule: A real man doesn't build himself up by tearing someone else down.
Travis Jackson might not be the white knight Hailey Moore needs, but he'll risk his future to win her heart.
HERO IN DISGUISE by Sharla Lovelace
Rule: A real man doesn't buy respect, he earns it.
Billionaire playboy Jake Jericho thinks he has it all, until one phone call reminds him otherwise. Can one week in disguise reform this trust fund playboy, or will his deception destroy the only real love he's ever known?
HER HEARTBREAKER BOSS by Carmen Falcone
Rule: Never leave your woman unsatisfied.
Can Stefano and Roxie resist the heat flaring between them or will working together force them to face their rocky past and give them the happily ever after they deserve?
HOW TO BE A HEARTBREAKER by Codi Gary
Rule: A real man never kisses and tells.
When an A list actor returns to his hometown, old wounds and fresh gossip emerge… along with a second chance at love, if he's brave enough to stick around.
REFORMING THE HEARTBREAKER by Christine Glover
Rule: A real man never breaks a woman's heart.
Can Olympic mountain bike champion Ryder Bennett and his public relations rep Addison Carrington keep things professional between them this time around, or will they risk a sexy scandal for a chance at love?
HER UNWANTED HERO by Veronica Forand
Rule: A real man always helps someone in need… he may be the only one who does.
A disenchanted police officer must choose between keeping a woman's affection or keeping her alive.
ONCE A HEARTBREAKER by T.J. Kline
Rule: A real man never lies, especially to a woman.
Ty Preston ran out on the woman he loved twelve years ago, but now he's back to prove he's a changed man. However, Rayne can't risk getting her heart broken by the cowboy again.
MAKE MINE A HEARTBREAKER by Jodi Linton
Rule: Love should always be fun.
She's about to change this playboy's rule book.
HOMETOWN HEARTBREAKER by Heather Long
Rule: A real man always puts his best foot forward…
Zeke always planned to steal her heart, but she left him on base. It's the bottom of the ninth, and Charity is up to bat. Can she tell her two-all stars the truth or will a foul end her best chance?
TUTORING THE HEARTBREAKER TO LOVE by Hayson Manning
Rule: A real man never touches the hired help.
Can Savannah teach serial heartbreaker Walker to be domesticated in ten days and convince him that maybe they can have a shot at a 'them' or can Walker convince Savannah there can be a 'them' on his terms only?