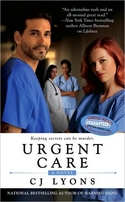 Hi guys! Thanks to the folks at Fresh Fiction for inviting me!
I'm CJ Lyons, a former pediatric ER doctor turned thriller writer and I love talking about the really important things in life: namely, the best ways to kill someone and get away with it.
So, given the winter holiday season, I thought I'd throw out a few ideas on Homicidal Holiday Hazards.
1. O Tantebaum—not only do they make for excellent firestarters (arson, anyone?) but think of the possibilities of actually obtaining one. Imagine: deserted tree farm, you and your victim far out of sight of anyone else, it's getting dark, and there you are with hatchet and saw in hand….or better yet, cutting down and hauling a live tree is a great time to induce a heart attack and given the holiday rush, it probably would go undetected as the medical examiner would be too busy to do more than a cursory examination.
To read more of HOMICIDAL HOLIDAYS please click here.