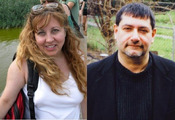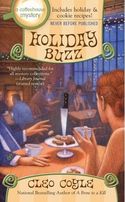 "Pluck" is a word I usually associate with chickens. On the other hand, Booklist was kind enough to describe my amateur sleuth as having pluck (a valid observation because Clare Cosi may be many things, but she is no chicken).
A divorced, single mom in her forties, Clare is a coffeehouse manager by day, a relentless snoop by night, and she displays quite a bit of pluck in HOLIDAY BUZZ, the brand new release in my Coffeehouse Mystery series, already an Amazon bestseller in mystery, a Barnes & Noble Holiday Mystery Pick, and a Mystery Guild Featured Alternate Selection.
At the close of a glittering winter charity party—known as the Great New York Cookie Swap—Clare finds the bludgeoned body of a pretty baker's assistant. The murder victim is an illegal Irish immigrant, a young woman Clare knew and liked. When the detectives in charge of the case pursue the wrong suspect, Clare begins to ask her own questions.
In the course of her investigation, she must dodge a pair of reality show divas, hoodwink a randy hockey player, outwit a conniving Cajun cook, and butt heads with one of the biggest forensic freaks in the New York Police Department.
Clare's boyfriend, NYPD Detective Mike Quinn, has his own theory about the case, one that reaches all the way back to the victim's home in Ireland, and he has evidence to back it up, but Clare follows the cookie crumbs in another direction—one that leads to a second murder and puts her own life in danger.
If you come along for the ride with Clare, you'll be treated to the magic of New York in December; a cagey "undercover operation" led by Clare's elegant employer (Madame) at a Brooklyn nursing home; a perilous 8-napkin patty melt; and the plotline of the latest hit kiddie movie: Santa Claus Zombie Hunter!
There's one more thing you'll be treated to in my new release—recipes! HOLIDAY BUZZ has an array of delicious recipe ideas for your holidays, including cookies, desserts, main courses, and drinks.
For a peek at my illustrated recipe guide to Holiday Buzz, click here.
I do hope you'll pick up my book this holiday season; and if you do, please free to friend me on Facebook (www.Facebook.com/CleoCoyle) and drop by my Wall to let me know what you think.
To get more of my recipes, including more wonderful recipes for Christmas cookies, visit my brand new recipe blog: www.CleoCoyleRecipes.com
May you read (and eat) with joy,
~ Cleo Coyle
Comment-to-Win!
To one lucky commenter this week, I'm giving away a personally inscribed copy of HOLIDAY BUZZ; a Coffeehouse Mystery recipe card for Candy Cane Frosting; and because some of Clare's best customers are dedicated members of the NYPD (including her boyfriend), I'm also giving away an official NYPD stainless steel travel mug (courtesy of the New York Police Museum)—guaranteed to keep your morning coffee safe as well as warm.
Praise for Cleo Coyle's HOLIDAY BUZZ
A Mystery Guild Featured Alternate Selection
A Barnes & Noble Holiday Mystery Pick
"Jingle bells, scrumptious treats: Holiday season in New York has it all, including murder….This fine mystery is followed by holiday recipes that will even pack the pounds on readers who are only browsing them." —Kirkus Reviews
"Sprightly…and engaging." —Publishers Weekly
"A fun mixture of family, romance, cooking and…a perfect Christmas mystery. A treat!"  —RT Book Reviews
Watch the Coffeehouse Mystery Book Trailer here
To download a free title checklist with mini summaries of the 12 Coffeehouse Mystery books, in order, plus a sneak peek at her 13th, coming next year, click here.
The Coffeehouse Mysteries are published by Penguin's Berkley Prime Crime and produced in audio AudioGo (BBC Audiobooks America).
To comment on Cleo Coyle's blog please click here.