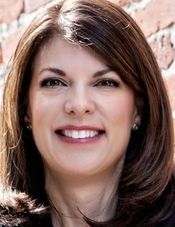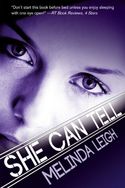 My debut novel, SHE CAN RUN, starred a police dog reject, Henry, who was originally intended to add a bit of humor to the storyline. But Henry evolved, as characters sometimes do, into much more than just a dog. He nearly stole the limelight from my hero. My kids were annoyed that I wrote a fictional dog into my book when we had two perfectly good dogs in our house. They demanded that I write one of our dogs into my next book. So, Bandit (photo) received a starring role in SHE CAN TELL (releasing December 4th).
Bandit is a dog of many breeds we rescued from the local animal shelter two years ago. There's a large dog trapped inside his small body, a Rottweiler crammed into a spaniel's skeleton. At a mere 18 pounds, he would fight to the death to defend any member of his family. He might be small in stature, but his heart and soul are enormous. Bandit is devoted to his family and hates strangers with equal passion, just ask the USP man or those people who came to deliver a religious pamphlet last week. He scared the bejeesus out of them. I had a blast writing him into the story while keeping his quirky personality true to life.
Now, of course, my kids insist our aging collie, Sunshine, get her due. Her character will need to be as mellow as she is. While Bandit is on guard duty, Sunshine's main functions are shedding, licking company, and sprawling in awkward places to keep us agile. Her disposition is true to her breed. She has nothing but wags for everyone and everything she meets, and I'm currently bringing her to life on the pages of my work-in-process, SHE CAN SCREAM.
If you're looking to add a canine companion to your household, please visit your local animal shelter. Adult dogs make great pets. They're often house trained and past the high-maintenance puppy stage. Dogs don't deserve to be discarded after all they do for us.
Do you like stories with animals? Tell me about an animal that made an impression in your life.
Melinda Leigh is a fully recovered banker, wife, mom, lifelong dog lover, and second degree black belt in kenpo karate. She is the author of SHE CAN RUN, a 2012 Thriller Award nominee and a 2012 top 100 Kindle Bestseller. Her next book, SHE CAN TELL, releases in December 2012. Find out more about Melinda: website / facebook / twitter
To comment on Melinda Leigh's blog please click here.