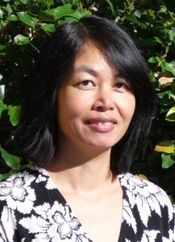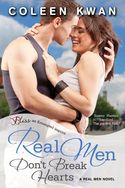 The characters in my books can be inspired by many sources: movies, television, songs, books, or simply people walking by on the street. I live in an inner-city suburb of Sydney, Australia, a trendy, grungy locale, so I see plenty of interesting characters on the streets, from full on Goths to well-off urbanites to dirty tramps — all of them grist to the mill of my imagination.
When I'm developing my characters I like to create their full back story. I think about their favorite subject at school, their hobbies and pet peeves, what they like to cook. All these details might be irrelevant to the story but they help me to see my characters as complete people and not just cardboard cut-outs.
I like to think that Nate, the hero in my new release REAL MEN DON'T BREAK HEARTS, is a "real man". He's enjoyed his fast cars, his women, his wealthy bachelor lifestyle, but he's man enough to realize this isn't enough for him, that he needs something more fulfilling. And he's man enough to make some drastic changes to his life, even though he has his doubts. He's willing to take a risk to be a better person.
Ally, the woman he's suddenly inconveniently attracted to, is a "real woman." She's had her share of heartache and disappointment, but when faced with the challenge of reinventing herself and her ailing gift store, she takes a deep breath and dives in. She makes mistakes and misjudgments, but ultimately she's woman enough to admit them and make amends.
To celebrate real men and women I'm giving away a copy of REAL MEN DON'T BREAK HEARTS.
To comment on Coleen Kwan's blog please click here.