Enjoy a special excerpt from the latest book I'LL BE THERE in the Montgomery Brothers series from Samantha Chase.
Zach had his morning cup of coffee halfway to his lips when he heard someone coming into the house. What the hell? He knew his father and Ethan both had a key, but neither had mentioned they were going to stop by. Sitting on the sofa with his laptop in front of him, he almost dropped the hot liquid on the keyboard when Gabriella walked through the door.

She slammed it shut and stormed across the room and straight for him, her hand held out in front of her to try and stop him from saying a word. "You know what?" she began, "We have worked together for far too long for things to keep going the way they did yesterday. I came here and did you a favor and what did I get for my effort? Nothing. I can understand your anger and frustration at your situation and with your recovery but none of that is my fault. Now, you can either grow up and face the fact that no matter what kind of weight you think you wield within the company, it's not going to be enough to save your ass. You need to accept my help. Or…I can leave and go and congratulate Ethan on his new position." She crossed her arms across her chest, cocked a hip and waited.

Zach studied Gabriella for a long moment. Her jet black hair was pulled back in her standard librarian bun, her navy blue pencil skirt hugged her like a second skin and the plain white blouse—which should have been no big deal—was straining across her breasts with one button looking ready to pop. Maybe it was the way she was standing, but Zach had been studying his assistant's figure for too many years.

He felt himself starting to sweat.

Focus, dammit! Doing his best to remain impassive, Zach tried ignore her outburst even though he was secretly impressed with the fact she had the bravado to show up at his house this morning, right on time. Efficient as usual.

He could go one of two ways here. Option one was throwing something across the room, demanding she leave, making a big show of calling his father and Ethan and anyone else he could get on the phone to have her fired.

Even he was growing bored with option one. Sure it had felt good the first half dozen times he threw someone out of the house—or hospital room—because he actually felt like he could still do something, but he was beginning to notice a pattern about himself and he didn't like it. Plus, he was beginning to run out of glasses.

Narrowing his eyes slightly, he had to go about this a little differently while gaining the same results. Option two was skip the temper tantrum and let Gabriella gain a sense of peace and confidence and then he'd start his campaign to get her to think leaving was her own idea. She'd never see it coming.

Leaning back on the sofa, he crossed his own arms as he continued to stare at her. Actually, he wasn't even sure why he was pushing her so hard. It wasn't that he hated Gabriella—far from it. But she had made her feelings clear a long time ago. Since then, he did his best to limit the amount of time they spent alone – one on one. He feared she'd see right through him and Zach didn't want to come off as being vulnerable. So he needed her to leave. It was his only line of defense. She really was doing him a favor and trying to help him, but it just seemed to irritate him more. How could she possibly want to help him when he'd been such a bastard? Seriously, why didn't she quit?

Her crystal blue eyes watched him warily and Zach knew his silence was starting to unnerve her. She usually won the battle of wills when it came down to a situation like this. He'd let her have it—her victory—for now.
New York Times and USA Today Bestseller/contemporary romance writer Samantha Chase released her debut novel, Jordan's Return, in November 2011. Although she waited until she was in her 40's to publish for the first time, writing has been a lifelong passion. Her motivation to take that step was her students: teaching creative writing to elementary age students all the way up through high school and encouraging those students to follow their writing dreams gave Samantha the confidence to take that step as well.
When she's not working on a new story, she spends her time reading contemporary romances, playing way too many games of Scrabble or Solitaire on Facebook and spending time with her husband of 25 years and their two sons in North Carolina.
FACEBOOK | TWITTER | GOOGLEPLUS | BLOG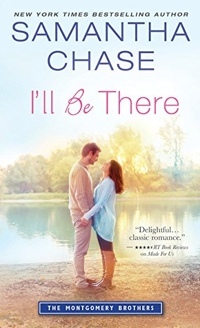 Book #6 in New York Times and USA Today bestselling author Samantha Chase's popular Montgomery series
This Montgomery Has a Head for Business
Working for Zach Montgomery is challenging on many levels-coming from a wealthy and powerful family, he lives by his own rules and doesn't answer to anyone. But Gabriella Martine has no intention of backing down. She's used to handling stubborn men, and it doesn't hurt that Zach is smart, charismatic…and gorgeous.
And a Heart for Adventure
Zach's perfect world is turned upside down when a climbing accident leaves him broken, angry, and maddeningly dependent. In his slow quest for recovery, Gabriella is always there to help…but as Zach comes to see
his beautiful assistant in a new light, he is forced to re-evaluate what it really means to be a man worthy of
Gabriella's love.