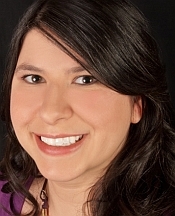 THE ALCHEMY OF DESIRE (originally titled, Once in a Coyote Moon) was my NaNo 2008 project. For those of you not familiar with NaNoWriMo, it's where a bunch of writers get together in the month of November and try to write a novel of at least 50,000 words in a month. It's fun, it's crazy, and it borders on insane at times. But it's doable if you have a story that's driving you forward.
I use NaNo to "play" with different ideas. In the case of THE ALCHEMY OF DESIRE, I not only got to play with a new genre (Steampunk), but I also got to play with an atypical hero. That's right, ladies and gentleman – Diah Reynolds is not your typical alpha male. He's the good son, a gentleman, and — dare I imply it? — a virgin.
Or at least he was in the original draft. My editor asked that I tone down Diah's naivety in the bedroom, but I tried to keep the changes to a minimum. I know most romance novels feature an alpha male as the hero – or as I like to call them, "man whores". And don't get me wrong — I write about them, too (Diah's brother, Cager, is a prime example of one). But I wondered why nice guys always had to finish last? Why couldn't a gentleman get the girl in the end?
So I set out to write a novel where the hero is a prim and proper and the heroine is forward and more experienced. Thankfully, Oni was up to the challenge and brought Diah's inner bad boy out… at least in the bedroom. 😉
What kind of hero do you prefer? All alpha heroes? Or do you enjoy a beta hero every once and a while?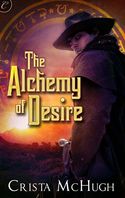 After winning the Civil War against the Confederate Wielders, the Union Machinists have outlawed magic to usher in a new age of steam-powered technology. Diah, an alchemist and the only non-wielder in his family, owes his brother for saving his life in the war; so when Cager is blackmailed into procuring the magical hide of the White Buffalo, Diah accompanies him to the Dakota territory.
Their guide is Oni, a half-Lakota woman with plenty of secrets to hide. She's a magic wielder with an illegal wand concealed in her knife—and she's a coyote shifter. To her people, killing the White Buffalo is not only sacrilege, it's dangerous. Oni has no intention of helping them actually achieve their mission—until she falls in love with Diah…
You can buy THE ALCHEMY OF DESIRE from Carina Press, Amazon, Barnes and Noble, and other ebook retailers.
You can learn more about Crista at her website.
Tell us the kind of hero you prefer and you might be the winner of a $10 eGC from Amazon or BN.com (winner choice)
To comment on Crista McHugh's blog please click here.