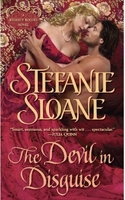 As a debut author, with my first historical regency, THE DEVIL IN DISGUISE, coming out May 24, 2011, I've been thinking a lot about what an author can do for readers. In my opinion, one of the most valuable ways to provide access to all that's going on in the author's world is a monthly newsletter. It's the perfect way for a writer to interact on a more personal level with her fans by sharing what she's been working on, current happenings, and future publications and events that might be of interest.
I'm very excited about what's planned for my monthly newsletters. Each one will include an excerpt from the next book to be published—a sneak peek that will only be available to newsletter subscribers for a certain period of time before it's posted on my site. A run-down on current contests will be featured with information on prizes and how to win—and let me tell you, I have some fabulous contests coming up with prizes including signed books from such luminaries as Julia Quinn, Amanda Quick, and Stephanie Laurens just to name a few! I'll also be featuring a unique piece of specialized content in each mailing that, like the excerpt, will be available to newsletter subscribers first.
I have a lot more ideas for newsletter features, but I'd love to hear your opinion on what you would like to see in an author newsletter. Recipes? Pictures of my pets? Book recommendations? Let's hear it! Commenting automatically enters you to win a signed copy of my debut book, THE DEVIL IN DISGUISE.
And please be sure to sign up for my newsletter.
I think that you'll be glad that you did!
To comment on Stefanie Sloane's blog please click here.