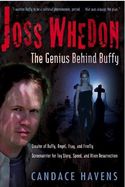 In lieu of our traditional Sunday Snips and Clips feature, welcome to another holiday blog giveaway. Today, I am offering Joss Whedon, The Genius Behind Buffy by Candace Havens. You may have read Candace's books featuring Bronwyn the witch or the Caruthers sisters, but this is a totally different kind of book.
Candy takes you in depth with the genius mind that created Buffy The Vampire Slayer
, Angel
, Firefly
and Dollhouse
. His creativity is a modern day legend, creating rabid fan bases wherever he goes. The man's comprehension of zeitgeist and pop culture is unmatched. It is a great way to dig deep and get to know him better.