2021 has been… a year. One that felt both very long and over in the blink of an eye. Thankfully, we have had a plethora of romance novels come out to occupy our time, make sense of the world, and have a little fun.
I read a lot of books. A LOT of books. Some I finish, some I don't, some I buy and they sit happily unread on my bookshelves and eReader. I spend a ton of time looking at books that are coming out—I just received my first email about a JUNE 2022 book—and noticed some trends throughout the year… Trends that I think we'll continue to see explored, subverted, and challenged into next year as well.
WITCHES
2021 was the year of the witch! September and October 2021 saw a bunch of witchy, cozy, paranormal romance novels come out, and I am here for it all. Women (and men, too) discover their powers and how to control them, but also what can happen when they let loose a little, too.
PAYBACK'S A WITCH by Lana Harper, who was a guest on the Fresh Fiction Podcast earlier this year.
BLACK MOON RISING AND BLACK SIREN'S SONG by Mila Nicks
BAD WITCH BURNING by Jessica Lewis
***
GIRL GANGS
Something I love almost as much as a great romance novel is a strong friend group at its heart and center. It is so important for main characters to have a support group, and I love when I find heroines who have friends who lift them up, challenge them, make them better, and support them through and through (and are often ready with snacks, wine, and witty retorts). They remind me of my friends and how they would do anything for me, and I'd do the same for them. I did an amazing panel with the authors whose books I'm recommending below, along with Scarlett Peckham and Alexis Daria on Love's Sweet Arrow's YouTube page earlier this year.
BOMBSHELL by Sarah MacLean
THE DATING PLAYBOOK by Farrah Rochon, who was
TOO GOOD TO BE REAL by Melonie Johnson
***
DIVERSE SMALL TOWNS
I enjoy a smalltown romance—the charming Main Streets, nosy neighbors, quaint festivals that bring everyone together, and swoony romance. I have always wanted to see more small towns that actually reflect the world they exist in, with diverse, interesting, and changing populations. I am so happy to see more books with small towns that people of color and queer people can see themselves in.
CHRISTMAS AT ROSE BEND by Naima Simone, who was a guest on the Fresh Fiction podcast earlier this year!
THE LIGHTS ON KNOCKBRIDGE LANE by Roan Parrish, a guest on the FF podcast this week, for our special holiday episode.
CARELESS WHISPERS by Synithia Williams
***
BAKING
I love baking. I watch baking competition shows. Anytime I have any sort of get-together or gathering, I use it as a reason to bake. I also enjoy baking elements in my romance novels! This year had its fair share of books with baking plotlines, baker main characters, and all the delicious baked goods you could want.
ROSALINE PALMER TAKES THE CAKE by Alexis Hall
ACCIDENTALLY ENGAGED by Farah Heron
DIGGING UP LOVE by Chandra Blumberg (this one comes out 1/1/22 but I'm including it!)
***
GRUMPY HEROINE/SUNSHINE HERO
Perhaps it's because I consider myself a bit of a grump, but in a grumpy/sunshine pairing in a romance novel I absolutely adore when the heroine is grumpy, aloof, and set in her ways while the hero is happy-go-lucky, down to earth, and "sunshiney." I noticed more and more grumpy heroines this year, and I think there will be more next year, too.
WILD RAIN by Beverly Jenkins
THE BOXER AND THE BLACKSMITH by Edie Cay
THE INTIMACY EXPERIMENT by Rosie Danan, another guest on the FF podcast earlier this year.
I've already started reading some 2022 releases and I cannot wait to shout about them more soon. Many of the trends I've noticed from 2021 will surely make appearances, but I'm excited to see what else is in store for romance readers next year.
Happy Holidays and Happy New Year, Everyone!
***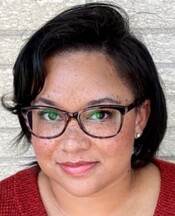 Danielle Jackson is a contemporary romance author, avid reader, lackluster-yet-mighty crafter, and accomplished TV binge-watcher. Look for her debut novel, THE ACCIDENTAL PINUP, in stores on July 19, 2022.
Once upon a time, she was a publisher publicist and continues to cultivate her love of books and reading by chatting with the best authors in the business as the Editorial Manager of FreshFiction.com and co-host of the Fresh Fiction podcast. Danielle also moderates industry panels, interviews authors, and hosts a romance book club.
Danielle lives in Chicagoland with her very own romance hero husband, darling daughter, and two tempestuous cats. Follow her on Twitter and Instagram, @DJacksonBooks.