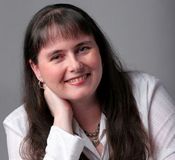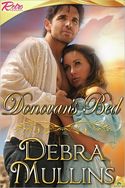 Most women know it's hard to juggle career and family. We all do it; we manage our time between the kids' school and athletic activities, make sure there's food in the house and that the bills are paid, take care of the pets, give some attention to the husband and—oh, yeah—some of us have careers, too.
And yet somehow we manage to do it. We figure out how to allocate our time (you don't really need to sleep, do you?) so that we can somehow juggle all these important things and not let any of the balls drop. Women are good at that. We seem to be natural multi-taskers, and sometimes men don't understand that. A lot of men are single-task oriented people: they do one thing, they do it well, and they move on to the next thing.
This is the dynamic I used in my Western historical, DONOVAN'S BED. Jack Donovan is looking for a wife, and he's hot for Sarah Calhoun. Seems simple, right? But Jack has this idea in his head that his wife needs to be the type of woman who stays home all day, cleaning and making cookies for him and riding herd on any children they might eventually have. However, Sarah is the newspaper editor, and this is why he strikes her off his list of potential wives. He simply can't see how she can have a career (which he thinks she is good at) and be a man's wife at the same time. Of course, being an honest guy (and a little short in the people skills department), he tells her bluntly that while he'd like to take her to bed, she's not the type of woman he'd consider marrying.
Jack, Jack, Jack. Didn't you realize that saying something like that was going to hurt Sarah? Not because of your misconception, but because of the scandal in her past, the one no one in town ever lets her forget. Of course she thinks the scandal is why you don't think her good enough to be your wife!
However, our Sarah is not one to take anything lying down. Still smarting from his unwitting blow, she prints an article in the newspaper about Donovan's requirements for a wife, along with a detailed description of his new bed and his contact information. Donovan, at first, thinks this is a great idea. Now the word is out, and he'll have a whole bunch of women to choose from! But then every unmarried female—young ones, widows, and spinsters—floods the town trying to get his attention. Every woman in Wyoming Territory wants to be Donovan's bride.
And yet he can't forget Sarah.
I had a lot of fun writing this book. I love the tiny town of Burr and all its quirky citizens. I had a blast with these two and how they handled their pasts—Donovan trying to forget his, and Sarah reminded of it every day. They had to come to a meeting of the minds, both about their pasts and the concept of a career woman being able to juggle both her job and her family without shorting either. Though the book was first published in print several years ago, Samhain Publishing has given it new life in digital format, and I'm real excited to be able to share one of my favorites with all of you!
To commemorate the digital release, I'm offering a free copy of DONOVAN'S BED to one commenter, name to be drawn tomorrow. And keep your eyes open for the sequel, THE LAWMAN'S SURRENDER, available in April!
To comment on Debra Mullins's blog please click here.