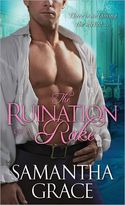 Hi! I'm Samantha Grace, debut author of the regency historical romance, MISS HILLARY SCHOOLS A SCOUNDREL. February has been a whirlwind month with the release of my book and blogging tour, and I've loved every minute of it. I'm especially happy to be at Fresh Fiction today in what will be one of my last guest stops.
I've had some fun questions come up along the way, such as "Did you pick the guy on the cover?"
No, my publisher deserves all the credit.
"Do you mean I can find your book at Barnes & Noble?"
And most any other place books are sold.
"Will the guy on the cover be at your book signing?"
Um, no.
"Do you know the guy on the cover?"
Okay, enough already about the hot cover model.
"Do you think I should hit the gym again?"
You're perfect just the way you are, honey. Now, could you please let someone else ask a question?
I'm just kidding, of course. My hubby didn't ask those questions. Actually, his only response to the cover was "I'll never wear a puffy shirt." Now I want to find a puffy shirt to test his conviction.
Here's another question I bet people are asking. How does Miss Hillary School a Scoundrel? Schooling someone during the early 1800s meant "to teach or educate". Today we tend to think of schooling as putting someone in their place, teaching them a lesson, maybe even applying a little force to drive home the lesson. The meanings aren't vastly different, but they are different enough.
To me, the mark of a good relationship is the couple's ability to learn from each other without anyone trying to be the teacher. Growth occurs naturally because it's safe to take a good look at yourself—you aren't being judged—and the right person can motivate you to want to be your best. This is what happens to Lord Andrew. He takes a good look at the emotional damage he has left in his wake, he feels remorse, and he wants to be a better man for Lana Hillary. (Lana has things to overcome as well, such as realizing her value and learning to trust her heart again.) MISS HILLARY SCHOOLS A SCOUNDREL is about their journey toward living up to their potential as they fall in love. Here's what Drew is thinking by the end of the book. Never would he have guessed the most pleasurable experience known to man would be found within the union of marriage. Now, that's just what I'd expect of a reformed rake!
ABOUT THE AUTHOR
Samantha has worked several years as a clinical social worker with a background in behavioral health and geriatrics. It is her belief that everyone has a story worth remembering, and she cherishes her work with aging adults, immersing herself in their stories of eras gone by. She is married to her best friend, strives to stay one step ahead of their two precocious offspring, and lives in Wisconsin. She distracts herself during the bone-chilling winter months with pilates classes and learning to belly dance.  MISS HILLARY SCHOOLS A SCOUNDREL received a starred review from Publishers Weekly and was named in the PW Top 10 Romances for Spring 2012.  To learn more about Samantha's bachelors, visit www.samanthagraceauthor.com.
Tell us your thoughts on the ways "school" has changed in the past 200 years, two commenters will get a copy of MISS HILLARY SCHOOLS A SCOUNDREL
To comment on Samantha Grace's blog please click here.