Kellan tried to shut out the chatter and noise in the squad room so he could volley his attention be­tween the live feed from the surveillance camera at the Serenity Inn and the medical examiner's report for Oswald.
He'd printed out the report to free up his com­puter so he could use full screen for the surveillance camera. He wanted to see something–in either the report or at the inn. To find something. He wanted a blasted smoking gun that would give them Eric on a silver platter.
There sure as heck was nothing in the report or on-screen that would do that.
But maybe Maylene would come through for them four hours from now as she'd said. Maybe she could indeed lure Eric there at noon. However, it was just as possible that this was a trap or a wild-goose chase. Still, a trap could yield them Eric if they played this right.
Kellan had started the "playing right" by already having three deputies in position near the inn. When it got closer to noon, he'd go out there, as well. Wear­ing Kevlar and armed to the hilt. And if he got lucky, this would all come to an end today.
He got up from his desk to pour himself another cup of coffee but decided against it. He was already a tangle of nerves, and coffee wasn't going to fix that. Nothing was, except for bringing both Eric and Maylene into custody.
Gemma looked at him when he sank back down behind his desk, and she raised an eyebrow. "What, eight cups is your limit?" she asked. She managed a slight smile to go with that.
"Trying to cut back." No smile for him, but it was light enough to ease just a bit of that tension.
The strain on her face wasn't easing anything though. Gemma had likely gotten as little sleep as he had, and she had passed on the coffee, making him wonder if she'd given up caffeine because it in­terfered with her usual meds.
Meds that she still hadn't taken.
Maybe once this situation with Maylene was re­solved, he'd be able to coax her into taking not only the meds but also a nap. Alone. He made sure he mentally repeated that to his body.
His body didn't seem to be listening though. And that was the reason he forced his attention off her and back to the report.
"I got some more info on Maylene," she said, sip­ping the herbal tea that she's ordered from the diner. "She and Eric were classmates at an expensive pri­vate high school. Maylene flunked out."
Gemma turned the computer screen so he could see a picture of Maylene when she'd been a teenager, and he mentally compared it to more recent ones that he'd pulled up from DMV records and high school
transcripts. She hadn't changed much. A plain face with no makeup and straight brown hair.
"I can see if they actually had classes together," Gemma went on, "but it wasn't a large school."
So, the pair had known each other for a while and came from similar backgrounds. Well, other than the fact that Eric had never flunked out of anything and likely wouldn't have with his high IQ. But Maylene wasn't stupid. After all, she had a nursing degree, so maybe there was some other reason she'd left the school. Maybe that reason was Eric.
Kellan was still mulling that over when Jack came in, a tray of take-out cups in one hand and a huge box of doughnuts in the other. The box was open, and the deputies flocked to it like a mini-swarm, each of them snagging one or two as Jack said, "Help your­selves." Once they were done, he set the box on the small table where Gemma was working.
"Woman does not live by herbal tea alone." Jack flashed her a smile and plucked another cup of tea from the holder. "There's an apple fritter in there with your name on it."
He hadn't been joking about that. The apple fritter did indeed have a napkin placed over it, and Gemma's name was written on it.
"Thanks." She rose to brush a kiss on Jack's cheek.
Such a simple gesture caused Kellan's stomach to clench. He didn't especially want a chaste peck from Gemma, but it was a reminder that she no longer had that ease with him. No longer felt it was her right to kiss him whenever she wanted.
And vice versa.
"Is this some kind of bribe?" Kellan asked him when Jack put the coffee and drinks on the edge of Kellan's desk.
"No. Just lucky timing. As I was coming in, I saw Amanda pull into the parking lot. I figured a chocolate-glazed doughnut might make the visit easier to tolerate."
No. It wouldn't. And Kellan had one thought about the woman's visit–what the heck did she want now? He wouldn't have long to find out because at that moment, Amanda came through the front door, her attention going straight to him.
(C) Delores Fossen,  2019, Harlequin Intrigue
Longview Ridge Ranch #1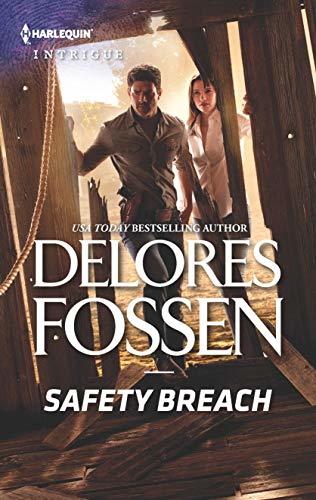 Can a Texas lawman capture an escaped serial killer
after a witness's location is breached?
The serial killer Gemma Hanson narrowly escaped just discovered her WITSEC location, and he's coming after her to finish what he started. That's the message Sheriff Kellan Slater personally delivers. Although Gemma and Kellan share an intense past, escaping the violence surrounding them is all that matters. Especially once Gemma realizes there is no safe place—not even protective custody…
Romance Suspense | Thriller Serial Killer [Harlequin, On Sale: December 1, 2019, Paperback / e-Book, ISBN: 9781335604750 / eISBN: 9781488046223]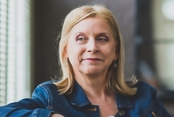 USA Today bestselling author Delores Fossen is a former Air Force officer who's sold over 100 novels. She's received the Booksellers' Best Award for romantic suspense, the Romantic Times Reviewers' Choice Award and was a finalist for the Rita ®.