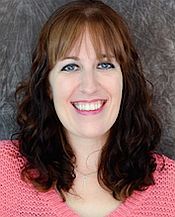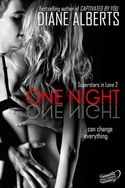 ONE NIGHT can change everything. At least that what happens in Diane Alberts's steamy novella ONE NIGHT.
British theater star, Justin Holloway, is about to open in his first Broadway show. He should be stoked. But opening night jitters have gotten the best of him; and if one more person tells him to "break a leg," he just might break theirs instead.
When he pushes out of the theatre and accidentally knocks a woman into the street, he does the first thing that comes to mind—pretends he isn't the show's lead and tries to charm her into drinks and dinner.
Alexis Verdon is not a fan of musicals. Who really goes around singing grocery lists to the store clerk? Too bad she's promised her bed-ridden sister she would not only attend the opening night of Broadway's latest jewel, but also get autographs from the entire cast.
As if that isn't bad enough, on the evening before her great sisterly sacrifice, Alexis is knocked flat on her butt by a handsome Brit who won't take "no" for an answer and insists on taking her out on of all days, Independence Day (hello, we wanted our independence from Great Britain for a reason)!
When their attraction leads to a steamy ONE NIGHT stand full of passion, lies and unspoken truths, will they find a way to turn one night into something more?
ONE NIGHT is book 2 in Diane Alberts's Superstars in Love series launched with CAPTIVATED BY YOU in November 2012 by Swoon Romance. ONE NIGHT publishes June 25, 2013 in eBook for Nook and Kindle.
Diane Alberts has always been a dreamer with a vivid imagination, but it wasn't until 2011 that she put her pen where her brain was, and became a published author. Since receiving her first contract offer, she has yet to stop writing. Though she lives in the mountains, she really wishes she was surrounded by a hot, sunny beach with crystal clear water. She lives in Northeast Pennsylvania with her four kids, a husband, a cat, and a Senegal parrot. In the rare moments when she's not writing, she can usually be found hunched over one knitting project or another.
She is a multi-published, bestselling author with Entangled Publishing, Swoon Romance, and Decadent Publishing. She has, as of this date, four books with Entangled Publishing, two books with Swoon Romance, and five older books with Decadent Publishing. Her February release with Entangled Publishing, ON ONE CONDITION, hit #18 on the Barnes and Noble Bestseller List, and TRY ME hit #76 on Amazon. Her Swoon Romance novella, CAPTIVATED BY YOU, hit #31 on the Barnes and Noble bestseller list. Her goal is to write so many fantastic books that even a non-romance book fan will know her name. Diane is represented by Louise Fury from the L. Perkins Agency.
Find Diane:
CONTEST:
ONE NIGHT changes everything in this sexy story! Have you ever had a one night stand that led to more? Have you ever had ONE NIGHT that changed your life? Leave comments below and be entered to win.
Win CAPTIVATED BY YOU and ONE NIGHT plus signed postcards from Diane!
To comment on Diane Alberts's blog please click here.