When I was in first grade, my mom made me a black cat costume for Halloween. It involved sewing a hood with cat ears and a tail onto one of my black leotards from dance class and a cat mask with a thin piece of elastic that ran went around the back of my head. I loved that costume. If memory serves, I wanted to wear the costume post-Halloween, because everybody wants to be a cat. Right?
Since then there were gypsies and hobos and Indians. In college there was Marilyn Monroe, Cher, and the 80s-specific year I dressed as my Swatch Watch. I enjoy coming up with costume ideas as much as I enjoy wearing them which brings up a lot of questions about my identity.
I've discovered that, when it comes to costumes, people fall into two camps: those who love them and those who don't. There isn't a lot of gray area. Being the former, I've wondered about the latter. Is it the trouble of putting together a specific look? Or have they only experienced uncomfortable costumes? Is the silliness of dressing as someone else off-putting? Or did they just not care about getting candy on Halloween?
When I first started writing the Costume Shop mysteries, I knew one of the three books would center around Halloween. Even in a town where residents throw costume parties for every occasion, Halloween would be a special event. For all of the characters who dress up for poker games and birthdays and annual festivals, there are those who think costumes are odd. But in Proper City, everybody dresses up for Halloween. That's just how it is!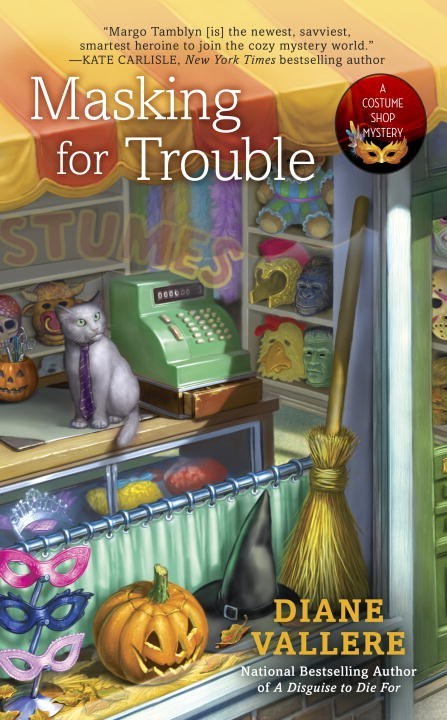 Halloween brings more tricks than treats for costume shop owner Margo Tamblyn in the second in a new cozy series from the national bestselling author of the Material Witness Mysteries.
Halloween conjures up big business for Margo Tamblyn's costume shop, Disguise DeLimit, but this year, the holiday comes knocking with serious trouble. Venture capitalist Paul Haverford plans to rezone historic downtown into a glitzy commercial area which would push out local business. Margo is set on saving her family's store, especially after a nasty run-in with the chain-store tycoon, but after Haverford's body is discovered during a spooky party at the derelict Alexandria Hotel, Margo finds herself dressed as the police's prime suspect.
Anxious to clear her name, Margo begins hunting down anyone who might have wanted Haverford dead. Between all of his malicious maneuverings, the murdered mogul had buckets of people anxious to see him gone. Now, Margo will have to use every trick in the book to find a cloaked killer—before someone else winds up wearing a death shroud…
Mystery Cozy [Berkley Prime Crime, On Sale: October 4, 2016, Mass Market Paperback / e-Book, ISBN: 9780425278291 / eISBN: 9780698183445]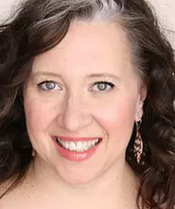 After two decades working for a top luxury retailer, Diane Vallere traded fashion accessories for accessories to murder. CRUSHED VELVET, the second book in the nationally bestselling and Lefty-Nominated Material Witness Cozy Mystery Series, comes out August 4. Diane is the current president of Sisters in Crime Los Angeles and was co-chair of the 2015 California Crime Writers Conference. She also writes the Madison Night and Style & Error Mystery Series. Diane started her own detective agency at age ten and has maintained a passion for shoes, clues, and clothes ever since.