October is my favorite month in San Diego. The summer visitors and horse race crowds have gone home, leaving the beaches almost empty and relieving the traffic on the highways. Thanks to all the back-to-school sales, I've overfilled my file cabinet with cheap office supplies. The weather has become what everyone expects from Southern California – low 70s during the day and 60s at night. I only wish the days weren't so short!
I rely on walks on the beach to generate ideas and solve problems for my books. There's something about walking in the sand and listening to the waves that makes my brain work better. I used to carry a digital recorder to take down ideas – in some ways it's almost like a dream state and I'd easily forget the great plot idea that cleared my current red herring – but now I rely on my cell phone so I can take notes and keep going.
Of course, one of the best parts of October is Halloween!
Is there a better holiday than Halloween for a store that combines chocolate and books? In BEHIND CHOCOLATE BARS, chocolatier Michelle Serrano and book store owner Erica Russell are preparing for the West Riverdale Halloween Festival when murder once again rears its ugly head. Will they be able to solve the monstrous mystery before the ghouls and goblins arrive?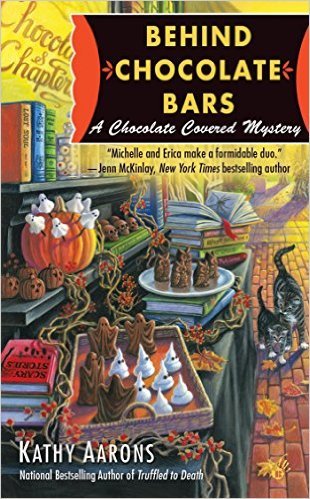 DOUBLE, DOUBLE-BOIL, AND TROUBLE…
Best friends and business partners Michelle and Erica have a monstrous to-do list as they prepare for the annual West Riverdale Halloween Festival. Their shop, Chocolates and Chapters, will have a booth at the event, where Michelle will serve spooky delights while Erica displays an assortment of spine-chilling books. Thank goodness the teenagers from Erica's comic-book club are chipping in to help. But one of their volunteers winds up in trouble after a woman's body is found in an abandoned house—with the teen's superhero key ring close by.
The teen swears he didn't do it, but he's obviously hiding something—leaving Michelle and Erica with a witch's cauldron of questions. Soon they discover that the dead woman was tricking a whole bunch of people out of more than just treats. Now these two friends must go door-to-door if they hope to unmask a killer…
Mystery Cozy [Berkley Prime Crime, On Sale: March 1, 2016, Paperback / e-Book, ISBN: 9780425267257 / eISBN: 9781101621059]
Kathy Aarons is the author of the nationally bestselling CHOCOLATE COVERED MYSTERY series by Berkley Prime Crime. Research for the series was such a hardship: sampling chocolate, making chocolate, sampling more chocolate, and hanging out in bookstores.
Kathy grew up in rural Pennsylvania, attended Carnegie Mellon University, and moved to New York City where she built her career in public relations and met her husband. They relocated to California where she became one of "those" moms: running the PTA, fundraising for school foundations, helping with a high school writers conference, creating costumes for youth theater, building puppets, and cheering on her daughters in hundreds of swim meets and soccer and basketball games.
She began writing when her youngest daughter attended school five days a week and pursued publishing more seriously when her oldest daughter went off to college. She's dedicated to supporting arts education for youth, volunteering for the CCA Writers Conference, the only free writing conference for high school students in the country. She also serves on the board of Playwrights Project, whose mission is to advance literacy, creativity, and communication by empowering individuals to voice their stories through playwriting programs and theatre productions.
She now lives in San Diego with her husband and two daughters where she wakes up far too early, and is currently obsessed with the Broadway Idiot documentary, finding the perfect cup of coffee, and Dallmann's Sea Salt Caramels.