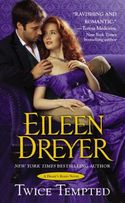 Mind you, I've never done this before. Write a series, that is. Not intentionally, anyway. I tend to discover secondary characters along the way as I write and realize they need a story. But that isn't how it happened this time. This time I set myself up to write a trilogy about three women who become friends under the most trying of circumstances, The Battle of Waterloo. It was to be called The Three Graces, and I had it all plotted out.
Well, I did until the second book, NEVER A GENTLEMAN, when Diccan, the hero, returns to his apartment to find eight other men draped over his furniture enjoying his brandy. You know that part about discovering secondary characters who need stories? Yeah. It was then that I realized that Drake's Rakes, the informal group of aristocratic gentlemen I'd casually put together to protect England(I love nefarious spies), needed their own stories. Nine of them—well,  eight by this time. One, Jack was already taken in BARELY A LADY. I'd set out to write a trilogy about women and ended up with a—what is a group of ten, a decatet? What did I do now?
The first thing I did was divide the series up into more bite-size pieces. I finished the Graces, and am now on the second trilogy, Last Chance Academy, for the school my three heroines attended before they met their heroes. My last three heroines will star in Second Chances.
And there are good bits and bad bits about this series business. The good bits are that I know the characters so well. I get to meet them before their stories and hopefully tempt my readers to want to know what happens to them. I have a pre-made brotherhood within which the men act, like their families, so that they always have someone at their backs. And if I'm lucky, I get to introduce the heroine they will fall in love with early so my audience can anticipate the fireworks. I can have them meander through a later book so we know how they're doing. Not only that, I already know exactly what each Rake's story is, so I'm looking forward to their stories(especially Drake. I have something really special in store for him).
And what are the bad bits? Well, when I'm reading a series, I get annoyed when I feel as if I'm missing information in my story, or as if I can't catch up with what's going on. On the other hand, if I'm going to read the series, I don't want to have too much given away in other books(I know. I'm difficult). As an author, it's very hard for me to weave pertinent facts into each story so that we can catch up on the Rake's ongoing relationships without revealing too much or too little. Especially considering the fact that while I have a romantic suspense plot in each book, I have an overarching plot for the series that must be carried forward, and lots of characters also weaving in and out of the stories.
I think I can breathe a sigh of relief in relation to my newest Rake book, TWICE TEMPTED (#5 in the Rakes, #2 in Last Chance Academy). The reviewers so far have said that they didn't feel confused or lost in any way. They've also been kind enough to mention one of my favorite parts of writing a series. On-going characters. In TWICE TEMPTED, I have the great fun of revisiting not only Chuffy Wilde, but Lady Bea, two of my favorite secondary-characters I've ever written. Except this time, Chuffy gets his girl(don't lose hope for Lady Bea, either).
I actually have two couples in this book(I have 10 Rakes, after all, and don't believe in 4 book trilogies). That's because my heroine, Fiona Ferguson, is actually an identical twin. She and her sister Mairead have only had each other to rely on most of their lives, making do in the slums of Edinburgh while their brother Ian was off fighting the wars.  When Ian is thought killed and accused of treason, leaving them completely alone, they once again survive. With the help of a friend, they manage to secure a position in London working on their astronomy(another wonderful little surprise for me) and teaching children, where Alex Knight and Chuffy Wilde track them down.
Ian is not dead. But Ian is a Rake, and busy saving England. So Alex and Chuffy feel it their duty to help the women. The only problem is that the women, who carry secrets that forever separate them from society, don't want help. Even though Fiona has loved Alex for four years(after meeting in the prequel e-short IT BEGINS WITH A KISS), she tries to send him away.
But Ian isn't the only one with enemies, and before the twins know it, they are on the run with the very men they spurned.
As you can imagine, adventure ensues, along with love—and not a little passion. And I get to introduce Alex's sister Pippin and Beau Drummond, who will star in my next Rake book, THREE TIMES A LADY. And in Pip's book I'll introduce Lady Elizabeth Ripton and Nate Adams. Because this series won't be over until the last bad guy is vanquished and the last Rake is tamed. Well, as well as you can tame a rake.
In the meantime, I'll be here juggling people and places and the clues to a nefarious plot. After all, I have four more rakes to go.
What about you? Do you like series? How do you like to read them? What frustrates you about them? If you want to know more about mine, stop by my website.