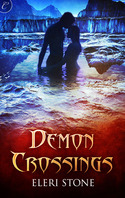 Theoretically, I know that turning the calendar from December to January doesn't really change anything. It's just another month and here in Iowa it's a dreary one at that. But I do love the idea of a new year, a fresh start and new beginnings.
For me, I'm starting off the year with the release of a new book. DEMON CROSSINGS is a paranormal romance that's based on Norse mythology and set in the Midwest. The basic premise is that centuries ago, Ragnarok (the apocalypse of Norse mythology) occurred when fire demons overran Asgard (home of the Æsir). Our ancestors considered the Æsir to be gods because of their ability to manipulate the fabric of space and time but the Æsir refugees who managed to escape to earth lost much of that ability. Their power was tied to Asgard and on earth they need to live in places where the wall between worlds is thinnest. The power that seeps through from the ruined Asgard is just enough to sustain them and enable them to fight the fire demons that occasionally cross into our world.
So, DEMON CROSSINGS starts out with a shattered world and a broken people. Death everywhere and not much cause for hope (much like Iowa in January).
But there's always hope for a new beginning.
The heroine, Grace, is the classic outsider. She's psychic and that's always set her apart. When she was younger, she had trouble controlling her gift and was diagnosed with a mental disorder. Her parents were troubled too and they abandoned her to an institution and then to the foster care system. She's never really known what it was like to have a family.
Aiden, on the other hand, has always been surrounded by family. From a young age, he was groomed to assume leadership of his clan. His marriage was arranged. He's painfully aware that every decision he makes impacts the people he loves. Weighed down by his responsibilities and his grief for his deceased wife and kidnapped daughter, he's a burdened man and a serious one. The last thing he needs is another person to care about.
But he does need Grace to help him find his daughter. He comes to care for her deeply and is torn when he has to place her in danger in order to save Hallie.
My favorite part of the story is watching Grace learn how to love and watching Aiden learn how to love again. It's seeing Grace finally find acceptance and a home. It's knowing that she finally learns to accept herself. It's a book full of new beginnings. What do you hope this new year brings?
Here's the blurb for DEMON CROSSINGS:
Private investigator Grace tracks a kidnapped child to middle-of-nowhere Iowa. Encountering a strange creature she knows can't be a local animal, she doesn't need her psychic abilities to figure out the sleepy town is not what it seems. When she meets the intriguing Aiden, she's plunged into a world of Norse gods and fire demons where the Wild Hunt still rides the night.
Aiden needs Grace's help to cross the portal between worlds and rescue his daughter. Grace is unlike any woman he's ever met. He's drawn to her courage, distressed by her vulnerability and doubtful of her motives. But he knows that her visions are the key to defeating the enemy and bringing everyone home alive.
Grace wants a future with Aiden, even if it means she'll never have a normal life. When a test run to the portal takes a terrifying turn, they must learn to finally trust each other or Aiden's daughter, and their chance at love, will be lost forever…
I'm running a series of posts on my blog about the world of DEMON CROSSINGS. If you're interested, you can find the links here
And here's where you can find me online: Website * Facebook * Twitter
Leave a comment today and one will win an e-copy of DEMON CROSSINGS
To comment on Eleri Stone's blog please click here.