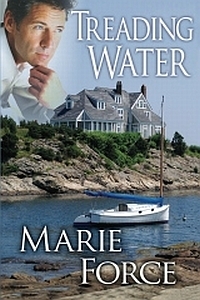 Featuring:
Jack Harrington; Andrea Walsh
370 pages
ISBN: 1466413654
EAN: 9781466413658
Kindle:
B005YRL04Y
e-Book
Amazon
Barnes and Noble
iPad/Apple
Smashwords
All Romance Ebooks
Kobo
Goodreads
* * *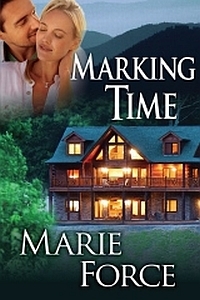 Treading Water #2
Featuring: Clare Harrington, Kate Harrington and Aidan O'Malley
404 pages
EAN: 9781466413658
Kindle: B006FI51A0
e-Book
Amazon
Barnes and Noble
iPad/Apple
Smashwords
All Romance Ebooks
GoodReads
* * *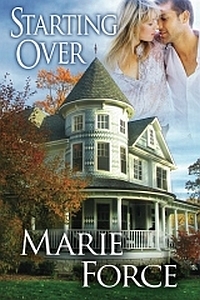 Treading Water #3
Featuring: Brandon O'Malley
380 pages
ISBN: 1467938378
EAN: 2940013865297
Kindle: B006NKOGLA
e-Book
Amazon
Barnes and Noble
iPad/Apple
Smashwords
All Romance Ebooks
Goodreads
A Dream Comes True
I'm delighted to introduce you to the Harrington and O'Malley families, featured in my new Treading Water Trilogy! TREADING WATER, MARKING TIME and STARTING OVER were the first books I ever wrote back in 2005–2006, and it's such a thrill (and a dream come true) to finally have them available to my lovely readers. The story begins with a mysterious accident that changes the lives of the Harrington family forever. Here's a brief synopsis of book 1, TREADING WATER:
Love is the last thing on Jack Harrington's mind when he sets out to meet Andi Walsh's flight. Recently back to work after spending more than a year tending to his comatose wife, Jack is focused on getting through each day and caring for his three daughters. However, the moment he sets eyes on Andrea Walsh, the interior designer who has come to decorate the hotel his company is building in Newport, Rhode Island, Jack begins to wonder if Andi might be his second chance. After a disastrous marriage, Andi, single mom to a hearing-impaired son, isn't exactly looking for love, either, but that's what she finds with Jack. The two embark on a long-distance relationship fraught with challenges as they balance the needs of their children and dueling careers while Jack continues to care for his wife, Clare. Just when Jack thinks his life is once again settled, he is confronted with a new challenge that tests him in ways he never could've imagined, leaving him to wonder if "happily ever after" is in the cards for him.
Here's what others had to say about TREADING WATER:
"This isn't your typical romance where you're positive you're going to get the happy ending you were hoping for at the beginning. It will rip your heart out at times and having you weeping for joy at others. A stunning story about learning to love again and learning when to let go of those you love." A Reviewer Top Pick at Night Owl Reviews
"TREADING WATER is a definite must read!
TREADING WATER creates an emotional firestorm within the reader. It shines the light on the good and the bad in life and proves that one moment can change everything and it's never too late to find love. Marie Force grabbed my heart and squeezed every ounce of emotion out of it but most importantly her monumental story left me blissful. TREADING WATER may be fiction but it gives me hope; hope in everyday people and happily ever after. I cannot wait for the next book in this trilogy, MARKING TIME." —Joyfully Reviewed, a "Recommended Read" for November 2011
What makes this series so special to you?
Jack Harrington was the first character to appear as a fully formed person, demanding I tell his story. He's an architect in TREADING WATER, so I've referred to my writing career as "The House That Jack Built," because it all began with him. My early readers demanded the story that became MARKING TIME, which then led to STARTING OVER.
Your hero in STARTING OVER, Brandon O'Malley, is an alcoholic. When we first meet him in
MARKING TIME, his behavior is far from heroic. What was it like to write his story, and how did you manage to redeem him?
Writing Brandon's story was one of the most challenging and satisfying experiences of my life. As part of my research, I attended an AA meeting, read The Big Book (the AA bible) and delved into Al-Anon. I was deeply moved and profoundly changed by these experiences, and writing about Brandon's recovery as well as his second chance at life and love was an amazing journey. Readers have loved Brandon's story and that of the two "women" who save his life. One reader said of STARTING OVER, "This book touched my soul." What better compliment could any author hope to receive?
Would you consider more books featuring characters from the Treading Water Trilogy?
Readers have asked for more of two characters from MARKING TIME, which has rekindled an idea I had years ago for a fourth book in that series. It's definitely something I'm considering for 2012!
I hope you enjoy the Treading Water Trilogy as much as I enjoyed writing it. Find me on my website at www.mariesullivanforce.com, my blog at http://mariesullivanforce.blogspot.com, on Facebook at www.facebook.com/MarieForceAuthor and on Twitter @marieforce. Join the fun on my Facebook groups:
Marie Force Book Talkwhere we talk about my books, other people's books and lots of other fun stuff!
McCarthys of Gansett Island Readers Group
Fatal Series Readers Group
Get the Treading Water Trilogy in PRINT:
Coming Soon from Marie Force:
FALLING FOR LOVE, Book 4 in the McCarthys of Gansett Island Series on January 17, 2012
FATAL FLAW, Book 4 in The Fatal Series on February 6, 2012 (pre-order now!)