Hi, Elia! Welcome to Fresh Fiction! Please introduce yourself and tell us about your new book, HAIRPIN CURVES.
Thanks for having me! HAIRPIN CURVES is a frenemies-to-lovers road trip romance. Megan and Scarlett used to be best friends, but a falling-out after high school has kept them apart for the last seven years, and now they're headed to Quebec on a road trip for a mutual friend's wedding. Along the way, they of course discover a lot about each other and themselves. 
There's something so fun about a road trip romance! Have you ever gone on an epic road trip like Megan and Scarlett?
Definitely. I grew up doing road trips, because my family had moved to Florida and left most of our extended family in Massachusetts. My parents didn't fly, so we drove. We did more than the FL-to-MA trip, too: Jonesborough, Tennessee for the National Storytelling Festival; Parris Island, South Carolina for my brother's Marine Corps graduation; St. Louis, Missouri to visit my sister, etc. As an adult, I've continued the road trip tradition, although I don't have any aversion to flying (when it's not a pandemic). My husband and I have driven to Quebec a number of times, to Michigan, to Virginia, all over the place. I hope to do a cross-country road trip at some point.
In addition to being a road trip romance, HAIRPIN CURVES is also an "ex-friends -to-lovers" story. They have a tumultuous history but are forced to travel together to a wedding. What does this unusual situation reveal about these characters? How do you think they handle everything?
In my original concept of HAIRPIN CURVES, Megan and Scarlett were best friends at the start of the book. As I was writing, I quickly realized that the tension I wanted to create didn't work unless the friendship was strained, so I restarted, and I liked the dynamic much better. It's clear that they have some feelings there at the start, or they wouldn't be so hurt by each other. Those we love, those we're vulnerable with, have the greatest capacity to hurt us—that's the idea that I wanted to explore. So these two women used to be very close, and each of them sort of wishes they could move on, but haven't been forced into the space where they have to do so. So, they have to deal with the past and also the present, which is that each isn't the person she was back in high school, so they're dealing with two layers of feelings. I think they handle things okay; they vacillate between being mature and immature, with vestiges of that old high school self coming out, and I think that's normal when you've known someone for a long time. Eventually, of course, they figure out how to communicate with each other.
Megan and Scarlett are pretty different but are both flawed and complex women trying to navigate their own paths in the world. What do you think readers will love about these two?
I hope people appreciate their complexity, and the way each woman contains contradictions, like we all do. It's possible for Megan to be somewhat quiet *and* sexually confident, and for Scarlett to appear brazen and direct *and* also have serious insecurities. I hope people love the journey they each go on, internally, and how they ultimately complement each other.   
Summer looks different for everyone this year! What are some of your favorite things about summer, and what have you been up to this year?
Summer certainly does look different. I'm a teacher, so summer is when I get a bit of time off, and that feels especially important in the midst of all the pandemic stress. Generally, I love traveling in the summer, and we're managing to do a bit of that: we've rented an RV at a campground out on the tip of Cape Cod, which is a step up from camping but also lets my household stay isolated in a way that feels safer than other types of travel. I'm spending the rest of my summer sleeping in, baking treats, reading, doing book research, playing Animal Crossing, and working on a giant cross-stitch.
What can readers expect from you next?
I'm currently doing research for a F/F WWII historical series that my agent is hoping to pitch soon, as soon as I've got my proposals together! I love reading queer communities during the war, as well as how women contributed to the war effort in different ways, and so I'm excited to put these books together. I can say that the first book is two women in the Signal Corps, one of whom is a pigeoneer. No title or series name yet, but it's all in process, and I'm looking forward to my next steps.  
Rapid Fire Random Questions
Favorite candy: I'm really into chewy Nerds right now.
Favorite way to be kind to yourself: Bath bombs! I'm a bath bomb aficionado.
Best compliment you recently gave to someone: I told a friend of mine that she was unfailingly competent in everything she does, which might not sound like much, but she said she needed to hear it, so that was nice.
Favorite flower: Sunflowers
Random interesting fact you like to tell people: Pigeons aren't actually wild; they're feral. The pigeon species was fully domesticated, so pigeons shouldn't really be out wandering your cities; they're like stray cats or dogs. It's why they're not afraid of us and why it's legal to have pigeons as pets.
Best vacation you've ever taken: Quebec City, February 2015. Nordic Spa, black currant wine on île d'Orléans, amazing food and great company.
Earliest celebrity crush: Probably Laura Dern from Jurassic Park, although I didn't recognize it as such until I figured out I was bi (at, like, 30).
Cake or pie: Pie! I'm about to make a key lime pie this afternoon.
Last book you read that you really LOVED: The Girl Who Drank The Moon by Kelly Barnhill. It's middle grade, I think, or young YA, and I just found it beautiful and complex and super moving. 
You have a totally free afternoon – no deadlines, no obligations, no Twitter notifications!  What do you do?: Kind of what I'm doing a lot of lately: try a new baking recipe, do some book research, read for a bit, play video games, pull out the cross stitch. It's been nice, and I'm grateful.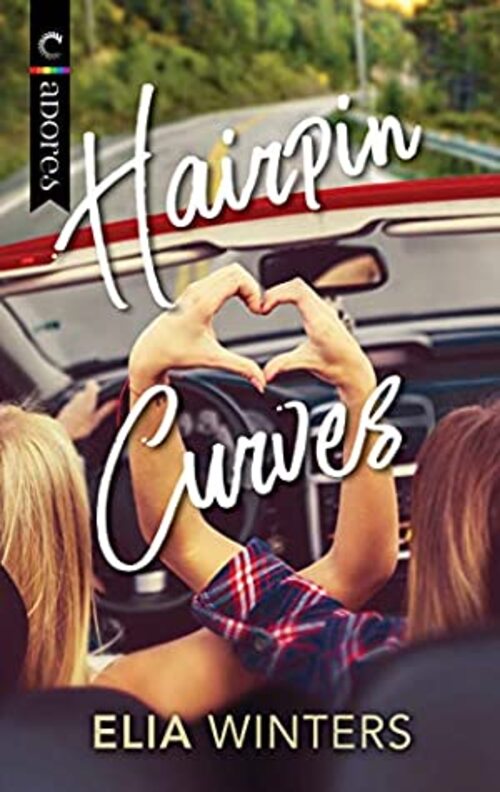 RITA Award-winning author Elia Winters delivers a sexy, playful frenemies-to-lovers road-trip romance.
Megan Harris had hopes of seeing the world, but at twenty-five, she's never even left Florida. Now a wedding invitation lures her to Quebec. . . in February. When her ex-friend Scarlett offers to be her plus-one (yeah, that's a whole story) and suggests they turn the journey into an epic road trip, Megan reluctantly agrees to the biggest adventure of her life.
A week together in a car is a surefire way to kill a crush, and Scarlett Andrews has had a big one on Megan for years. The important thing is fixing their friendship.
As the miles roll away, what starts as harmless road-trip games and rest-stop dares escalates into something like intimacy. And when a surprise snowstorm forces Megan and Scarlett to hunker down without the open road as distraction, they've got a bigger challenge than making it to the church on time: facing the true nature of their feelings for each other.
Carina Adores is home to highly romantic contemporary love stories where LGBTQ+ characters find their happily-ever-afters.
Romance Contemporary | Romance LGBTQ | Romance Comedy [Carina Press, On Sale: July 28, 2020, Paperback / e-Book, ISBN: 9781335146656 / eISBN: 9781488076305]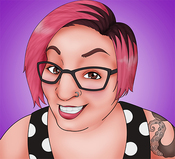 Elia Winters is a fat, tattooed, polyamorous bisexual who loves petting cats and fighting the patriarchy. She holds a Master's degree in English Literature and teaches at a small rural high school, where she also runs the drama club. In her spare time, she is equally likely to be found playing tabletop games, kneading bread, cross-stitching, or binge-watching Marie Kondo. A sex educator and kink-positive feminist, Elia reviews sex toys, speaks at kink conventions, and writes geeky, kinky, cozy erotic romance. She currently lives in western Massachusetts with her loving husband and their weird pets.