A run-down motel in a small town isn't the most likely place for a romance novel to begin. But the moment I saw it, I knew it was the perfect starting point for GETTING IT BACK, the third book in my Red Hot Russians series.
One thing I love about being a writer is that thunderclap of inspiration, when vague ideas suddenly crystalize into characters, scenes and conflicts. In the spring of 2014, ideas had been turning in my head for weeks. I knew GETTING IT BACK's hero was Misha, an Olympic champion skater whose post-skating life hadn't gone as planned.
But I didn't know much else. A road trip, on a dark and stormy day—on my way to a wake, no less—provided the answer.
A detour took me off the interstate onto a two lane highway running through Midwestern farm country. The weather was ominous—dark, low hanging clouds that can spawn thunderstorms and even tornadoes. Listening to static-y country music on the radio, I drove into a small town, and passed an old motel. Its sign was lit and glowed against the gloomy sky. An empty swimming pool was surrounded by a fence and looked like it hadn't been used for a long time. The cars in the parking lot were old—except for one.
And suddenly, the hazy ideas in my head became clear and real. That car belonged to Misha. The motel is where Amy finds him, alone and hurting. It's the low point he needs to hit before everything changes.
Further down the road, I pulled into a fast food parking lot and scribbled notes, which became this scene:
Flat open fields, turned for spring planting, stretched out on both sides of the road. The vast emptiness was broken only by farms, spread wide apart. The sky had the fearsome look of heavy rain on the way. Good news for the farmers maybe, but not so good for a woman on the road alone. A tornado could come roaring through and blow her straight to Oz. If a twister was on the way, she wanted to know, so she turned on the radio. There were snatches of music and voices, until the strongest signal came in, a country station where Toby Keith sang about life 1,452 beers ago. Outside of a farm town that looked as if it could have been the setting for Toby's song, a green highway sign informed her that her destination was five miles ahead.
How had Misha, who had once been one of the world's top male figure skaters, ended up here?
Just past an abandoned used car lot with a hand-painted For Sale staked in front, was a lighted yellow and black sign for the Town's Edge Motel. The L-shaped, single story building surrounded an empty swimming pool, enclosed by a chain link fence. Most of the cars in the lot were old, though a sleek black Lexus was parked in front of room number three. To the right was the office. A neon sign flashed VACANCY.
Amy's stomach fluttered with eagerness and dread, as the strange journey suddenly became real.
I won't deny that I had a few doubts about starting with my hero stranded in such a lonely place. But the story of his comeback felt more powerful when he had a long way to climb, and his triumph that much sweeter. When a reviewer complimented the opening, I was glad I didn't change it.
Thunderclap inspiration is a pretty cool thing.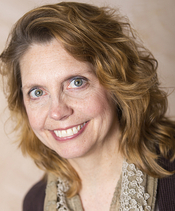 Quirky settings. Loveable, if imperfect heroines. Gorgeous men with hearts of gold. Contemporary romance author Elizabeth Harmon loves them all.
A graduate of the University of Illinois, she has worked in advertising, community journalism and as a freelance magazine writer. She feels incredibly blessed to have a career that allows her to spend her days imagining "what if?" and a loving family that keeps her grounded in the real world.
An adventurous cook, vintage home enthusiast, occasional actress, and entry-level figure skater, Elizabeth makes her home in the Midwest, where life is good, but the sports teams aren't. She loves to hang out on her front porch, or at her favorite local establishments, enjoy good food and wine, and talk writing with anyone who will listen.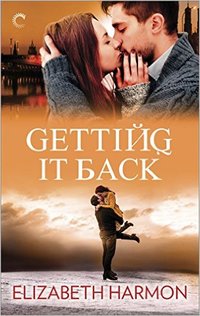 In this second-chances romance, a former top men's figure skating champion is willing to risk everything for a comeback—except a new start with his long-lost love
An unexpected phone call from the man who broke her heart offers Amy Shepherd an opportunity to return to the work she loves, training elite figure skaters. Except it's just one figure skater: him. Can she finally forgive and forget?
Figure skater Mikhail "Misha" Zaikov once had it all: medals, money and the adoration of millions. But a devastating injury put an end to his career and his romance, leaving him with nothing but regret over what could have been. His last chance to rejoin the world's top skaters is now. And there's only one person who can help him: her.
On Russia's unyielding ice, Misha must reclaim what he's lost while facing off against a talented young rival and risking further injury. But Amy soon discovers Misha's much bigger challenges lurk off the ice. And she's determined to keep Misha whole and healthy, even if doing so ends his shot at the gold.