Murder in the Bayou Boneyard, the sixth book in my Agatha Award-winning Cajun Country Mystery series, revolves around Halloween in the fictional village of Pelican, Louisiana. All the books in this series (as well as in my Catering Hall Mysteries, which I write under the pen name, Maria DiRico) include recipes. I wanted this particular book to contain a couple of recipes that were Halloween themed but also had a distinctly Louisiana touch. After a long search and much experimentation, I came up with a recipe for Cajun Pecan Cookie "Fingers." These cookies are similar in texture to pecan sandies.  They're tasty and not super sweet.
I tinkered with this recipe to prepare it for Fresh Fiction and it's slightly different from the one in the book. I added two more tablespoons of powdered sugar, but another change was the result of a happy accident. I read the measurement for vanilla as four tablespoons instead of teaspoons. Oops! But you know what? It made the recipe even better. If you want to add a real Cajun kick to these cookies, mix a 1/4 to a 1/2 teaspoon of cayenne pepper into the dry ingredients. That's the secret ingredient in my recipe for Spicy Cajun Sugar Cookies that you'll find in the fourth Cajun Country Mystery, A Cajun Christmas Killing.
 To turn the cookies into a Halloween treat, shape them like fingers and use homemade or ready-made frosting to create "fingernails" by frosting one tip of each cookie. Your little ghosts and witches will love them!
Cajun Pecan Cookie "Fingers"
Ingredients
1 cup softened butter
8 tbsp. powdered sugar
2 and 3/4 cups flour
1/4 tsp. salt
4 T. vanilla
1 cup finely chopped pecans
Frosting of your choice (optional)
Instructions
Preheat the oven to 350 degrees.
Combine flour, sugar, and salt in a large mixing bowl. Mix together to blend. Add the other ingredients and work the dough together with your hands. (Yes, your hands. It's like you're making pie crust dough.)
Shape the dough into finger-length cylinders, almost like small cigars. If you want to, you can make a couple of horizontal hash marks on each cook to replicate the wrinkles on fingers. Place the cookies on ungreased cookie sheets and bake for about 15 minutes.
Either sprinkle the cookies with powdered sugar or frost the tips like fingernails turn them into spooky fingers!
Yield: 24-36, depending on the size of the cookies.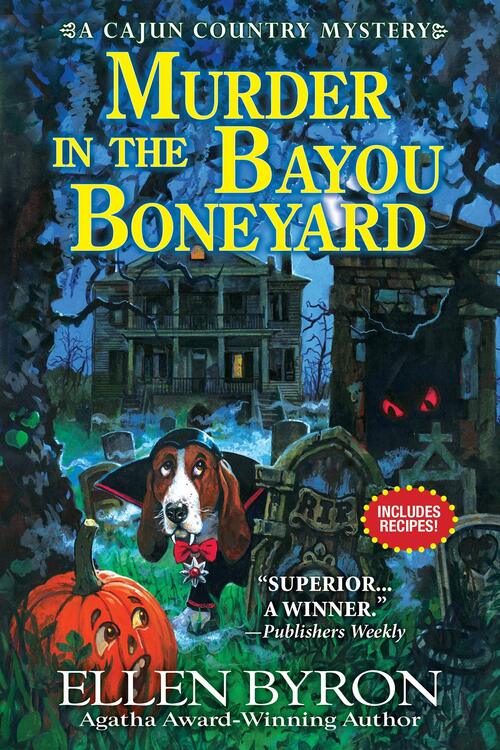 Maggie Crozat, proprietor of a historic Cajun Country B&B, prefers to let the good times roll. But hard times rock her hostelry when a new cell phone app makes it easy for locals to rent their spare rooms to tourists. With October–and Halloween–approaching, she conjures up a witch-crafty marketing scheme to draw visitors to Pelican, Louisiana.
Five local plantation B&Bs host "Pelican's Spooky Past" packages, featuring regional crafts, unique menus, and a pet costume parade. Topping it off, the derelict Dupois cemetery is the suitably sepulchral setting for the spine-chilling play Resurrection of a Spirit. But all the witchcraft has inevitably conjured something: her B&B guests are being terrified out of town by sightings of the legendary rougarou, a cross between a werewolf and vampire.
When, in the Dupois cemetery, someone costumed as a rougarou stumbles onstage during the play–and promptly gives up the ghost, the rougarou mask having been poisoned with strychnine, Maggie is on the case. But as more murders stack up, Maggie fears that Pelican's spooky past has nothing on its bloodcurdling present.
Mystery Cozy | Mystery Culinary | Mystery Police Procedural [Crooked Lane Books, On Sale: September 8, 2020, Hardcover / e-Book, ISBN: 9781643854601 / eISBN: 9781643854618]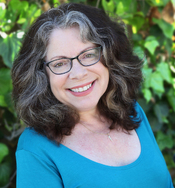 Ellen Byron is the Agatha and Lefty Award-winning author of the Cajun Country Mysteries. MARDI GRAS MURDER won the Agatha for Best Contemporary Novel. A CAJUN CHRISTMAS KILLING and BODY ON THE BAYOU won Lefty Awards for Best Humorous Mystery. PLANTATION SHUDDERS was nominated for Agatha, Lefty, and Daphne awards and made the USA Today Bestseller list. FATAL CAJUN FESTIVAL is her newest release. In 2020, she'll debut her first Catering Hall Mystery, HERE COMES THE BODY, under the pseudonym, Maria DiRico, which happens to be her late Italian grandmother's maiden name.
Ellen's TV credits include Wings, Just Shoot Me, and Fairly OddParents. She's written over 200 national magazine articles, and her published plays include the award-winning Graceland. She also worked as a cater-waiter for the legendary Martha Stewart, a credit she never tires of sharing. A native New Yorker who attended Tulane University, Ellen lives in Los Angeles with her husband, daughter, and rescue dog. She still misses her hometown – and still drives like a New York cabbie.