1–What is the title of your latest release?
2–What is it about?
I think a good pitch is When Harry Met Sally mixed with One Day. It's the story of Poppy and Alex, best friends since college, who've taken a summer trip together every year for ten years—only for a disastrous final trip to Croatia to ruin their relationship. Now, two years later, Poppy's determined to mend it with one last trip, so the book follows their post-friend-break-up vacation, as well as all the trips they've taken up to that point.
3–What do you love about the setting of your book? 
Usually, my books are pretty grounded in one location, but this one takes place in multiple cities and countries, and reliving bits and pieces of all the trips that inspired those particular scenes was a blast. I definitely think of this novel as a vacation in book form, and I hope readers will have that experience too.
4–How did your heroine surprise you? 
A lot of times, I'm very conscious of how I think my readership will react to my female characters. It just seems like it's easier for female characters to grate on people than male characters, and I've generally tried to write more toned-down women than I myself am. Poppy kind of just burst out of me as this ludicrous, wild, loud, silly person from the jump, and I found myself completely unwilling to tamp that down, because it just felt so right. 
5–Why will readers love your hero? 
I think most of us can relate to having that one person in your life whom the world sees one way, but you see in an entirely different light. It feels like such an honor when a person like that reveals his most secret, silly self to you. So, I think (and hope) readers will like Alex because they know him.
6–What was one of your biggest challenges while writing this book (spoiler-free, of course!)? 
This book is told over twelve years, which means that both the hero and heroine move through other romantic relationships within that timeframe. It was really important to me to have those relationships be meaningful and significant to the main characters and not just like obstacles to the hero and heroine's relationship.
7–Do you look forward to or do you dread the revision process? 
Both! Usually, I enjoy the drafting process more, but I also want each book to be the very best version of itself and for me, that happens during revision.
8–What's your favorite snack to have on hand while writing? 
It's not an exciting answer, but yogurt is my go-to, because it's easy and fast.
9–Where would you go for an ideal writer's retreat? 
Ooooh. Anywhere cold and rainy or snowy. Some friends and I are constantly talking about trying to do an international writer's retreat in Scotland, so that's high on my list.
10–What's the best piece of writing advice you've received? 
Perfect really is the enemy of finished. For me, letting a first draft of a book be bad is so freeing. You can always fix things in revision.
11–Who is the fictional character you want to hang out with the most? (anyone in literature!)
This is SO hard, but one answer that comes to my mind right away is Gillian and Sally Owens from Alice Hoffman's Practical Magic.
12–What's one of your earliest book memories? 
Reading The Giver in third or fourth grade. I already loved reading, and wanted to be a writer, but that was the book that taught me the power of a story to change how you saw the world.
13–If you had to write in a different genre, what would it be and why? 
I'm really enjoying writing rom coms, but they're not the only thing I write. I love writing grounded scifi, fantasy, thrillers, horror, all of it, and honestly, I hope I'll be able to keep or start publishing in all of those too.
14–What song will automatically put you in a good mood? 
Pretty much anything by Carol King, Beyonce, or Talking Heads.
15–What is your favorite way to practice self-care?
My least favorite and most helpful is rigorous exercise, honestly. My favorite and least helpful is doing hand, foot, and face masks.
16–What can you eat and never get sick of? 
Lay's potato chips.
17–Will you share a favorite, recent-ish book you recommend? 
Oh my gosh, there are so many and most of them aren't out yet. One I particularly loved was Mikaella Clements and Onjuli Datta's debut, The View Was Exhausting.
18–Do you have any hobbies? 
No. Hahah, that's only partly a joke. I dabble in a lot of things, but I am proficient in pretty much nothing except writing these days. I studied modern dance in college and do sometimes still take classes, so I guess that counts!
19–Are you an early bird or a night owl?
I am a firm "middle of the day" kind of person. I'm no good in the morning, and can sometimes be persuaded into being a night owl, but a lot of times, I feel like I could just sleep from eleven PM to ten AM.
20–What can readers expect from you next? 
Fun, frothy escapism, and armchair tourism, with a heavy dose of yearning!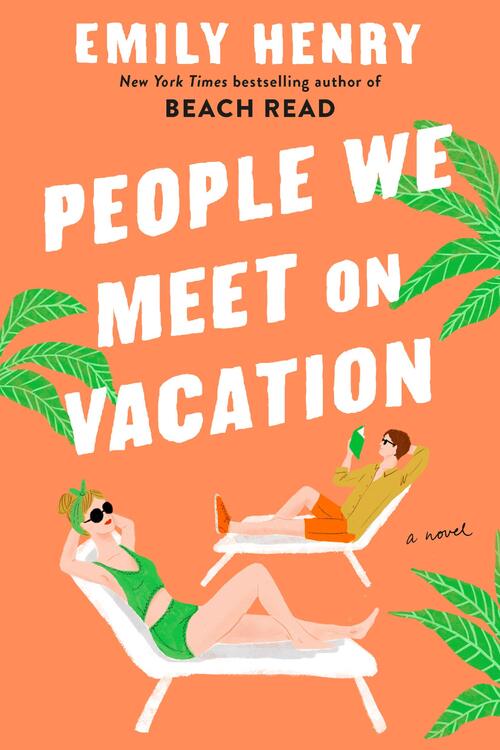 Two best friends. Ten summer trips. One last chance to fall in love. 
From the New York Times bestselling author of Beach Read, a sparkling new novel that will leave you with the warm, hazy afterglow usually reserved for the best vacations.
Poppy and Alex. Alex and Poppy. They have nothing in common. She's a wild child; he wears khakis. She has insatiable wanderlust; he prefers to stay home with a book. And somehow, ever since a fateful car share home from college many years ago, they are the very best of friends. For most of the year they live far apart—she's in New York City, and he's in their small hometown—but every summer, for a decade, they have taken one glorious week of vacation together.
Until two years ago, when they ruined everything. They haven't spoken since.
Poppy has everything she should want, but she's stuck in a rut. When someone asks when she was last truly happy, she knows, without a doubt, it was on that ill-fated, final trip with Alex. And so, she decides to convince her best friend to take one more vacation together—lay everything on the table, make it all right. Miraculously, he agrees.
Now she has a week to fix everything. If only she can get around the one big truth that has always stood quietly in the middle of their seemingly perfect relationship. What could possibly go wrong?
Romance Comedy | Romance Contemporary [Berkley, On Sale: May 11, 2021, Trade Size / e-Book, ISBN: 9781984806758 / eISBN: 9781984806765]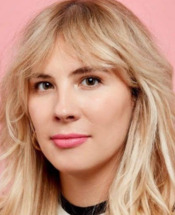 Emily Henry writes stories about love and family for both teens and adults. She studied creative writing at Hope College and the New York Center for Art & Media Studies, and now spends most of her time in Cincinnati, Ohio, and the part of Kentucky just beneath it.