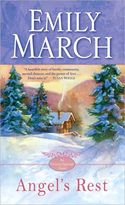 It isn't often that woman gets to become a virgin again.  Man, is it fun!
My name is Emily March and my debut novel, ANGEL'S REST, is a March release.  It's the first book in a series I'm writing for Ballantine called Eternity Springs.  The second book, HUMMINGBIRD LAKE, arrives at bookstores on March 22nd, with the third book, HEARTACHE FALLS, coming April 27th.
So many wonderful things have happened since this first book came out.  It's been released as an audiobook–as an Audible member with two accounts because I buy so much this is a real thrill.  It's been chosen as a featured selection for Doubleday Book Club and is available as a ebook and in large print, too.
The biggest thrill for this debut author to date came when I learned that ANGEL'S REST had received a coveted starred review from Publishers Weekly magazine.
As an author with twenty-two previous books under my belt with no previous PW starred review, I was ecstatic.
Which brings me back to the whole virgin thing.
Before ANGEL'S REST and my Eternity Springs series, before I was Emily March, my name was Geralyn Dawson.  As Geralyn, I'd been  a USA bestselling author and a contributor to a  New York Times bestselling anthology.  I had been published for almost fifteen years.  So why, you may wonder, did I elect to write my Eternity Springs series under a pseudonym?
The answer is both simple and complicated.
The short answer is that with my Eternity Springs books I'm writing something new.  I need to signal that to my readers and not lead them into false expectations. There are no Bad Luck Weddings (from my historicals) or Russian mafiosos (from my romantic suspense stories) in Eternity Springs.  My Eternity Springs series is contemporary romance with a touch of women's fiction to it.  I personally like author Barbara Freethy's term– romantic women's fiction.  Susan Wiggs was gracious enough to give me this fabulous quote for ANGEL'S REST that I think sums up the story and the series very well:
"Emily March has penned a heartfelt story of family, community, second chances, and the power of love to heal the deepest of wounds. Throw in a charming small town, dogs, romance and quilting, and it all adds up to feel-good fiction at its finest. Don't miss it!"
The long answer is regarding the name change is WHY I'm writing something new.
Three years ago, I did something I hadn't done in over fifteen years–I took a break from writing. I was tired. I had no ideas. I didn't even want to write a grocery list. So, I decided to walk away from it. I quit!  I shut the office door and didn't look back.
It was heaven. I gardened. I joined a gym. I volunteered. I took up quilting. I became a Lady who Lunched and I was a happy, happy girl.
Then, after six or seven months of bliss, something unexpected happened. Story ideas started fluttering through my consciousness. Characters began cropping up in my brain. A new and different setting–a new world–teased my mind. For the first time in a very long time, I started playing with story ideas as I went to sleep at night.
Darn it. I'd quit writing. I didn't need this. I had GREAT tomatoes growing in my garden. Unfortunately, Gabe Callahan (now the hero of ANGEL'S REST) wouldn't leave me alone. I wanted, I needed, to know what happened to him!
Finally, eight months after shutting down my word processing program for good, I clicked on that Wordperfect icon and wrote a few pages. Just for me. Not because I had a deadline, but because I wanted to write. Then I wrote a few more pages, and a few more, and a few more.
Again, it was heaven. I couldn't wait to get to the computer in the morning. I gardened a little less, and gave up lunching and antiquing and before I knew it, I spent part of every day up in my office.
During this time my husband–hero that he is–called my attention to some truths I had missed. He pointed out that I had started writing when my youngest child was born. I walked away from writing when that little girl went off to college. I had a nice, new empty nest and I had to figure out what I wanted to do with it. I had to figure out what I wanted to do with me.
I found my answers while writing ANGEL'S REST.  I wanted to be a writer again . . . only different. Unlike my most recent novels, I didn't write romantic suspense or historical romance.  I wrote a book about a wounded–literally tortured–hero who discovers a woman, a world, and yes, a dog, who helps him heal. I wrote a story about family and friendship. I wrote a story about rebirth.  Under the circumstances, I don't think I could have written anything else.
The Eternity Springs series is a new direction for me.  These books are about love, but they're also about friendship and family, of overcoming the difficult times in life and celebrating the good. These books are about change, and it seems only fitting that I change, too.
My nest is empty, my heart is full, and my mind is spinning with stories once again.  My name is Emily March and my first book, ANGEL'S REST , is now on sale.  Welcome to my new world. By the way, we're taking the scenic route.
I hope you'll visit my website at www.emilymarch.com. I'm hosting a March Madness contest there and one here at Fresh Fiction, too.  If you visit Facebook, please come like my page at www.facebook.com/emilymarchbooks. You can follow me on Twitter @emilymarchbooks.
If you have any questions, please ask them and I'll do my best to answer–though remember, I'm new at this.  A virgin, so to speak.
Happy reading,
Emily
Comment to win an advanced reading copy of HUMMINGBIRD LAKE
To comment on Emily March's blog please click here.