John Wayne, Randolph Scott, Clint Eastwood, Alan Ladd…I am a sucker for a cowboy hero, and I am not alone. Since the days of Owen Wister and the Virginian, readers have been drawn to cowboy heroes. But what makes them so appealing? Here are a few ideas I have:
The "Code of the West." True cowboy heroes have a code of honor they live by that make them true hero-material. Things like:
Your word is your bond.
Ride for the brand.
Don't ask questions about a man's past.
Never miss an opportunity to keep your mouth shut.
Don't squat with your spurs on.
Cowboys are men of action. Readers like heroes who DO things, and there's not a much more physical job than that of a cowboy.
Heroes look good on horses. J A man who can ride even better than he can walk? Yes, please!
Cowboys are known for being chivalrous. Their code of honor extends to treating ladies like ladies.
Cowboys give the impression of self-reliance, true loners who don't need anyone…but every woman in the world knows this isn't true. A real cowboy needs a good woman to look past the rough, tough exterior and reach the tender heart he keeps hidden. SWOON!
My first introduction to cowboy heroes came in middle school when I read my first Zane Grey novel, The Drift Fence. From that moment on, I fell headlong in love with cowboys and the western romance genre. Those stories continue to influence my work, and I love writing heroes that ascribe to those things that make cowboys so appealing.
So, how about you? Do you like cowboy heroes? And of course, the ultimate cowboy question…do you prefer John Wayne or Clint Eastwood? (It's John Wayne for me!)
Giveaway
One reader will receive a copy of HIS PRAIRIE SWEETHEART. You can see Erica's cowboy in "action."
Erica Vetsch is a transplanted Kansan now residing in Minnesota. She loves history and romance, and is blessed to be able to combine the two by writing historical romances. Whenever she's not immersed in fictional worlds, she's the company bookkeeper for the family lumber business, mother of two, wife to a man who is her total opposite and soul-mate, and avid museum patron.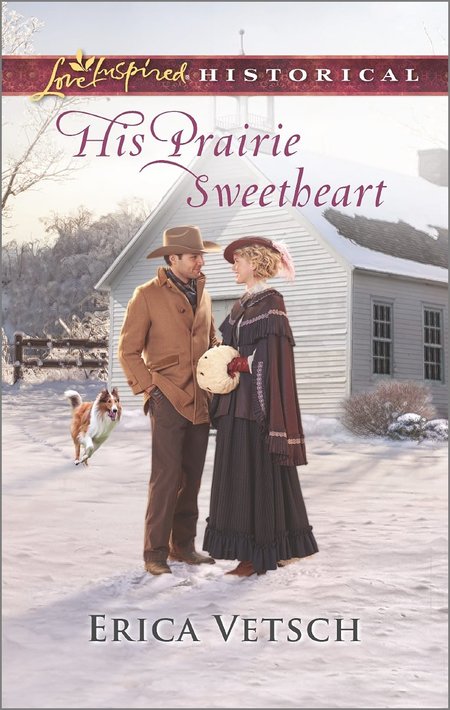 After being jilted at the altar, Southern belle Savannah Cox seeks a fresh start out West and accepts a teaching position in Minnesota. But between her students' lack of English, the rough surroundings and sheriff Elias Parker's doubts and distrust, Savannah's unprepared for both the job and the climate. However, she's determined to prove she can handle anything her new town throws her way.
Elias gives it a week—or less—before the pretty schoolteacher packs her dainty dresses and hightails it back home. But no matter how many mishaps he has to rescue her from, Savannah doesn't give up. Yet the real test is to come—a brutal blizzard that could finally drive her away, taking his heart with her…
Romance Historical | Inspirational Historical [Love Inspired, On Sale: May 1, 2016, Paperback / e-Book, ISBN: 9781488007873 / eISBN: 9781488007873]