Everyone loves a great second-chance romance, right? Two lovers finding each other again. The idea that love conquers all. The romance of never getting over The One and having a chance to make it all right again. But there are challenges to writing these stories too and that made After You one of the harder Sapphire Falls books to write. Here are some reasons why J
Someone was probably a jerk.
Sometimes break-ups are amicable and people just grow apart and both admit it. But not usually. Usually someone does something that hurts or upsets the other. Which is real life. We all screw up and make mistakes. But when it's characters in a book, the writer has to be careful so that readers don't hate the character from the very beginning. They have to have understandable, and forgivable, reasons for the break-up.
They're not always going to be happy to see one another.
Obviously, in a romance, the characters have to spend time together in order to work through everything and figure out how they feel about one another. But they're probably not going to be that happy to see each other at first. It's a tough balance between making sure that's real– that no one's giving in too easily or coming off weak and yet not having them fight for pages and pages and pages.
They have to spend time together.
As mentioned above, they have to be together in order to work through things and figure out how they feel. But there has to be a good reason for them to spend time together, and actually spend some real time talking, as exes. In real-life, it might just be easier to avoid one another entirely. But in the book, they have to be together. So coming up with a good, believable, workable reason can be a challenge.
Someone has to apologize.
Which means that they have to be sorry. But that means that the reason for the break-up has to make sense… readers have to understand why they felt the break-up was the way to go…but it also has to be something they've grown past. That can be a challenge because, as the author, you don't want to make the break-up trivial. But you also can't make it something impossible to overcome.
They have to have sex.
🙂 Okay, I suppose that could be debated. Let's just say, in my books, my hero and heroine need to have sex. I think it's an important part of relationship development and hey, it's fun! So there has to be an opportunity for that to happen in the course of the book, in spite of the fact that someone was a jerk and they broke up and there are hurt and angry feelings swirling around. But the sex has to make sense. There has to be chemistry in spite of the break-up. There has to be an acknowledgement, even if it's just in their heads, of feelings that go beyond lust in spite of everything. There has to be mutual consent to take their clothes off in spite of everything J So it can be challenging getting them to the point where they are willing to acknowledge these feelings and be vulnerable with one another this way. But boy is it fun when that happens 🙂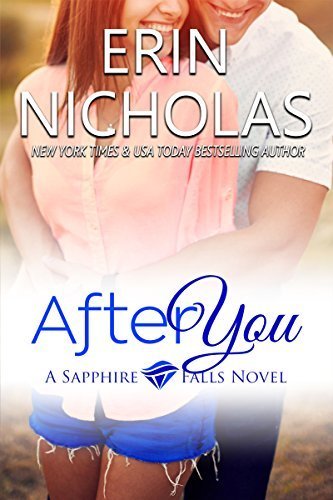 ~ Return to Sapphire Falls in this new novel from the little town with lots of heat and heart ~
Only one thing has not gone according to Kyle Ames' grand life plan.
Hannah McIntire.
She was his first love, the woman he planned to make his wife, the one that got away—all that romantic crap.
Two years ago, Hannah broke his heart and ruined all of his dreams… not necessarily in that order. Which has been, well, not exactly fine, but he's handling it because he doesn't have to see her every day.
In fact, Kyle had kind-of hoped to keep up with the not-seeing-Hannah thing for at least a couple more years. Or a couple more decades. Or forever.
But now she's back in town to help her grandmother, Kyle's patient and one of his favorite people, recover from hip surgery. Okay, so two things haven't gone according to Kyle's plans.
It's only for six weeks. Surely Hannah can survive living in her hometown and helping her grandmother for six short weeks. If she doesn't leave the house any more than absolutely necessary. And puts on the show of being the same girl they all remember. And absolutely avoids Kyle Ames.
But that plan evaporates the moment she sees Kyle again. And then things get worse—way worse. Kyle plans to also put on a show too. To make Hannah's grandmother happy, he has to pretend that he completely forgives Hannah and wants her back. He doesn't. But he and Hannah are the only ones who know that. And the pretend seduction quickly starts feeling far too real and Hannah's having a hard time remembering that she's supposed to be resisting the whole thing.
And then there's the not-so-tiny complication of falling in love with Kyle all over again. And the fact that he's falling for her too. And that they're both realizing that maybe this time they're doing it right.
Romance Contemporary [Author Self-Published, On Sale: July 21, 2017, e-Book, ISBN: 2940158759086 / eISBN: 9780998894676]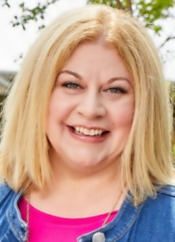 I've been reading romance since my mom first let me into her book cupboard when I was about fourteen. LaVyrle Spencer, Julie Garwood, Debbie Macomber… they took my 'happily ever after' ideas from animated princesses to real people in the real world.
I've been writing romance almost as long. Many a family car trip was spent with my head bent over a spiral notebook in the back seat. I'll confess that my very first attempts at fiction were fantasy and paranormals, influenced by my father's love of the Lord of the Rings, The Chronicles of Narnia, and the original Alice in Wonderland. If Harry Potter had been around, I'm sure he would have been on the bedtime story shelf as well.
But it wasn't long until I started writing about true love and that's where I've been ever since.
I'm so thrilled to be able to share these stories with you! I hope that they make you smile, sigh, maybe even choke up a little. Most of all, I hope that they help you believe in magical things like first kisses, the spark of passion, and the power of true love.