We all know the trends in romance fiction wax and wane, seemingly without logic or pattern. One day it's all about the sexy vampires and military men, the next it's motorcycle clubs, mixed martial artists, and bear shifters. It's a tough genre to keep up with, given that it's rich in tropes and archetypes, many of which fall in and out of favor at the apparent blink of an eye. For those of us who write romance, it can be a tough decision to make—what to write next? Will my fans support a switch of sub-genres? A new series? Do they want more of the same, since they're invested in my existing characters and plots already?
I tend to stick with subgenres, settings, and plot turns that I enjoy reading. I have been advised time and again NOT to do this. I should "follow the market" and write whatever it is people are paying money to read "these days." The way I see it though, the "these days" trends change so fast, given how easy it is for anyone to write and toss a book up onto a retailer's platform, then spend as much money as they have at their disposal to promote it, trying to chase down what sells "now" is an exercise in creation-crushing frustration.
I also think that when an author tries to break into a completely new subgenre, it might feel a little clunky. Unless that author is so engrained the reader's canon that anything they publish is an auto-buy (and these authors exist, as we all know), he or she should perhaps think carefully before jumping from mainstream contemporary into sci-fi erotica; from cowboy vampires on motorcycles into sweet beach reads.
Mind you, I'm not saying it can't be done. It can be. I'm only suggesting that when an author does nothing but chase the trends, their stories and characters might be sacrificed in the name of chasing the almighty dollar.
NOT that almighty dollar chasing is bad. Sometimes I wish I did more of it. But I don't. And please note, for the record, I admire the hell out the authors who've managed to create a consistent, living wage doing it.
I tend to write what I like to read. I also write about places, people, and environments I am either 100% familiar with, or am willing to do deep-dive research to find out what I need to know to fairly represent it. In my latest release, CONDITIONED from Totally Bound Publishing, I'm back in two of my happiest places—beer brewing/bar running and real estate.
CONDITIONED is book three of The Brewing Passion series, which, by the way, can be read and enjoyed in most any order. The series follows a set of friends through the trials and travails of small business ownership, management and success. I love to read about people working hard every day to make their dreams come true, and so that is typically the kind of characters I create.
In CONDITIONED, readers will find another familiar romance trope—BDSM, complete with a complex hero who has turned to the life of a Dom in private to regain control over the world around him. Trent's a truly nice guy who began his career by purchasing a wine and beer store in his hometown and went on to build a real estate mini-empire of his own. He's divorced and raising his teenaged daughter, Taylor, while managing his busy life. His past is pretty messed up, as readers discover, but by the time the story opens his escape via the bondage, domination, sado-masochistic play he prefers isn't cutting it anymore.
Enter Melody Rodriquez, a second generation Mexican-American whose own backstory contains plenty of struggle and strife. She's running the FitzPub, the restaurant attached to Fitzgerald Brewing Company, introduced in book 1 (TAPPED), and is perfectly content to work lots of hours, keeping her head down and her focus on her goal of complete financial independence.
Of course, these two meet and their connection is, as we say in this biz, "smoking hot." It isn't, however, as predictable as you might expect. Because that's one thing I always guarantee in a Liz Crowe-style romance: a level of real-life strife that can be, and ALWAYS will be, overcome by love. And I even let them keep their sexy BDSM playtime as part of the fun, since I enjoy reading about realistic situations in which a lighter touch of something like bondage, or paddling, or candle wax spilling is used in conjunction with a hero whose personality is such that he craves control of all things.
Mind you, Melody is in for a seriously fun time once Trent agrees that she's ready to experience his particular brand of kinky. But the fact that he holds back, and tries to keep it light at first, is the indication—both to him and the reader— that Melody might just be The One. The juxtaposition of Trent as realistic, seemingly helpless father of an aggravating teen, and his strong, dominant alpha-self everywhere else in his life is also something that I think brings complexity to his character. And that is one thing readers will always find in my books—characters of multiple dimensions, foibles, even faults who truly deserve (and earn) their Happily Ever After. In short, the sort of characters will go out of my way to locate, buy, and read, no matter who writes them.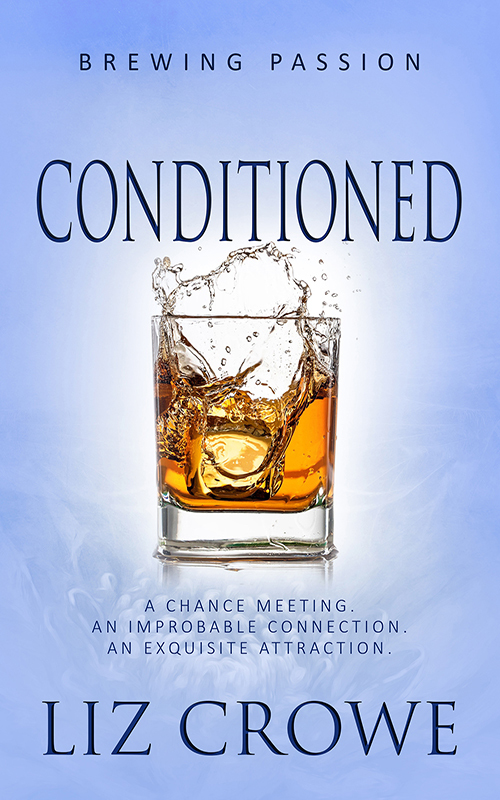 A chance meeting. An improbable connection. An exquisite attraction.
Trent Hettinger's turbulent formative years transformed him into a cynic—and into a man who realized he required something outside himself to control his temper. Something he found as a Dom—at least for a while. But he allowed himself to trust a woman once and was slapped back into reality with a vengeance and now devotes all his energy into building his real estate empire, raising his teenaged daughter…and avoiding anything resembling authentic attachments.
Melody Rodriguez kept her head down for years—working hard, making her own money, trying to get ahead with every deck stacked against her. She's determined to move beyond the ugliness that haunts her without anyone's help. When a mutual friend sets her up with Trent, she's determined to have some fun with him and move on.
A man with nothing left to lose. A woman hiding behind her past. When two lives spent in emotional denial collide, it's a perfect match—at least on the surface. But neither Trent nor Melody is prepared for the full force of their true feelings, once fate intervenes and blows a cold breeze into their white-hot relationship.
Erotica | Romance Erotica Sensual [Totally Bound Publishing, On Sale: July 11, 2017, e-Book, ISBN: 9781786862167 / eISBN: 9781786862167]
Amazon best-selling author, mom of three, brewery founder, and soccer fan, Liz Crowe is a Kentucky native and graduate of the University of Louisville currently living in Ann Arbor. She has decades of experience in sales and fund raising, plus an eight-year stint as a three-continent, ex-pat trailing spouse.
With plots set in the not-so-common worlds of breweries, on the soccer pitch, in successful real estate offices and at times in exotic locales like Istanbul, Turkey, her books are unique and told with a fresh voice. The Liz Crowe backlist has something for any reader seeking complex storylines with humor and complete casts of characters that will delight, frustrate and linger in the imagination long after the book is finished. She is represented by Erin Niumata, Folio Literary Management.
Keep up with her on Facebook, twitter, and Instagram. Learn more at her website.
"Brewing Passion" is a unique new romance series from Totally Bound Publishing set in the trending world of the craft brewery. Meet the owners, employees and friends of Fitzgerald Brewing as they live, love, lust and laugh their way through the ups, downs and sideways shifts of small business ownership.