Is this something anyone really needs to be convinced of? Lol! I feel like most women can appreciate a guy who can, and will, cook. Especially if he's any good at it. But okay, let's talk about why these guys are so…yeah, I'm going to say it…delicious!
My new release, HIGH HEELS AND HAYSTACKS features a guy who can cook. Why? Well, because I love food! Lol! But really, because the diner in my fictional small town of Bliss, Kansas needed an owner and chef and… well, Parker Blake stepped up. And I fell in love. And I knew that Ava Carmichael, one of the triplet sisters, who have been transplanted to this little town in order to fulfill the stipulations in their father's will, would also fall for Parker. In fact, it was clear to me very early on in writing this series that Parker and Ava could not only handle each other, but they needed to handle each other!
So, here are the top five reasons (in my opinion) why guys who can cook are hot 🙂
They appreciate just how important heat Some situations call for a little heat, some for a lot. And these guys are all about getting it right.
They know when to make things sweet…and spicy. Sometimes you're in the mood for sweet. Sometimes spicy. And these are the guys who know exactly when to bring the sugar or to add a new flavor to the "menu".
They know all about melting Whether it's butter, chocolate, your heart or your panties, these guys are the experts.
They aren't afraid to get their hands messy. Sometimes you just have to dip your fingers in to see how things are coming along.
They can use their tongues all day. To taste test their creations…why, what were you thinking? Oh, that. Well, yeah, that too 😉
You can get to know my hot cook, Parker, in HIGH HEELS AND HAYSTACKS! This is book two in the Billionaires in Blue Jeans series!
She's an heiress. He flips burgers for a living. A lot more than the kitchen is about to get messy.
"Those heels make you feel in charge and kick-ass, Boss?" he asked, looking down at her.

She was clearly surprised, but she didn't back up, and there wasn't a flicker of anything in her eyes but desire. "Yeah, they do."

He nodded. Then put his hands at her waist and lifted her onto the counter behind her. She gasped.

"Parker."

He didn't answer. His coasted one hand down the back of her bare calf to the heel of her shoe and then tugged. The pump slid from her foot, and he let it drop to the tile with a thunk.

"What are you doing?"

He could tell that she'd meant to sound demanding, but she was too breathless to pull that off.

"You don't have to be the boss in this kitchen anymore," he said, sliding her other shoe off as well. "I'm here now."
You can find me and all my book news and other fun stuff at www.ErinNicholas.com, you can sign up for my email list (and get a free short story! 🙂 ) and find me on Facebook every day.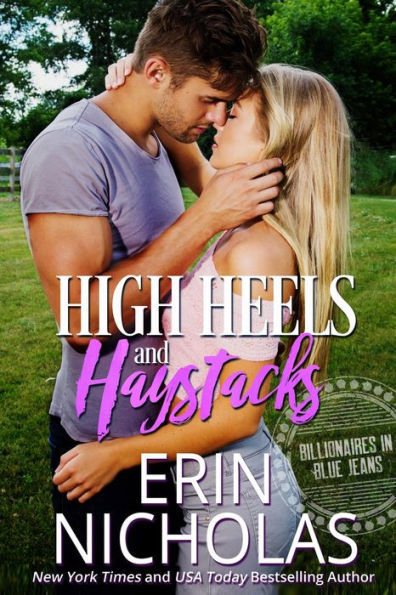 A boss-employee romance…with a twist
Only three things stand between Ava Carmichael and her twelve billion dollar inheritance:
1. A year of living in Bliss, Kansas.
2. A relationship that lasts six consecutive months.
3. A pie.
Ava has run a multi-billion-dollar company, negotiated with shark investors, and hobnobbed with business royalty, but she's about to be defeated by her inability to turn sugar, flour, and apple pie filling into something edible.
Conveniently, the owner of the diner next door, Parker Blake, is magic in the kitchen. And he technically works for her. So she can make him teach her to bake. And, hey, if everyone assumes they're heating up more than the oven during their time in the kitchen…well, that's called multitasking.
Parker Blake likes his women the way he likes his coffee: not in his diner. But gorgeous, strong-willed, type-A Ava clearly isn't going to stop messing up his kitchen—or his simple, stress-free small town life—until the conditions of her daddy's will are met. So, sure, he'll teach his "boss" to bake.
But once the kitchen door closes, it's pretty clear who's really in charge.
Romance Contemporary [Author Self-Published, On Sale: April 10, 2018, e-Book, ISBN: 2940155361268 / eISBN: 9780998894744]