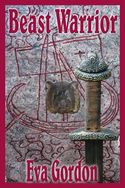 My blog is about why my fantasy and paranormal novels center on wolves as main characters, or spirit guides. In my debut fantasy novel, Mystic Stone of the Tenth Realm, my hero is a Scottish werewolf, an alpha of his own pack( to be re-released soon). My current series is an epic lycan series, The Wolf Maiden Chronicles. Book 1, Werewolf Sanctuary released May 2009 followed by Beast Warrior (August 2009), which takes place during the Viking era. White Wolf of Avalon: Werewolf Knight (Fall 2009) will be forthcoming. My totem guide is the raven but my heart guide is the wolf. I also do presentations on wolf and werewolf lore. I'm not alone in my love of the wolf. Numerous authors are following the call of the wild.
Why is the wolf a common archetype in many myths and stories, even today? Nothing sends a chill down your spine more that hearing a wolf's howl in the night. While at a wolf sanctuary, I spent the night in a trailer on the grounds and was privileged to hear night after night of thirty wolves in their nightly serenade. No sound is more awesome.
To find out more about the legendary wolf and to leave a comment for a chance to win The Girl's Guide to Werewolves All you need to know about the original untamed Bad Boys By Garb Karg click here.