I am fascinated by the heroines of this new series, A League of Extraordinary Women, who are suffragists! It was also particularly intriguing in the scenes where Queen Victoria shows up, to find that she was against this movement, and wanted to get rid of feminists. What was the most surprising thing you learned while researching this novel? 
I spent some time in the archives of Oxford's first women's college, Lady Margaret Hall, to research my story. The first surprise was how pleased the archivist was about my interest in the first women at Oxford because they were so "under-explored". I wondered why–these women were extraordinary, pioneers if you will, considering how unusual and controversial it was for a woman to go for higher education in 1879. I want to add that LMH shone a spotlight on the first women students this summer, when they marked the 140th anniversary of the college, and I was delighted when they asked me to share my research for the occasion.
The other big surprise was how frequently objections to women's rights in the Victorian era were couched in terms of concern for women's health and happiness. Women were not allowed to fully matriculate and sit the same exams as men at Oxford until 1920. I read 40 years' worth of correspondence of people arguing for and against women being allowed to get a proper university education, and many of those who were against argued it would make women ill, inattentive to others, or even infertile. The notable undertone was that higher education would produce bad and discontented housewives and mothers–which ultimately would inconvenience the male head of the household and create chaos. So, I'd be wary whenever people justify their efforts to try and cut back on our rights with wanting to keep us "healthy and happy." They might have ulterior motives.
Annabelle Archer is in an interesting position – while she's able to study at Oxford and support a cause dear to her heart, she's still beholden to her family and knows she walks a fine line with society's approval. Additionally, her interactions with Sebastian, Duke of Montgomery, are fraught with desire as well as misunderstanding. Sufficed to say, Annabelle is complex, independent, and vulnerable- my favorite kind of heroine! What was it like creating such a dynamic woman?
She came to me pretty much the way she was. The one thing I tried to be mindful of however was how careful she had to be when navigating her daily life. The restrictions placed on me today pale in comparison to the restrictions put on middle-class single women in the Victorian era; they usually had little money and no name to shield them but were held to much stricter moral standards than wealthy or working-class women. Doing justice to Annabelle's progressive mind under those circumstances without making her anachronistic was an interesting exercise for me.
Sebastian has a reputation for being icy and demanding, and he does whatever he can to present the utmost decorum. Annabelle intrigues, confuses, and challenges him in ways he has never been before. He also has a strained relationship with his younger brother. How do these challenges change Sebastian throughout the novel? Do you think he handled things well? 
Ah, Sebastian. He has grand emotions but as an aristocratic man of his time, he's never learnt how to properly manage them, so he just keeps them locked up. The damage his uncontrollable feelings for Annabelle cause to his routines and views allow for new insights to squeeze through the cracks. The pain this causes him compels him to put himself in other people's shoes, which is a good path to empathy. Few powerful men are ever compelled to practice empathy. I think despite a misstep or two, he did a pretty good job in the end; by letting go of his urge to control the outcome, he actually became truer to himself and improved his personal relationships.
I loved the female comradery in BRINGING DOWN THE DUKE; Annabelle and her friends have a fun rapport and they support one another through and through. Why was this important to showcase in this novel, and how did Annabelle's new friendships change her?
It's easy to set women up as rivals in an era where a husband was almost the sole lifeline for a woman. When your standard of living and identity is entirely determined by the man you happen to marry, it's natural to perceive other women as nothing but competition for the best possible catch. But Annabelle is a bit of a misfit, as are her friends. They recognize they are all in this together and they reject the system rather than try and get the "best" deal out of it, and gradually, Annabelle learns to trust their friendship. This makes her so much stronger. It gives her a home.
Why is it important to showcase women uplifting women? Because female friendships are great fun! And because it benefits everyone. Then and now, you break systemic oppression not by tearing others down but by rising together.
You recently came to New York for the Romance Writers of America conference! What was the highlight of your trip (aside from meeting the Fresh Fiction team, LOL)? 
Such a lovely coincidence to end up sitting next to the Fresh Fiction Team during my first ever RITA ceremony 🙂 My highlights were definitely the people; finally meeting my fantastic agent, and my editor at Berkley, the whole wonderful Berkley team in fact who treated me to a fabulous lunch. Then the opportunity to say thank you in person to at least some of the amazing authors who had taken the time to read and support my debut: Eva Leigh, Chanel Cleeton, Sarah MacLean, and Lyssa Kay Adams.
What can readers expect from you next?
The second book in the Extraordinary League of Women Series, which is Lucie's and Tristan's story. They are a very different couple from Annabelle and Sebastian – both are aristocrats and they've known each other since childhood, so they see eye to eye and don't have to hold back in their interactions. And they really don't hold back. She's a leading women's rights activist while he's a rakehell, so when they end up stuck together in the same publishing enterprise, something of a Victorian-era Hating Game ensues. . .
Rapid Fire Random Questions
Dragons or unicorns: A fire-breathing unicorn, please.
Five people you'd invite to your book club (dead, alive, fictional, etc.!):  Virginia Woolf, Oscar Wilde, Tolkien, Gertrude Bell, and Alexander Hamilton. Maya Angelou as the guest of honour.
Some of your auto-buy authors:  Lisa Kleypas, Tessa Dare, Eva Leigh, Anna Campbell, Renee Rosen, Chanel Cleeton, Arundhati Roy, Donna Tartt, Sarah Waters, Hilary Mantel, Harper St George, Avon Gale, Cara McKenna, Gaelen Foley, Moshin Hamid, oh dear, there are so many more. And I recently added my Berkley "sisters" Lyssa Kay Adams and Jen DeLuca, whose rom coms I had the pleasure of reading before they are coming out this fall.
Favorite flower: Peonies.
Earliest celebrity crush: Leonardo DiCaprio. I watched the Romeo & Juliet videotape until it derailed and later wrote 200+ pages of bad Titanic fanfic. The obsession was strong in teen Evie.
Random interesting fact you like to tell people:  Hi, I just wrote a romance novel!
Hobbies you have (aside from reading and writing): Hiking in Scotland.
Dream vacation: Hiking in Scotland.
Sweet or salty snacks: Sweet all the way.
You have a totally free afternoon – no deadlines, no obligations, no Twitter notifications!  What do you do?: Veg out on the couch to re-watch the first season of Outlander. I'm probably holding an alcoholic beverage.
League of Extraordinary Women #1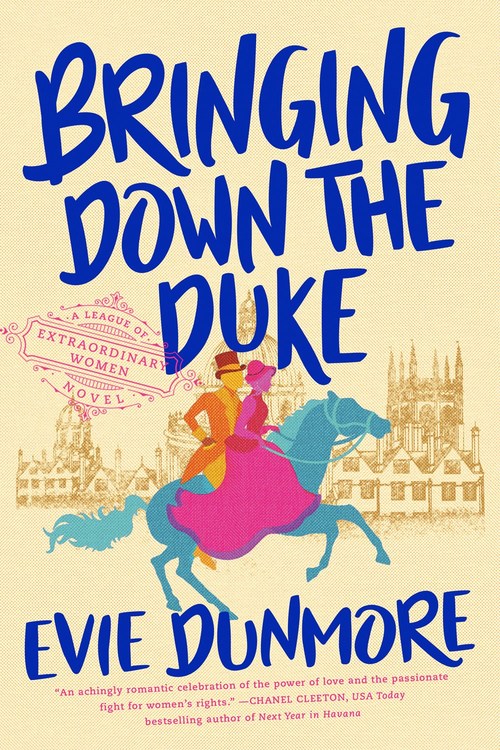 A stunning debut for author Evie Dunmore and her Oxford Rebels in which a fiercely independent vicar's daughter takes on a powerful duke in a love story that threatens to upend the British social order.
England, 1879. Annabelle Archer, the brilliant but destitute daughter of a country vicar, has earned herself a place among the first cohort of female students at the renowned University of Oxford. In return for her scholarship, she must support the rising women's suffrage movement. Her charge: recruit men of influence to champion their cause. Her target: Sebastian Devereux, the cold and calculating Duke of Montgomery who steers Britain's politics at the Queen's command. Her challenge: not to give in to the powerful attraction she can't deny for the man who opposes everything she stands for.
Sebastian is appalled to find a suffragist squad has infiltrated his ducal home, but the real threat is his impossible feelings for green-eyed beauty Annabelle. He is looking for a wife of equal standing to secure the legacy he has worked so hard to rebuild, not an outspoken commoner who could never be his duchess. But he wouldn't be the greatest strategist of the Kingdom if he couldn't claim this alluring bluestocking without the promise of a ring. . . or could he?
Locked in a battle with rising passion and a will matching her own, Annabelle will learn just what it takes to topple a duke. . .
Romance Historical [Berkley, On Sale: September 3, 2019, Trade Size / e-Book, ISBN: 9781984805683 / eISBN: 9781984805690]

Ordinary women making great things happen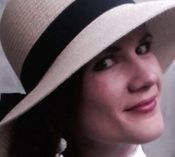 Debut author Evie Dunmore is a freelance strategy consultant with an M.Sc. in Diplomacy from Oxford. Bringing Down the Duke is inspired by the magical scenery of Oxford and Evie's passion for romance, women pioneers, and all things Victorian. She is a member of the British Romantic Novelists' Association (RNA). Evie lives in Berlin in an Edwardian flat, and pours her persistent longing for England into her writing.