Morgan Dane #2
Young mother Chelsea Clark leaves the house for a girls' night out…and vanishes. Her family knows she would never voluntarily leave her two small children. Her desperate husband—also the prime suspect—hires Morgan to find his wife and prove his innocence.
As a single mother, Morgan sympathizes with Chelsea's family and is determined to find her. She teams up with private investigator Lance Kruger. But the deeper they dig, the deadlier their investigation gets. When Morgan is stalked by a violent predator, everything—and everyone—she holds dear is in grave danger.
Now, Morgan must track down a deranged criminal to protect her own family…but she won't need to leave home to find him. She's his next target.
Romance Suspense | Thriller [Montlake Romance, On Sale: September 26, 2017, Trade Size / e-Book Kindle, ISBN: 9781542047968 / ]
---
Lance skimmed through the remaining documents in Chelsea's file. Nothing jumped out at him. He closed the file on the card table in his office and sat back, letting the information sink into his head.

Sharp walked into the room. "I made you a shake." He handed Lance a nasty-looking green concoction.

"I will never get used to the way these look." Lance held up the glass and stared at the thick green liquid.

After he'd been shot in the thigh and almost died last year, his recovery had been long, painful, and frustrating. He'd gone back to the police force only to quit when his leg didn't hold up. He'd wallowed in pity at home, seeing little progress with his rehabilitation, until Sharp had convinced him to join his PI firm—and to try his organic-crunchy lifestyle. Several months after Lance had embraced his boss's way of life, his leg was mostly healed.

He doubted it would ever be 100 percent, but he could do most of the things he enjoyed. He'd even returned to coaching the hockey team for at-risk youths he'd volunteered with when he'd been on the police force.

Now instead of heading to the bar when he was stressed, Lance downed a green protein shake and went to bed early.

He was quite the party animal.

"Luckily, these drinks taste better than they look." Lance no longer questioned the ingredients. He'd learned his lesson and simply drank whatever his boss handed him.

To be fair, Sharp was more than his boss. After he'd been unable to find Lance's father, he'd taken ten-year-old Lance under his wing. Over the years, Sharp had driven him to hockey practice, given him the sex talk, and taught him to drive. He was the closest thing to a father Lance had.

Sharp took the empty glass back. "Ready to head over to Tim's house?"

Lance stood and reached for the flannel shirt he'd draped over his chair. "Yes. Want to ride along? We should get a good look at the wife's personal space."

"Let's go." Sharp fetched a jacket from his office.

Lance went to the closet and grabbed a high-capacity USB drive, then met Sharp and Morgan in the foyer.

"I'm off to see the sheriff." She slung her giant purse over one shoulder. She'd changed into what Lance called her lawyer uniform: a fitted navy-blue suit, white silk blouse, heels, and pearls. They all went outside together, and Sharp locked up the office.

Lance thought about kissing her goodbye, but the gesture felt awkward. Their relationship felt awkward, especially in front of Sharp. Instead, Lance said, "Good luck."

They parted on the sidewalk. Lance watched her walk away. The skirt and heels did magical things to her legs. She was all at once ladylike, professional, and unbelievably hot.

At least she was to him.

Morgan got into her minivan and drove off. Lance and Sharp settled in Lance's Jeep.

"What's going on between you two?" Sharp said before he'd even fastened his seat belt.

"It's hard to quantify." Lance started the engine and pulled away from the curb. "Her grandfather has been sick. She has her hands full, and we both know my mom is a lot to manage."

Sharp stared over the console. "Stop overthinking. You are not going to find another woman like that one. Make time for her. Do not mess this up."

"That isn't my goal."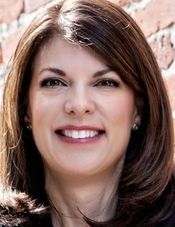 Melinda Leigh abandoned her career in banking to raise her kids and never looked back. She started writing as a hobby and became addicted to creating characters and stories. Since then, she has won numerous writing awards for her paranormal romance and romantic-suspense fiction. Her debut novel, She Can Run, was a number one bestseller in Kindle Romantic Suspense, a 2011 Best Book Finalist (The Romance Reviews), and a nominee for the 2012 International Thriller Award for Best First Book. She is the author of the Midnight Novels, including Midnight Exposure (a finalist for the Daphne du Maurier Award for Excellence in Mystery/Suspense) and Midnight Sacrifice.
Save